Introduction
The premium Ultrabook market has really come of age. Today's options include exquisite machines such as the Dell XPS 13, Surface Laptop and HP Spectre x360, yet you could argue that Lenovo's ThinkPad X1 Carbon is the one design that stands the test of time.
Introduced way back in 2012 as the flagship of the ThinkPad line, the X1 Carbon has been refreshed on an almost annual basis in the interim years, with each new model retaining a familiar aesthetic while introducing improved performance and updated connectivity.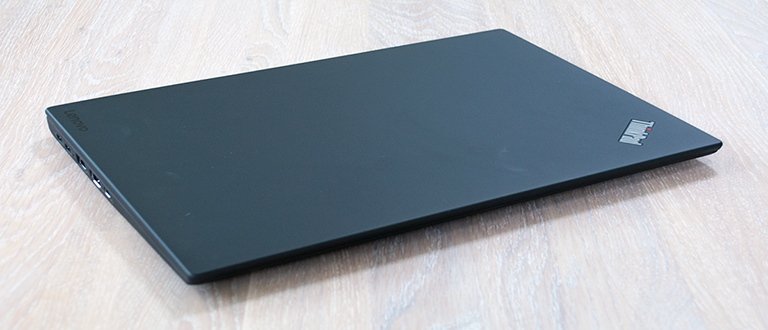 The fifth-generation model, priced from £1,330, is in for review today and first impressions are excellent. It's true that users will either love or hate the simple business-like aesthetic, but if you happen to appreciate the laptop's modest exterior, you're going to love the build quality.
Lenovo is continuing to employ a carbon-fibre-reinforced chassis and a magnesium alloy roll-cage to create a rigid frame tested against 12 military-grade requirements. A smooth, matte finish does a good job of repelling fingerprints while proving easy to clean, and it has the added benefit of feeling luxurious to the touch. As an owner of the original 2012 variant I must confess to being slightly biased, yet long-term ownership is the best way to get to know a product, and the fact that my ageing X1 Carbon still looks like new is testament to Lenovo's design and manufacturing.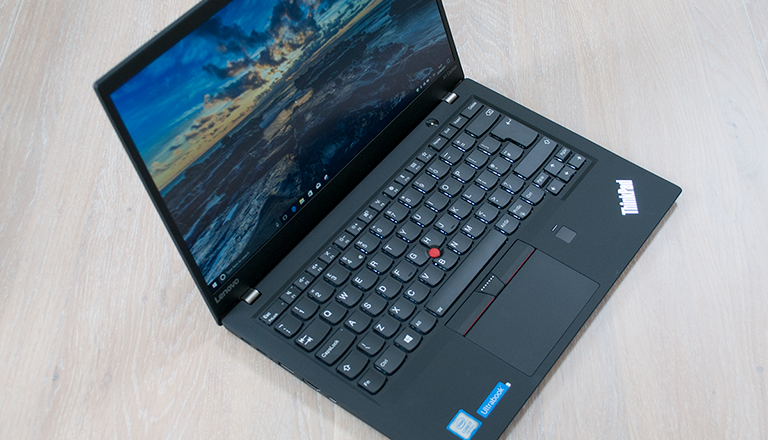 At first glance the fifth-gen could easily be mistaken for those that came before it, yet there are subtle differences worth knowing about. Dimensions have shrunk to 324mm x 217mm x 16.0mm, making the 2017 model 10 per cent smaller than previous generations, and overall weight has also dropped from 1.3kg to 1.13kg. This is the thinnest and lightest X1 Carbon to date, yet Lenovo still houses a 14in display, a screen size we reckon is about perfect for an ultra-portable PC.
It's easy to sing the X1 Carbon's praises, but the 2017 refresh is missing one key feature: a touchscreen. Previous models have offered touch capabilities as an option, so it's a surprise to find that Lenovo has opted to drop the feature this time around. Some will argue that a touchscreen isn't necessary, and serves only to dirty the screen while eating-up battery life, but I've become accustomed to Windows 10 on touch-capable hardware. I miss not being able to reach out and scroll while browsing on this modern-day ThinkPad and after a couple of weeks there are still times when I mistakenly touch the screen anticipating a reaction.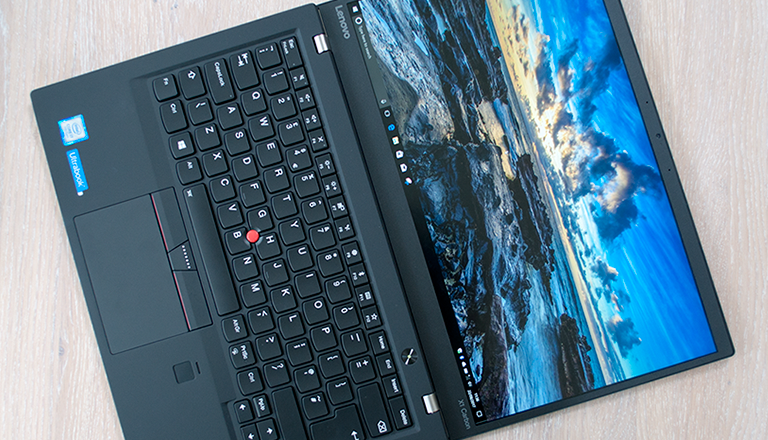 The decision not to offer a touchscreen option is a mistake, however for those who are happy to go without, Lenovo does offer a choice of FHD (1,920x1,080) or QHD (2,560x1,440) resolutions on an IPS panel with good viewing angles and a matte finish that helps minimise reflections. Our review sample's FHD screen is sharp and bright with the handy ability to lay flat, but if we were to purchase a laptop solely for the display, we'd lean toward the Surface Laptop due to the preferred 3:2 aspect ratio and multi-touch support.
There are plenty of other reasons to buy a ThinkPad, mind. Under the hood, there's a choice of Intel Core i5 or Core i7 Kaby Lake processors, integrated Intel HD 620 graphics, up to 16GB of memory and a 57Wh battery. Despite the slim profile Lenovo also offers decent connectivity. The laptop's left side is home to two Thunderbolt 3 Type-C (one of which doubles as the connector for the 65W power supply), USB 3.0 Type-A, HDMI and a small connector for the bundled Ethernet adapter. Over on the right there's a headphone jack and another USB 3.0 port flanking the air vent, while WWAN and microSD slots are tucked around back.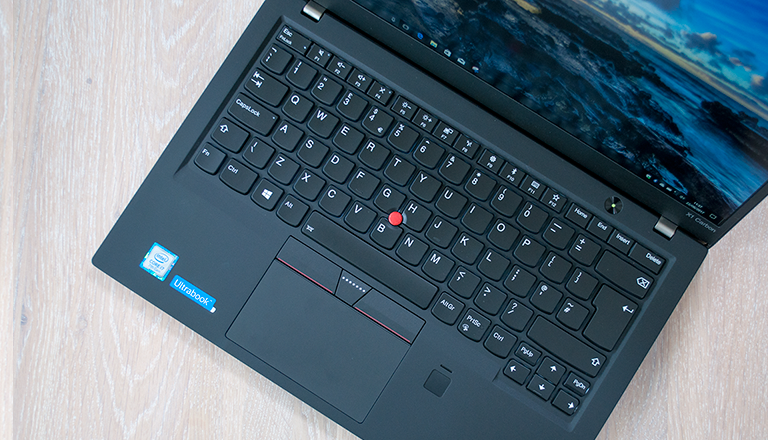 If you come for the underlying components, there's a good chance you'll stay for the keyboard. Backlit, well-spaced and subtly contoured with just the right amount of travel, these are arguably the best keys you'll find on any ultra-thin laptop, and typing on the X1 Carbon is ultimately a real joy. The accompanying trackpad is also perfectly capable, and though I don't tend to utilise the TrackPoint at the centre of the keyboard, I do appreciate having the dedicated TrackPoint buttons.
The integrated touch fingerprint reader works well and responds quicker than the swipe variants on older models, but the default 720p webcam doesn't support Windows Hello face recognition. For that you'll need to select an optional IR camera, and cost can quickly spiral. Our test machine includes a Core i7-7500U CPU, 8GB of DDR3 memory, a 256GB SSD and the entry-level FHD display at a cost of £1,525. Opt for more memory and a QHD panel and the price tag will approach £1,800. There's an inevitable premium attached to Lenovo's crown jewel, so it's good to see that the default software configuration has been uncluttered. There is no unnecessary bloatware loaded on top of Windows 10, and the two Lenovo utilities - Companion and Settings - are thoughtfully presented as Store apps for hassle-free updates.