Introduction
It feels like only yesterday that Aorus launched its first gaming laptop, yet in the space of just a few years, the Gigabyte subsidiary has amassed a legion of followers who crave updated models. Refreshed variants of the X3 (13.9in), X5 (15.6in) and X7 (17.3in) product lines have been introduced on a regular basis, and for fans who favour the larger screen, there's now a seventh-generation Aorus X7 v7.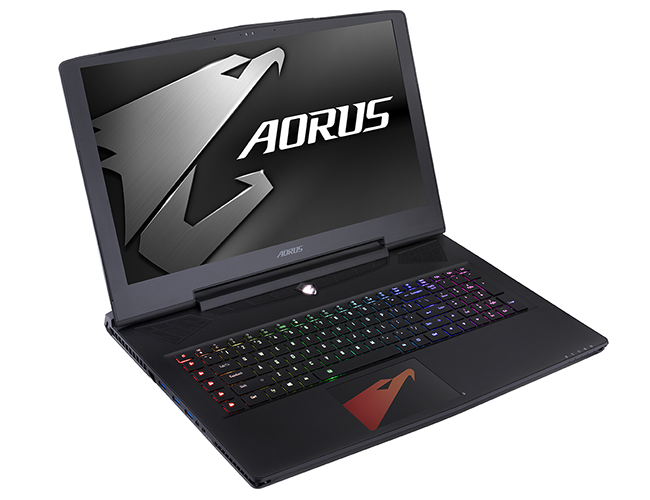 Priced at £2,500, this latest revision of the tried-and-trusted X7 formula marries a 17.3in QHD display with an Intel Core i7-7820HK processor and Nvidia GeForce GTX 1070 graphics (full-fat, not Max-Q). You might recall that the original Aorus X7 made a name for itself by deploying dual GeForce GPUs inside the svelte chassis, but given that SLI scaling has become an increasingly large gamble, we're glad to see that the manufacturer has switched to a single-GPU configuration.
On the outside, the part-aluminium chassis has evolved while retaining the familiar Aorus aesthetic. The matte-black paintwork is easy on the eye and feels nice in the hand, and for a 17.3in gaming laptop, the X7 v7 is reasonably portable, weighing 3.2kg and measuring 428mm x 305mm x 22.9mm.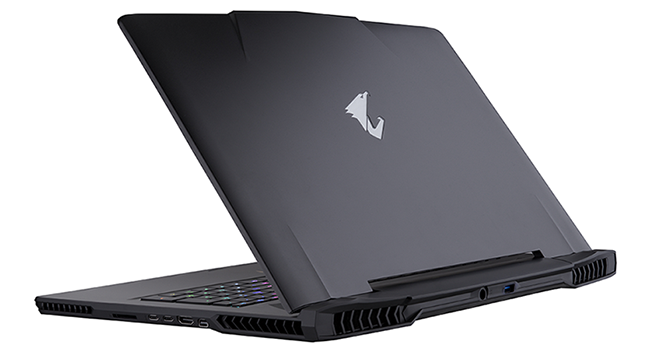 It's an eye-catching piece of kit and for gamers seeking a potent desktop replacement, the latest-generation X7 ticks a lot of the right boxes. The powerful CPU and GPU combination is paired with 16GB of DDR4-2444 memory, there's a 256GB Samsung M.2 SSD and a 1TB hard disk for storage, as well as Killer Wireless AC and Gigabit Ethernet for prioritised DoubleShot Pro network traffic.
Perhaps what's most enticing for the target audience is the 17.3in display. Aorus opts for a TN panel with a 2,560x1,440 resolution. The screen doesn't sound outstanding, and the use of TN technology may raise an eyebrow at this price point, yet the display boasts a 120Hz refresh rate that delivers silky smooth and tear-free gameplay courtesy of Nvidia G-Sync. Gamers are likely to appreciate the default configuration, and if you prioritise productivity it's worth noting that a £2,700 configuration is available with a 4K IPS display promising 100 per cent Adobe RGB coverage.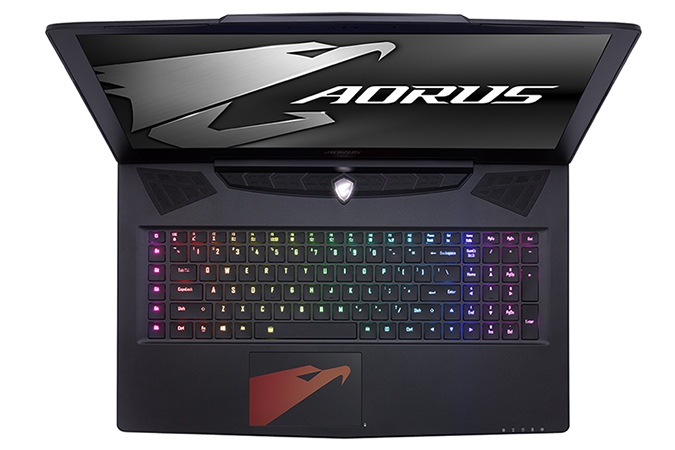 It is no surprise to find that the latest X7 keyboard features per-key RGB backlighting with various user-configurable effects, and the overall layout hasn't changed - a column of dedicated macro keys are available on the left, and a numpad is squeezed-in on the right. What has altered since earlier revisions is that the island-style keys are now punched out of the chassis, rather than sitting in an inserted keyboard tray, creating a more rigid overall profile. The end result is comfortable to type on, albeit not the most tactile when gaming, and the accompanying trackpad is large, responsive and, thankfully, no longer covered in slippery glass.
Audio output from the upward-firing speaker system is surprisingly powerful, and despite the thin form factor there are plenty of connectivity options. The laptop's left edge provides Gigabit Ethernet, a trio of USB 3.0 ports and a pair of audio jacks, while over on the right there's an SD card slot, USB 3.1 Type-C, Thunderbolt 3 Type-C, HDMI and mini-DisplayPort. The connector for the external 230W power supply is tucked around back alongside a fourth USB 3.0 port, and in total there's enough I/O to drive a trio of 4K external displays.
Aorus is doing a good job of understanding what its target audience is looking for in a large gaming laptop and there's a natural inclination to increase performance wherever possible. With that in mind, both the CPU and GPU are factory overclocked as standard.
The Intel Core i7 processor is configured to 4.3GHz (up from 3.9GHz) and the GeForce GTX 1070 sees boost clock rise from 1,645MHz to 1,695MHz. There's no support for Nvidia Optimus on G-Sync-enabled laptops, meaning the dedicated GPU is in action at all times, and Aorus keeps the overclock in place even when running on battery. We don't imagine being able to work for long when detached from the wall, but performance should be impressive so let's run some numbers.