Introduction
PC gaming can be frightfully expensive if you get carried away, and that's easy to do given the industry's focus on high-end products. Finding well-rounded hardware at more affordable price points is relatively tricky, particularly in the laptop arena, where cost cutting in one area can dampen the overall experience.
Yet there are some intriguing options out there. Take, for example, the Acer Aspire VX 15, which for £800 offers a latest-generation Intel Core processor, dedicated Nvidia GeForce GTX graphics, DDR4 memory, solid-state storage and a full-HD display in a gaming chassis measuring less than 30mm thick.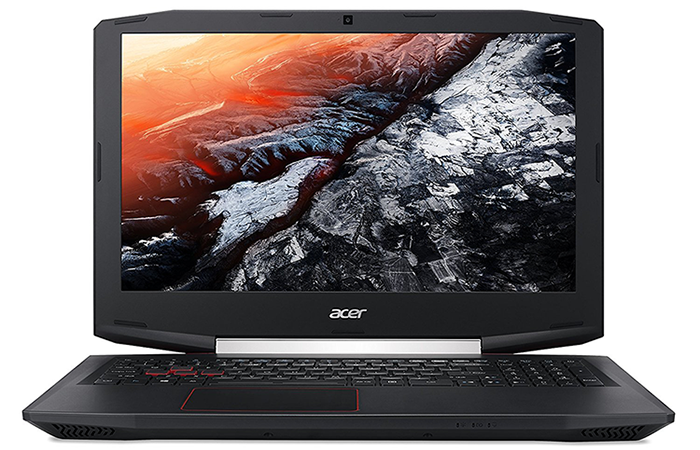 This isn't the thinnest 15.6in laptop on the market, and the plasticky build quality does show signs of flex while doing a grand job of collecting fingerprints, yet as far as gaming laptops go, it isn't a bad-looking machine. The red, black and silver elements combine to create a familiar colour scheme, while sharp lines and multiple angles provide an aggressive finish. It's an acquired taste, but dimensions of 389mm x 266mm x 28.9mm are modest and so too is a 2.5kg weight.
Gaming laptops unfortunately have a tendency to favour form over function, and in the case of the Aspire VX 15, the angular edges result in large display bezels that stick out like a sore thumb. An inevitable trade-off when placing a rectangular screen in an octagonal lid, and the end result is that the 1080p display appears dwarfed by the rest of the machine. The screen is the centre piece of many modern laptops, but the 15.6in panel on offer here is a weak point, and one that we'll cover in more detail a little later in the review.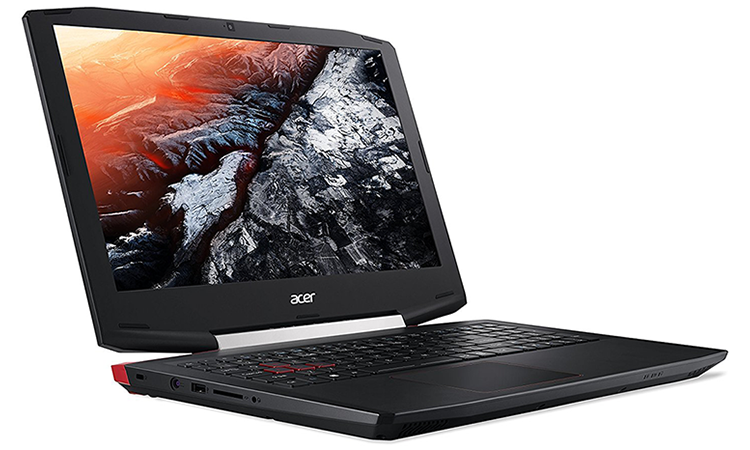 For now let's talk internal components. The base model includes an Intel Core i5-7300HQ processor with integrated HD 630 graphics, 8GB of DDR4 memory, and an Nvidia GeForce GTX 1050 4GB GPU that kicks in as and when required. A reasonable selection of hardware at the £800 price point, though storage is a tad basic - Acer provides a 128GB M.2 SSD for the OS and a 1TB hard disk for secondary storage.
Connectivity is quite good, with the laptop's left edge providing an audio jack, SD card reader, USB 2.0 and a connector for the bundled 130W external power supply. Over on the right there's USB 3.1 Type-C, dual USB 3.0, HDMI output and Gigabit Ethernet, while features such as Wireless AC and a 720p webcam are present and accounted for. Forward-facing stereo speakers provide plenty of volume, and audio quality is pleasantly surprising.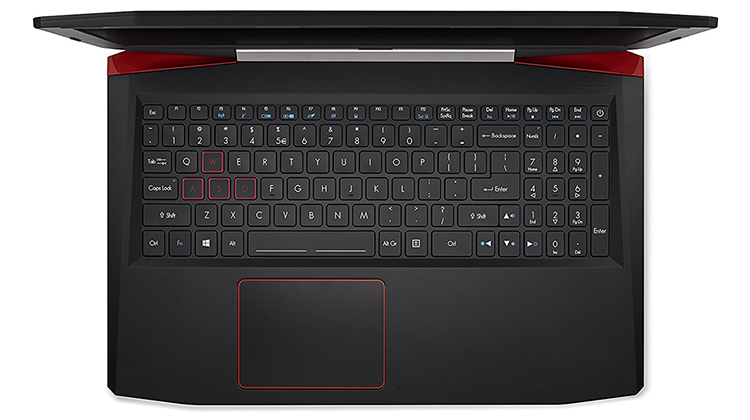 You don't come into an £800 gaming laptop with any major productivity expectations, yet the keyboard and trackpad are both pleasant to work with. The red backlight on the keys is a tad harsh, yet spacing is good, there's a decent amount of travel and Acer has managed to squeeze a numpad in without any major disruption to the layout. We even like the trackpad, whose large surface responds well to gestures, and integrated buttons provide the right amount of tactile feedback.
A promising start, however the Aspire VX 15 is the most affordable gaming laptop we've tested in recent years, so there are going to be limitations. Let's see what the benchmarks reveal with regards to performance, display quality, gaming potential and battery life.