Introduction
Ultra-thin, super-light laptops are all well and good, but there are occasions when you simply need more power. Perhaps you're looking to replace the desktop with an equally potent laptop that can easily be stowed away, maybe you need enough oomph to handle video editing while in the field, or suppose you happen to live by the philosophy that one can never have too much CPU or GPU performance.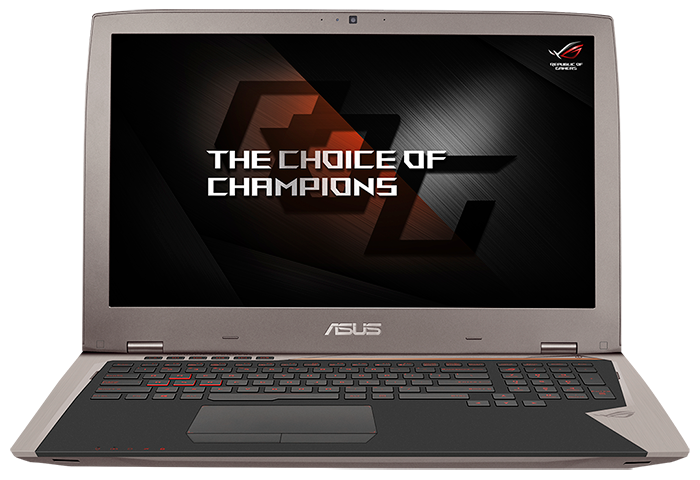 If that sounds like you, take a ganders at Asus's latest 17in powerhouse, the ROG G701VI. Priced at £3,100 and claiming to have been "engineered for ultimate speed," this is about as hardcore a gaming laptop as you're likely to find.
Built for Speed
Worryingly, the G701VI costs more than my car, though to be fair, it's probably more powerful. Inside the belly of this beast, Asus includes an Intel Core i7-6820HK processor and range-topping Nvidia GeForce GTX 1080 graphics. The Intel CPU might be from the previous-generation Skylake stable, yet it's hardly a slouch given Kaby Lake's incremental improvements, and Asus doesn't skimp when it comes to the supporting cast.
A whopping 64GB (4x16GB) of DDR4 memory is included as standard, while storage takes the form of dual 512GB Toshiba XG3 M.2 SSDs in a RAID 0 configuration. Overkill on both fronts? Absolutely, but that's sort of the point, and given that Asus has taken the more-is-better approach, the lack of a secondary 2.5in hard disk is a surprise omission. Sure, the 1TB SSD array is fast and roomy, but for content creation types a few extra terabytes would have been welcome.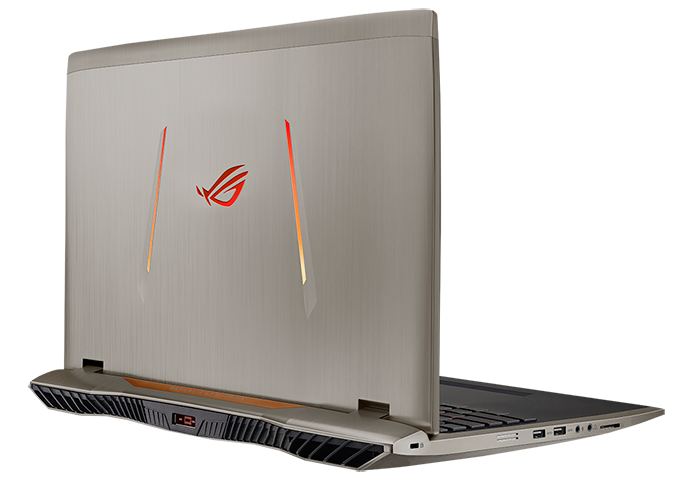 There's plenty to like about the display, too, as Asus has opted for a matte 17.3in IPS panel with a full-HD resolution and G-Sync at 120Hz. According to the manufacturer, this is the world's first laptop to feature a super-fast 120Hz wide-view panel, but it's worth pointing out that display technology has improved in so many areas that no one panel ticks every applicable box. Gaming on the G701VI is beautifully smooth, but colour reproduction isn't the best, the resolution is relatively low by today's standards and, if it matters, there's no touchscreen option.
An Acquired Taste
One element the pictures struggle to convey is the sheer size of the system. Dimensions of 429mm x 309mm x 35mm make it one of the biggest laptops we've tested in recent years, and a weight of nearly 4kg puts a question mark alongside the suggestion of portability. Factor in the external 330W power brick, whose large connector juts out the back of the laptop, and the combined weight is practically 5kg. Still, it's easier to transport than most desktop towers, and Asus does include a good-sized backpack as part of the bundle.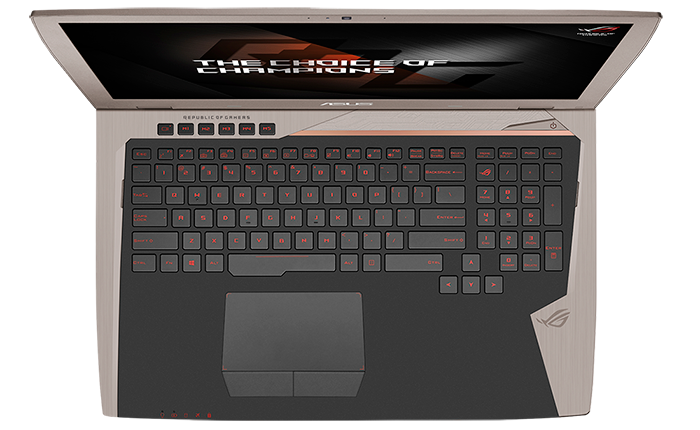 Build quality, as tends to be the case on laptops of this size, is good but not great. The chassis incorporates large sections of plastic, resulting in unwanted flex in both the display and keyboard tray, while the display bezel is undesirably wide. The keyboard itself is adequate but not a whole lot more. A red backlight is helpful, as are the five dedicated macro keys and integrated numpad, but the keys themselves feel shallow and dull. On the plus side, the trackpad is large, responsive and accompanied by dedicated buttons.
Asus's two-tone styling is a bit of an acquired taste, but the contrast between the dark and light sections isn't so pronounced in person, and the G701VI is far from being the most garish design in its class. The brush-effect lid and gold accents add a hint of sophistication, and Asus puts the space to good use with various connectivity options.
Ports, Sound and Software
The laptop's left edge is home to two USB 3.0 ports, a pair of audio jacks and an SD card reader, while the right edge offers USB 3.0, HDMI 2.0, mini DisplayPort 1.2, Thunderbolt Type-C, USB 3.1 Type-C and Gigabit Ethernet. Everything you're likely to need, though if we're nitpicking we'd have preferred the display outputs tucked around back.
Four speakers and a built-in subwoofer provide an enjoyable audio experience, though this isn't the best-sounding 17.3in laptop we've tested. Bass is limited, maximum volume isn't as high as we'd anticipated, and the speakers often risk being drowned out by the cooling fans. More on that later.
We've mixed feelings on the software front, too. On the one hand, there's a layer of unwanted bloatware resulting in incessant prompts for the likes of McAfee, WebStorage, DropBox and more. Not what you want to see on a premium machine, but on the other hand the Asus ROG Gaming Center utility introduces some automatic overclocking into the mix.
The combination of Core i7-6820HK and GeForce GTX 1080 ought to be ample for gaming at the native full-HD resolution, but plug the laptop into the wall and the Asus software automatically overclocks both components. The CPU climbs from 3.6GHz to 4.0GHz, while the GPU sees boost clock rise from 1,771MHz to 1,811MHz, with the frame buffer hitting an effective 10,312MHz. It's a performance monster, so let's see if the G701VI can boss the benchmarks.