Introduction
We routinely see gaming laptops costing thousands of pounds arrive here at HEXUS HQ, but what can you achieve on a more modest budget? There's certainly no shortage of choice now that every manufacturer is looking to expand their gaming portfolio, and Asus, as you might expect, covers the entire spectrum. Toward the lower-end of the firm's Republic of Gamers range is the Strix GL702VM, priced at £1,200.
That is, in today's world, considered a conservative fee for a gaming laptop. Yet Asus has high hopes for this 17.3in model, which it claims is "compact," "potent" and able to deliver smooth G-Sync gameplay as well as an immersive virtual-reality experience. Can it deliver on those promises at the £1,200 price point? Perhaps, but expect a few provisos along the way.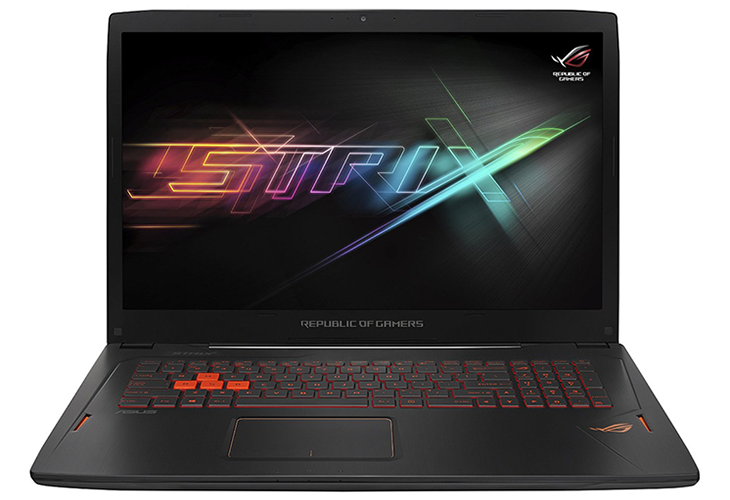 The first potential stumbling block is the aesthetic design, which in keeping with many a gaming laptop is going to elicit a love-it-or-loathe-it reaction. For me, personally, the ROG Strix GL702VM isn't a particularly attractive machine, and the orange-on-black colour scheme is without a doubt an acquired taste. It's too garish for my liking and attracts fingerprints en masse, which is a shame as the overall profile is quite likeable.
Asus's chassis measures 415mm x 280mm x 25mm in size, making it reasonably svelte for a system with a large, 17.3in screen, the display bezel is suitably slim, and the 2.7kg weight is about right for a machine of this ilk. Don't, however, expect premium build quality; this is, after all, a relatively affordable gaming PC. That means a liberal use of plastic materials throughout, so while the lid and palm rest is made to look like a brushed metal, it's not as rigid as it appears and both the top and bottom sections exhibit a fair amount of flex.
It's important on a 17.3in frame to provide a generous selection of I/O ports and the GL702VM doesn't disappoint. The laptop's left side is home to an audio jack, USB 3.0, USB 3.1 Type-C with Thunderbolt, HDMI, mini DisplayPort, Gigabit Ethernet and a connector for the bundled 180W power supply. Over on the right there's an SD card reader, two further USB 3.0 ports and a Kensington lock.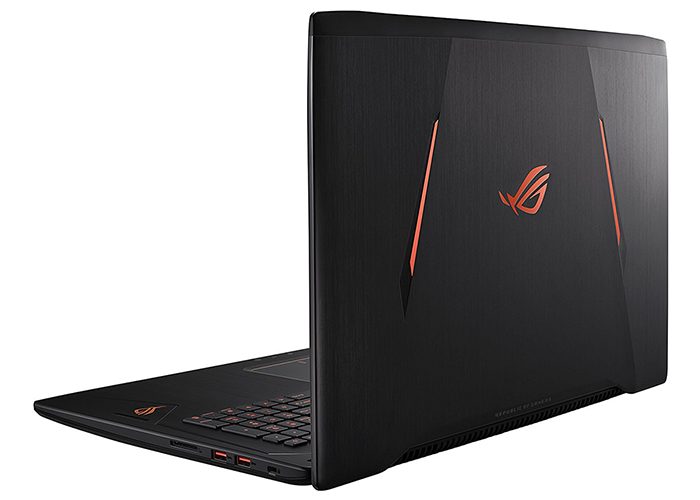 It's under the hood that a gaming laptop earns its keep, so what can you expect for £1,200? Asus starts with a Core i5-6300HQ processor from Intel's last-gen Skylake stable paired to 8GB of DDR4 memory and a GeForce GTX 1060 GPU with a 6GB frame buffer. Add to that a 128GB SSD and a 1TB hard disk, and you have the foundations of a nippy machine that ought to cope well with both work and play.
Reckon 8GB of DDR4 memory is cutting it tight? There is a £1,350 model that offers double the RAM and swaps the Core i5 chip in favour of a Core i7-6700HQ. And if you're willing to push the budget up to £1,600, the range-topping variation touts a current-gen Core i7-7700HQ, 16GB of memory as well as a larger 256GB SSD. Decent variety, though we do reckon Asus has cut a few corners on the base specification. 8GB of memory in a single-channel configuration is basic by today's standards and a 128GB SSD can be considered miniscule for a gaming build.
While we're nitpicking, there's also a fair amount of bloatware to contend with and incessant prompts from the likes of Asus web storage, Asus app giftbox, Asus product registration and McAfee LiveSafe become annoying. On the flip side, every GL702VM model comes equipped as standard with a matte 17.3in IPS display touting a full-HD resolution and support for Nvidia G-Sync at up to 75Hz, resulting in silky-smooth gameplay at the native resolution.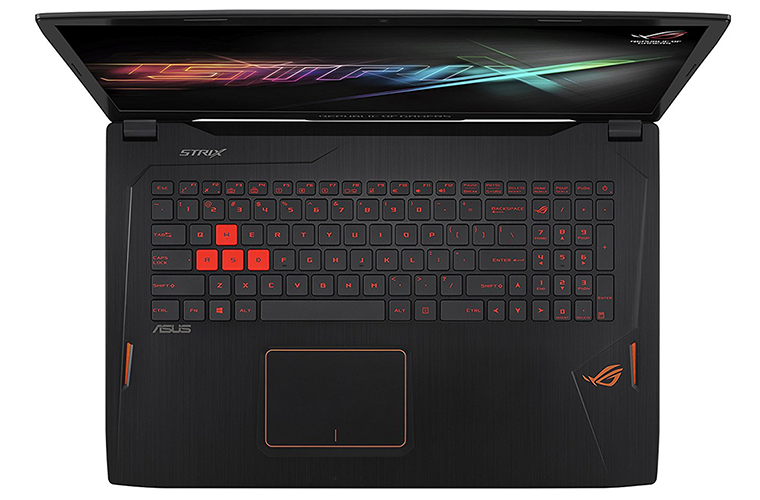 A 1080p display with G-Sync is, in our estimation, an ideal fit for a GTX 1060-powered laptop, but do be aware that G-Sync and Nvidia Optimus remain mutually exclusive. As such, the GL702VM can't revert to the Intel IGP in order to save power - the GTX 1060 is always in use and that doesn't bode well for the 76Wh battery. Audio output from the stereo speakers, meanwhile, is surprisingly punchy, and we like the fact that the laptop's innards can be accessed by undoing a few simple screws on the underside, making it easy to manually upgrade storage and memory, or clean the trio of internal fans.
Elsewhere, the backlit keyboard and trackpad are in line with our expectations of a gaming laptop. The latter is large and responsive, while the former offers a good amount of key travel and an integrated numpad. We aren't keen on the fact that the Num Lock key has been moved to make way for a dedicated shortcut to Asus's Gaming Center app, and if we're being ultra-critical we'd have preferred the keyboard with a white backlight as opposed to red. Still, you can't have it all for £1,200, so let's move on and see if the GL702VM can deliver a quality gaming experience.