Bluetake Bluetooth USB Adapter
The Bluetake USB Bluetooth Adapter, for all intents and purposes, does exactly the same job as the Dongle. This is ratified by the fact that the instructions manuals of both the Dongle and the Adapter are nigh-on identical save for a couple of differences.
The Adapter is differentiated by only offering a 10 metre wireless range as opposed to the 100 metres specified by the Dongle. This is to be expected as the Dongle is a more powerful Class I device. The Adapter is specified as Class II with a lower power output. The Dongle can serve up to 7 clients and so can the Adapter, albeit within a smaller wireless range.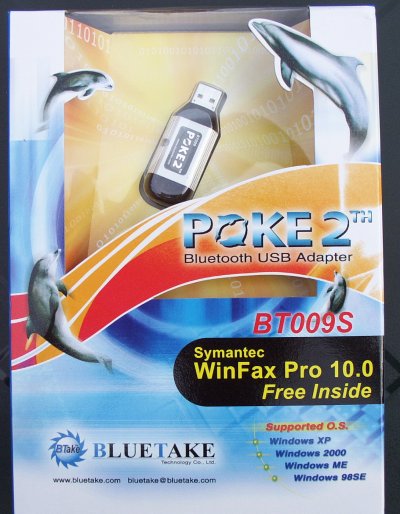 The box is pleasingly illustrated. Some of you may chuckle at the name of the adapter, Poke 2, I certainly had a chuckle or two. You can see the diminutive size of the adapter here already.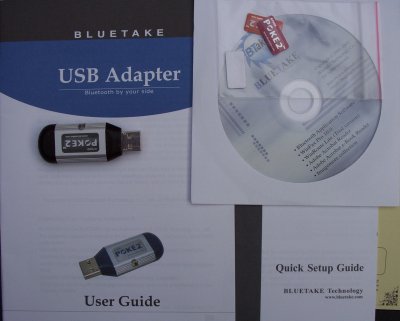 The bundle is almost identical to the Dongle, hardly surprising. You get the same driver CD containing a full copy of WinFax Pro 10 and a 30-day trial of Winroute Lite. It also has a main instruction manual, quickstart guide and warranty card along with a three extra nameplates.
To show you that this adapter is even smaller than the Dongle, I've taken a picture of it next to the same 50 pence coin.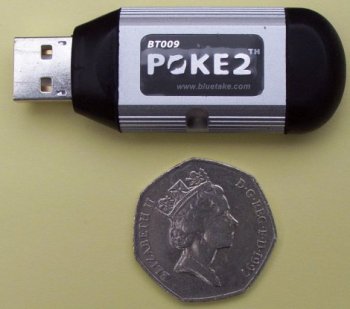 Small, eh ?. The Bluetooth chip inside allows Bluetake to manufacture such a small adapter. The adapter simply plugs into any PC / laptop with an USB port. Just like the Dongle, you should really install the software first and then plug in the adapter, this method avoids any nasty Windows conflicts and yellow exclamation marks.
Just like the Dongle, the adapter has an in-built blue light that's active when it's plugged in.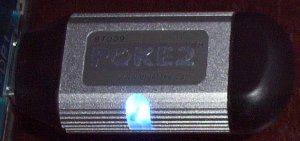 Specifications in detail
Bluetooth v1.1 available
Supporting 2.4GHz ~ 2.483GHz FHSS (Frequency Hopping Spread Spectrum)
Providing Data Access Via USB Interface
10 meter coverage area (at free space)
Optimum solution for Desktop and Notebook
Supporting File Transfer, Dial-Up and LAN Access profile
OS supporting in WIN98/ME/2000/XP
Sensitivity < -85 dBM
Data rate up to 1Mbit/s
61x23x10 mm
16 g weight
As expected. the specifications are extremely similar to the Dongle. The following page details the installation and performance of both the Dongle and Adapter as both use the same software.
Let's move on to usage and performance on the following page.