Introduction
As we draw 2016 to a close, the premium end of the graphics card market is represented by the GeForce GTX 1080 from Nvidia and Radeon R9 Fury X from AMD. Both cost north of £500 though do offer a really solid platform for high-resolution gaming and next-gen VR.
Like most manufacturers, Asus has multiple product offerings based on premium GPUs. We know all about the ROG Strix GTX 1080, which currently retails for an eye-watering £740. The huge Taiwanese company has now decided that it wants to offer enthusiasts all that it is good about the ROG Strix line yet at a price point that is more in line with other high-end GTX 1080 GPUs from the competition.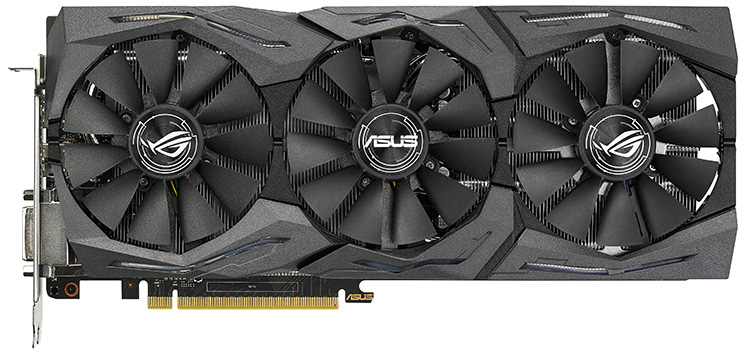 Enter the ROG Strix GTX 1080. Hold on a second, aren't we talking about the same card? The answer is yes and no. You see, Asus is harnessing all of its in-house cooling and lighting technology - the hallmarks of Strix, if you will - and putting it on a GTX 1080 that is clocked-in more conservatively.
So how do you tell the original Strix (£740) and this new model (£660) apart? Good question. The original is designated as O8G-GAMING whereas the new model, in for review today, goes by the name of A8G-GAMING. This subtle difference is the easiest way to tell them apart though, of course, there is some further differentiation on the specs.
That differentiation doesn't take the form of look, build and feel, mind. It is a carbon copy of its bigger, older brother, so it measures 298mm long, 134mm wide and 40mm thick. Though manifestly larger than the Founders Edition model, we're appreciative that Asus has kept a dual-slot profile thus enabling easy fitment into a wide array of chassis.
Three 90mm fans switch off at temperatures below 60C or so. Then there's the Strix makeover, including full-length backplate, dual-zone RGB Aura backlighting, and a novel inclusion of two four-pin fan headers on the front that connect to chassis spinners and regulate their airflow based on GPU temperature. Handy if you have them aiming at the card and want to ensure it never gets too hot.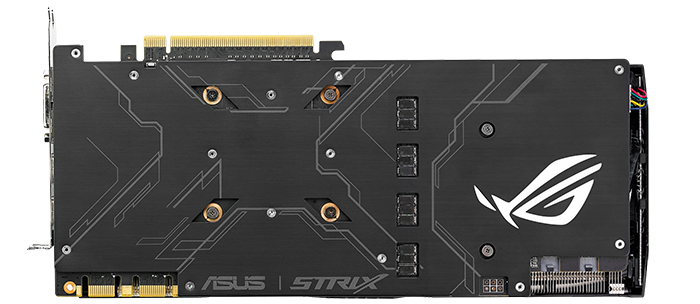 Heat shouldn't really be an issue on a GPU rated at a measly 180W by Nvidia. Making sure of that is the simple yet effective card-wide cooling that places a 'DC3' cooler on top of Nvidia's GTX 1080 GPU. Said cooler uses five heatpipes that ferry the heat away, though closer inspection shows that the outermost duo make very little contact with the relatively small core for this high-end graphics chip.
Asus adds a six-plus-eight-pin power arrangement that still offers plenty of TDP headroom for overclocking, and it's all kept in check by a 10-phase power supply. Mostly good so far, but we still haven't accurately answered the question of how this card is different enough for Asus to shave £80 off the retail price when it does look, for all intents and purposes, the same.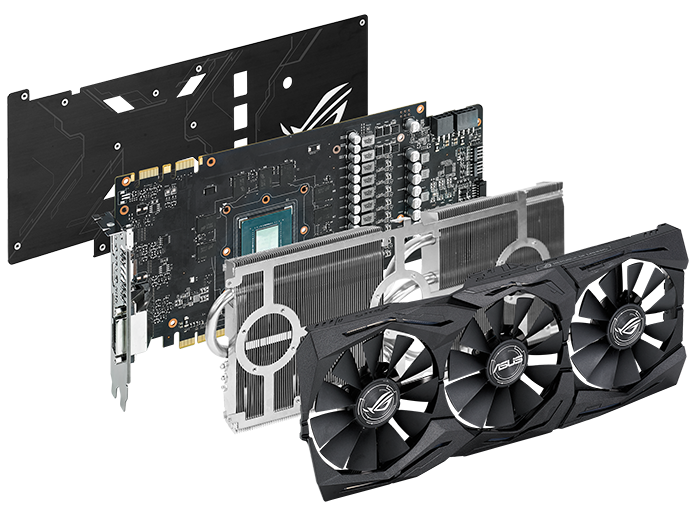 You'll probably know the Founders Edition card clocks in at 1,607MHz core and an average boost speed of 1,734MHz, but most add-in partners tend to push those clocks higher in pursuit of extra performance. Nevertheless, GTX 1080 isn't the best overclocker due to Nvidia having solid base frequencies; the O8G has a default speed of 1,759MHz base and 1,898MHz boost while this A8G is more conservative, chiming in at 1,670MHz base and 1,809MHz boost. That, in a nutshell, is the difference. Both GTX 1080 variants have a guaranteed overclock, called OC mode by Asus, that is a little higher - 1,835MHz boost in this case.
Asus historically doesn't indulge in overclocking the memory which remains at a standard 10Gbps. Compared to a number of other GTX 1080s vying for your attention at this price, the Asus A8G is a touch underpowered on the frequency front, meaning the firm is selling this card more on aesthetics and ROG features than pure performance alone.

There's been a change around back, too, where Asus swaps one of the three DisplayPorts in favour of a secondary HDMI. The thinking here is that users with an HDMI display may also want to connect a VR headset, and in that scenario a second port could be useful. Keeping things modern, both HDMI ports are v2.0, while DisplayPort is at v1.4. Dual-link DVI is also included as standard.
You need to download a couple of pieces of software to get the most out of the card. Asus Tweak (above right), offers a simple means by which to overclock the frequencies and set explicit fan control while, available as a separate download, Aura (above left) sets the colours and effects on the card. As before, it is not possible to configure the two zones - side and top - independently.
The real question we need to answer is if Asus has done enough with this iteration of Strix Gaming to woo potential customers away from the £600-£650 GTX 1080 models that are rife in the market. Let's find out.