GTX 1050 Ti Superclocked Gaming
Given the target audience and the entry-level positioning, we expect most manufacturers to package the 75W GTX 1050 Ti in compact boards well suited to a variety of PC systems. There really is no need for these cards to be much longer than a PCIe lane, and anything more than a single cooling fan can be considered overkill.
Understanding the brief, EVGA's SC Gaming is well proportioned and, in our estimation, the pick of the firm's five GTX 1050 Ti models being introduced to retail.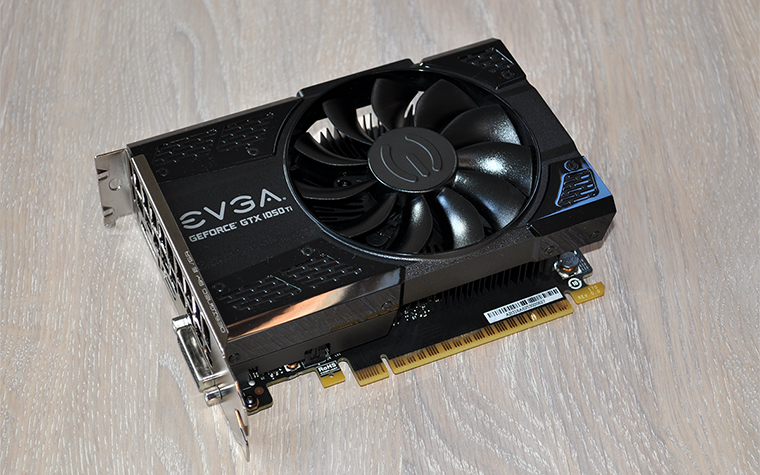 Expected to fetch a small premium over Nvidia's £139 UK MSRP, the SC Gaming keeps it short and sweet with dimensions of 111mm (H) x 145mm (D) in a familiar dual-slot form factor. Build quality is good throughout, with EVGA employing a thick plastic shroud that exhibits hardly any sign of flex.
A single 90mm ACX 2.0 fan sits atop a circular heatsink, and the simple combination should be perfectly adept at cooling the efficient 75W GPU despite a factory overclock. Right out of the box, base and boost frequencies are raised from the reference 1,290MHz and 1,392MHz to 1,354MHz and 1,468MHz, respectively. That's a five per cent increase from the get-go, though we imagine the card will boost higher in the benchmarks to come.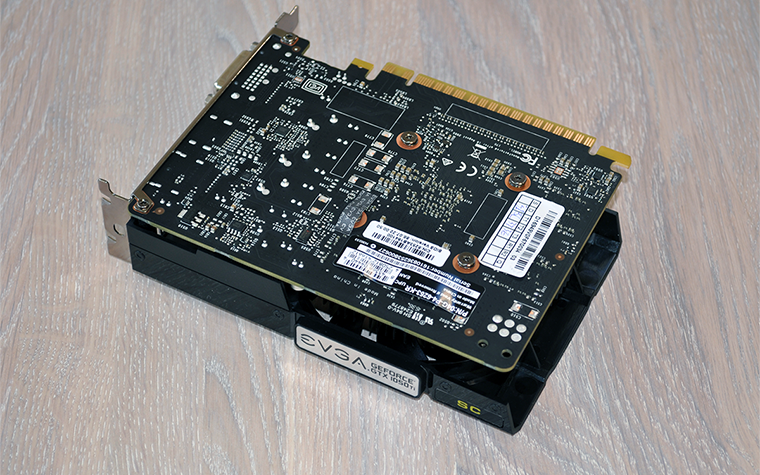 The 4GB GDDR5 frame buffer operates at a stock 7,008MHz and EVGA makes use of a 3+1 power phase configuration. All this is achievable without the need for external power connectors - meaning the GTX 1050 Ti SC Gaming draws all its power from the PCIe x16 slot - and if you're considering other cards in the EVGA range it's worth noting that higher-clocked FTW models do require an additional six-pin connector.
Keeping things simple, there are no flashy LEDs to speak of and no backplate, neither. The latter isn't missed on a card of this size, as reinforcement is hardly necessary, and the black PCB helps maintain the sleek overall aesthetic. What's more important, we feel, is the three-year warranty that the manufacturer includes as standard.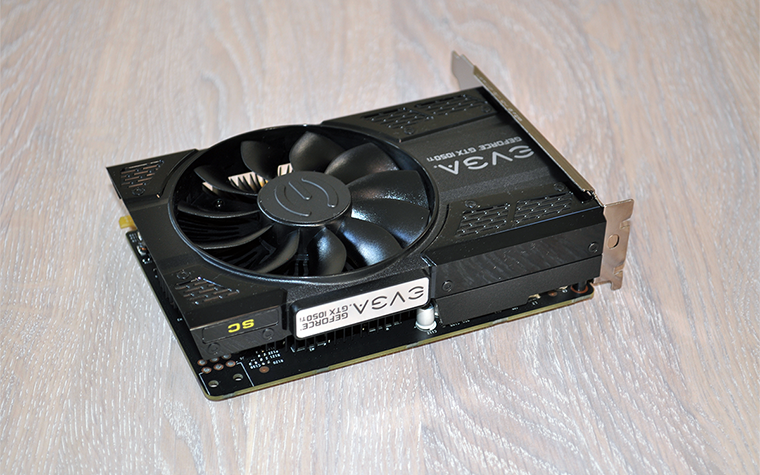 Has EVGA ticked all the right boxes, then? Well, not quite, as the fan doesn't switch off at low load. It's hardly loud, but not having a 0dB mode is a missed opportunity, and we're already wondering if the manufacturer will add such a feature via a BIOS update, as was the case with the similarly-sized GTX 1060 SC Gaming.
That's about the only obvious caveat, though playing devil's advocate, we would like to see manufacturers expand their portfolio with a wider variety of compact form factors. The SC Gaming is nice and small, but given Pascal's multimedia credentials, we imagine there are customers out there pining for, say, a half-height or single-slot take on the GP107 GPU.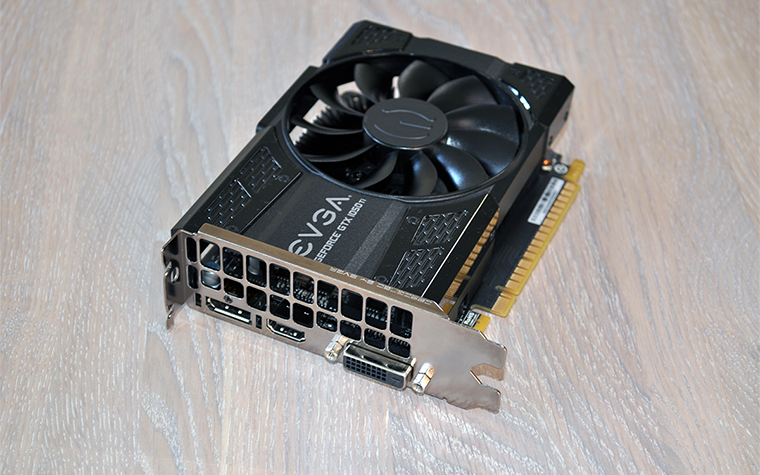 Nvidia's reference mandate suggests a trio of outputs and EVGA sticks to the plan with dual-link DVI, HDMI 2.0b and DisplayPort 1.4. The trio are full-size and having them arranged along the bottom row leaves a good amount of room for hot air to be expelled via the vented section of the I/O plate.
Anticipating that the GTX 1050 Ti SC Gaming will arrive in stores priced at around £150, it will need to comfortably out-perform the rival Radeon RX 460 (£125) and we're intrigued to see whether or not the GeForce can close the gap on Radeon RX 470 (£175) to any meaningful degree.