Introduction
We've seen a slew of custom GeForce GTX 1060 graphics cards following the launch of the Founders Edition back in July, and the one thing that has surprised us is that partner designs have tended to be big, long or chunky. There's nothing wrong with large cards per se, particularly if top-notch cooling is high on the agenda, yet the 120W TDP of the underlying GPU seems to suggest that GTX 1060 should be a pint-sized affair.
Manufacturers eager to re-purpose existing coolers don't appear to be in a hurry to serve up compact cards better suited to small-form-factor PCs; however there are a couple of petite options out there. EVGA, a firm best known for its enthusiast gear, has decided to go small with its GeForce GTX 1060 SC Gaming.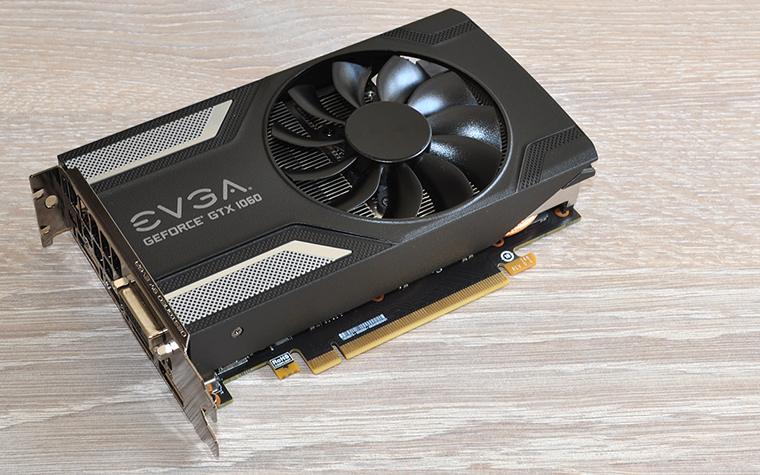 Priced at £260 and measuring 173mm in length, this dual-slot take on Nvidia's 200mm² GPU is one of the shortest to date and stands out as a prime candidate for mini-ITX PCs. Do be careful when browsing the retail shelves, however, as the same cooler design is applied to multiple models, including a new 3GB card which appears attractive at £195 but has, unusually, been revealed to have fewer shaders.
It's the full-fat, 6GB card on the test bench today, meaning 1,280 shaders, 80 texture units and 48 render output units allied to the frame buffer via a 192-bit bus. These 16nm credentials are a good fit for a card of this size, and EVGA's implementation is neat and tidy. The heatsink shroud is pleasant in appearance, the solitary fan should have no trouble taming the underlying GPU, and contrary to the recent trend, there are no flashy LEDs to speak of.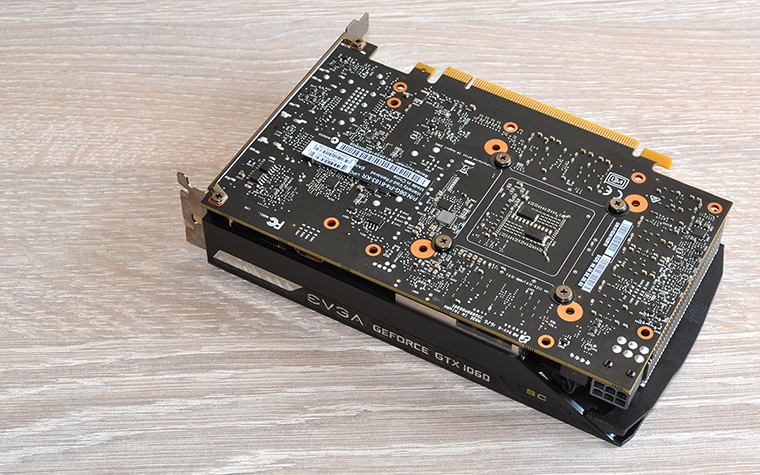 There's no backplate either, and though overall rigidity is good thanks to the chunky block of aluminium sandwiched in the middle, EVGA's modest design is up against a range of competitors whose cards include backplates as standard.
One area in which the GTX 1060 SC Gaming doesn't skimp is the out-the-box overclock. Base and boost clocks are heightened to 1,607MHz and 1,835MHz, respectively, up from 1,506MHz and 1,708MHz on the Founders Edition. A seven-per-cent increase is always welcome, however there's been no movement on the 6GB of GDDR5 memory, which operates at a reference-matching 8,008MHz.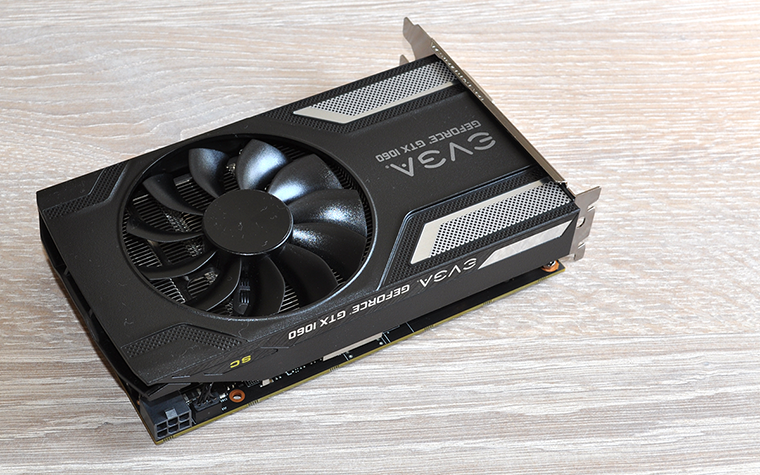 Given the size of the board, it's no surprise to find that there are few extra features to ponder over. There's no secondary BIOS, no SLI capability (per Nvidia's mandate) and the power requirement remains a single six-pin connector. Simple and straightforward thus far, though our testing did reveal an oddity in that fan speed wouldn't dip below 45 per cent during use, making the card unnecessarily noisy at all times.
A BIOS update enabling a 0dB fan mode that we've come to expect on modern GeForce boards is available from the EVGA forum. We've been able to apply the patch to our review sample without a hitch, yet initial feedback seems to suggest that the update doesn't work on AMD motherboards.
It's unusual to see an EVGA graphics card with BIOS issues still to be resolved, though further examination shows that it's an Nvidia-related problem, not EVGA's, because it transpires that the flashing tool doesn't recognise AMD chipset-based boards. We hope Nvidia can fix this very soon.
If you own the GTX 1060 SC Gaming it's worth checking to see if you have the updated software already installed. Freeware utility GPU-Z will highlight the BIOS version number, with 86.06.0E.00.62 being the latest.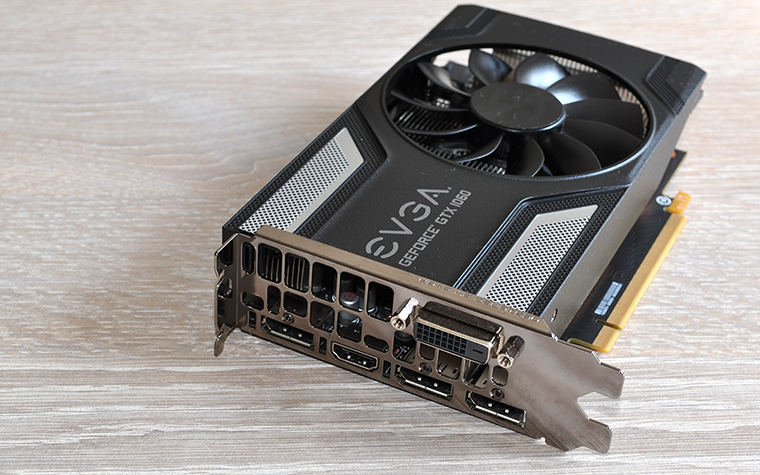 Elsewhere, the selection of outputs hasn't been altered, with EVGA sticking with Nvidia's default selection of dual-link DVI, HDMI 2.0 and a trio of DisplayPort 1.4, and the manufacturer backs the card with its standard three-year warranty.
Though GPU power requirements have fallen significantly in recent years, smaller cards remain few and far between. It's frankly nice to see one, and there is a certain satisfaction to such form factors - this may be one of the smallest GTX 1060s around, yet it will still run rings around many previous-generation behemoths. Compared with one of its own GTX 970s, EVGA reckons the GTX 1060 SC Gaming is 23 per cent faster, 17 per cent cooler and 28 per cent smaller. Let's now see what our in-house benchmarks have to say.