Introduction
Some Nvidia add-in board (AIB) partners see the GeForce GTX 1060 6GB as a perfect candidate for a small, unobtrusive card. And why not, because the 120W TDP lends itself to a small PCB, right?
Inno3D, however, spans the entire gamut of cooling options for the nascent GPU. You can choose to go mini-ITX, opt for a regular card, or bring a blunderbuss of a cooler to the GTX 1060 party.
And this is precisely what Inno3D does with the iChiLL X3 cooling present on the GTX 1070 and GTX 1080 GPUs.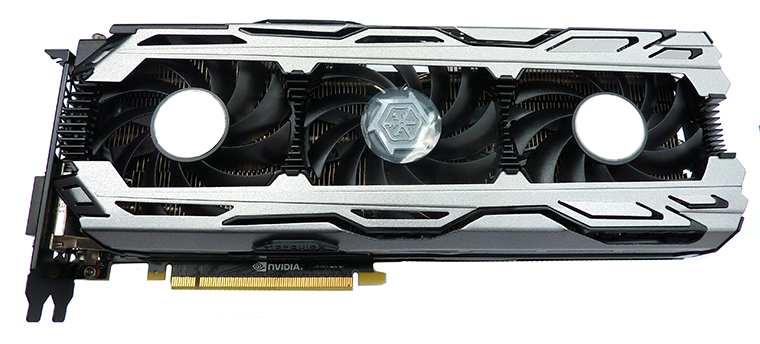 Told you it was big. What big means in this case is a 302mm-long board that takes up 2.5 slots of precious PCIe expansion. Clearly, this is not a card to be housed in a small chassis. Does it make sense to overpower a 120W GPU with the kind of cooling that makes short work of an overclocked GTX 1080 card? It does if you want super-quiet operation and low temperatures.
Inno3D is sensible insofar as it doesn't charge a healthy premium for its top-of-the-line cooling solution. The iChiLL X3 costs £260, or about £30 more than the cheapest models. The extra outlay gets you a card that clocks in at up to 1,785MHz boost and, with a nod to the extreme nature of the design, memory running at 8,208MHz.
The trio of fans are detachable, switch off at low loads, and never bat the proverbial eyelid when under the pump. Weighing 1,085g means you need to screw it in tight, but the card's rigidity is such that it doesn't bend or sag when in the PC.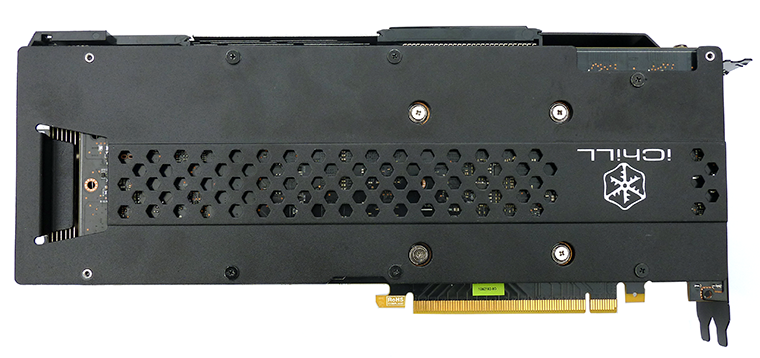 That bracing is helped by having a 'HerculeZ' rear heatsink attached to the card. The whole package is well made and, in common with other iChiLL models, there's a side-mounted, illuminated logo that changes colour based on temperature. We never saw it turn red (hot) for a prolonged length of time.
Those who follow GPUs closely will know this card isn't a carbon copy of the GTX 1070/1080 because it doesn't feature the two SLI fingers usually resident on the top-right corner.
What else? Power is sourced by an 8-pin connector while the overall aesthetic has been improved since the original launch by using a black I/O panel.

No need to change the default quintet of digital outputs.
As usual, on this premium model, the company adds a mouse mat and codes for 3DMark and VR Mark.
If you like your cards big and bold, Inno3D should be right up your street. Let's now see if the iChiLL has done enough to ward off another quality, custom-cooled GTX 1060 and, looking across, a decent Radeon RX 480.