Introduction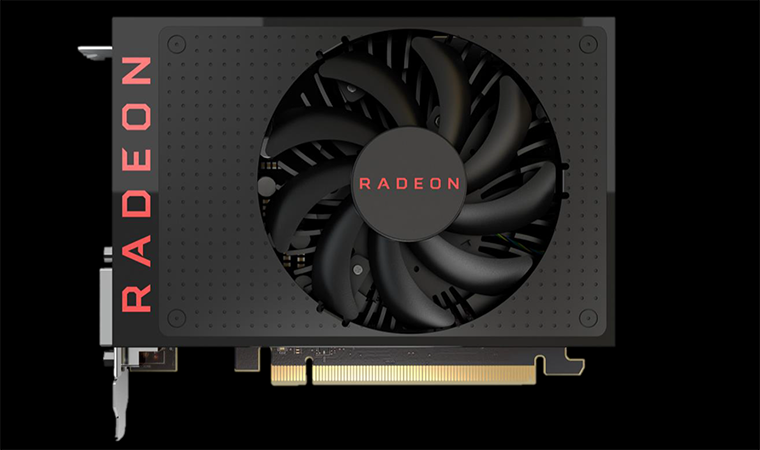 The GPU bonanza just keeps on giving this month. Hot on the heels of the AMD Radeon RX 470 arrives the baby brother, RX 460.
Unlike the two previous AMD GPUs released under the Polaris branding recently, RX 460 is very much a mainstream part that's aimed at buyers who are taking their first real steps into PC gaming. RX 460 uses a distinct, smaller die and is to be priced from £99. As usual, let's fire up the comparison specification table and dissect the latest offering from AMD.
AMD Radeon 'Polaris' line-up

Radeon RX 480

Radeon RX 470

Radeon RX 460

Launch Date

June 2016

August 2016

August 2016

Codename

Polaris 10 XT

Polaris 10 Pro

Polaris 11

Architecture

GCN 4th

GCN 4th

GCN 4th

Process (nm)

14

14

14

Transistors (mn)

5,700

5,700

3,000

Approx Die Size (mm²)

232

232

123

Full Implementation of Die

Yes

No

No

Processors / CU

2,304 / 36

2,048 / 32

896 / 14

Texture Units

144

128

56

ROP Units

32

32

16

Peak GPU Clock (MHz)

1,266

1,206

1,200

Peak GFLOPS (SP)

5,834

4,940

2,150

Memory Type

GDDR5

GDDR5

GDDR5

Memory Size (MB)

4,096 / 8,192

4,096

2,048 / 4,096

Memory Bus (Bits)

256

256

128

Memory Clock (MHz)

7,000 / 8,000

6,600

7,000

Memory Bandwidth (GB/s)

224 / 256

211

112

Power Connectors

6

6

-

TDP (Watts)

150

120

<75

GFLOPS per Watt

38.89

41.17

28.67

Launch MSRP

$199+

$179+

$99 / $129
Specification analysis
RX 460 is a much smaller GPU than its Polaris brethren. Using the same base architecture, AMD reduces the Compute Unit count by over half - 14 vs. 36 - when compared to the RX 480. There are half the render back ends, and it makes sense to chop the memory footprint in half, as well.
This new GPU makes most sense when equipped with a 2GB frame buffer, mainly for cost reasons, as doubling it is likely to offer very little performance gain yet balloons cost out by 30 per cent, to $129. Given the 128-bit-wide memory bus, the speed of the RAM is faster than the RX 470's, running at 7Gbps.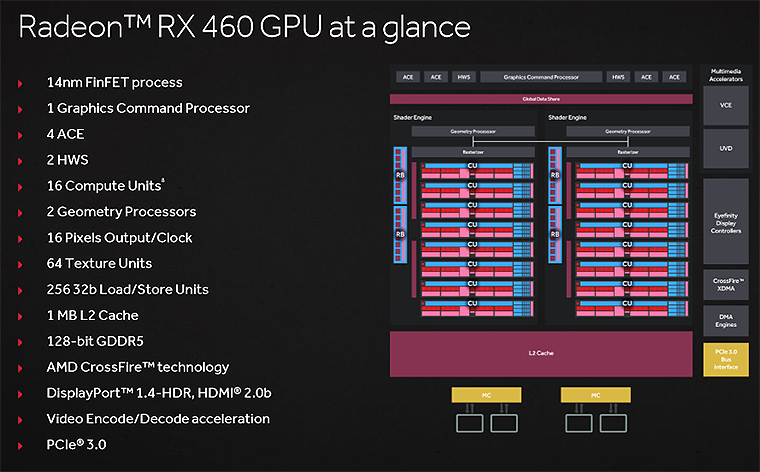 Polaris 11 - about half the size of Polaris 10.
Have you been paying attention thus far? The above picture is not of the present Radeon RX 460, though it may seem so otherwise. The block diagram belongs to the Polaris 11 GPU. The difference is important. That full-fat Polaris 11 does indeed have 16 Compute Units composed of 64 shaders each. RX 460, on the other hand, uses 14 of those 16, so 896. The clear message here is that AMD hasn't or doesn't want to use the full complement of available cores on the desktop chip, or, more unlikely, the company has changed its mind since the Polaris Tech day in early June.
Putting numbers into context, Polaris 11, at 123mm², is just over half the die size of the Polaris 10 powering the RX 470 and RX 480 GPUs. 3bn is a goodly number of transistors to fit into that die area, made possible by the switch down to a 14nm manufacturing process.
Though presented to the desktop GPU public with a regular PCIe connector, RX 460 has a PCIe Gen 3 x8 interface, not the standard x16 we've seen for a while. The system-to-GPU bandwidth reduction shouldn't have much of an impact upon gaming performance, however. Outside of the graphics-centric architecture, there's been a Polaris-wide overhaul of the display and encode/decode technology.
The specs suggest RX 460 is a low-power GPU primed for reasonable-quality gaming at a 1080p resolution. Appreciating its small dimensions and relatively frugal power output, RX 460 is also being purposed into a mobile GPU for decent gaming laptops. The HP Omen is the first big name to carry Radeon RX graphics, but we note that the majority of that line is powered by the broadly equivalent GeForce GTX 950M/960M.
Back on point, add-in board partners will probably choose to outfit their 2GB RX 460 boards on small PCBs bereft of the usual 6-pin power connector. 4GB boards, of which we have the Sapphire Nitro in for review today, tend to focus on including better components and higher overclocking potential. It is therefore reasonable to assume most will carry an auxillary power connector.
Pertinent for buyers today, AMD and partner pricing puts the Radeon RX 460 on a collision course with incumbent GeForce GTX 950 2GB.