Introduction
It's fair to say that AMD missed a retail opportunity with the release of the Radeon RX 480 GPU. A combination of stock levels in constraint and the launch of the rival GeForce GTX 1060, with partner cards available in good quantity before AMD, has left Radeon fans somewhat bemused by the wait.
Now, a month or so on from official launch, partner RX 480 cards, in both 4GB and 8GB flavours, are seeping through to retailers, so we thought it a good idea to pit AMD's premium mainstream champ against the slightly dearer GTX 1060.
We've already seen the Asus Strix makeover of the GTX 1060 OC therefore it made sense to see what the dual-source partner would do with the RX 480 variant. Step forward the ROG Strix RX 480 OC.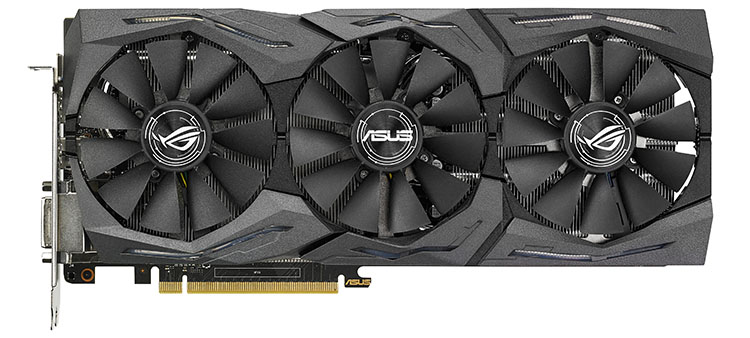 This here beastie is available in two models - ROG STRIX-RX480-8G-GAMING and ROG STRIX-RX480-O8G-GAMING - with the latter shipping with a higher core clock. And that takes us on to an interesting topic, because both cards have multiple core frequencies depending upon which mode they're run. Our OC sample runs at 1,330MHz core in, well, the OC mode we received it in, while Gaming mode, constituting out-of-the-box speed applicable to retail cards, reduces this to 1,310MHz.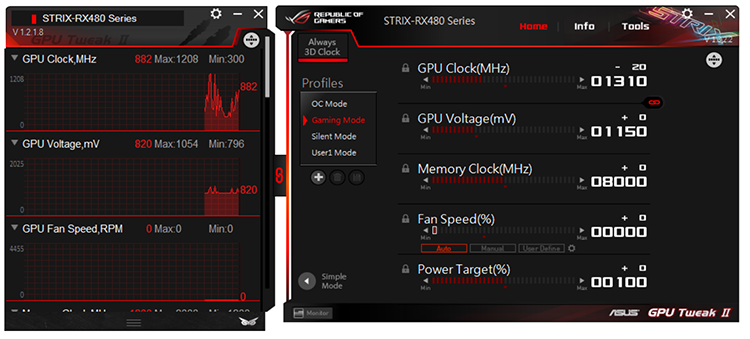 Considerable volume has already been written about the speed states of press review cards, so we used the Asus GPU Tweak II utility to push the card back into retail Gaming Mode, as shown above. What you'll also notice is that memory is an AMD-default 8,000MHz, also applicable to the OC Mode, and we find it a shade disappointing to see that Asus' top-of-the-line RX 480 doesn't have any memory overclocking as standard.
The actual heatsink is, as far as we can tell, a carbon copy of the one gainfully employed by the GTX 1060. And why not. It's built like the proverbial tank and has more than enough horsepower to tame a ~150W TDP GPU. Of the more pertinent details, the trio of 90mm fans switch off when temperature is below 60°C - handy for quiet systems - and the dual-slot form factor is achieved by having relatively large dimensions of 298mm length and 134mm height.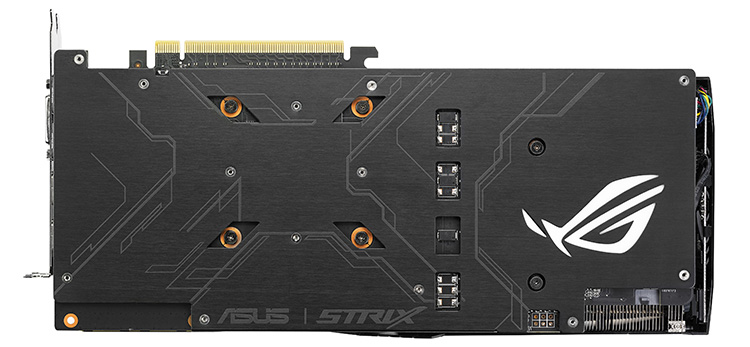 The full-coverage backplate adds a nice touch to this premium package, and it becomes nice and warm during load, suggesting it's doing a good job of ferrying the heat away from the board and into the chassis. GPU vendors now sell more on the card feature set than the underlying GPU - buy a Strix and you're likely to see significant commonality between a mainstream cooler such as this and the top-end offering used on the GeForce GTX 1080. And that means this card is home to Aura RGB LEDs. Controllable via software and set to breathing mode by default, Asus's LEDs offer decent colour accuracy and are well positioned - there's just enough light without being garish, the illuminated ROG logo on the backplate is a nice touch, and we like the fact that the lights can be triggered by GPU temperature.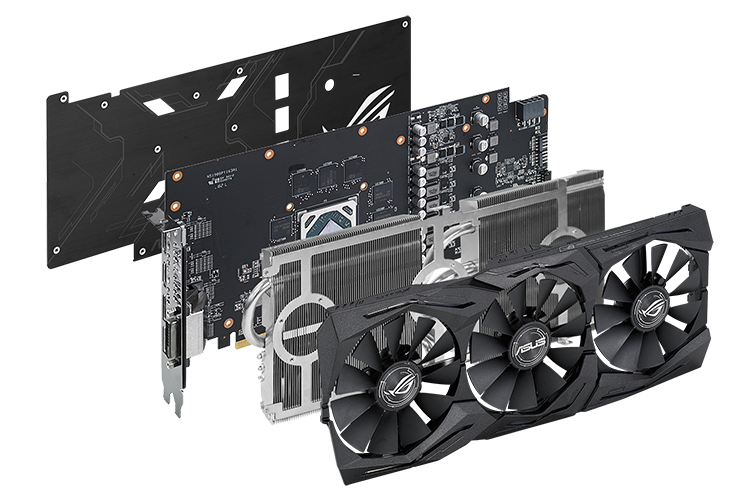 Here's how the card fits together. The overall layout is identical to a £750 GTX 1080 Strix, and this cooler also uses five heatpipes, of which only three make full, direct contact with the RX 480 core. One could argue this heatsink is overall for a smaller-die GPU such as the RX 480. A slimline metal heatsink sits on top of the 8GB of memory ICs while a thermal pad, on the underside of the main heatsink, makes contact with the VRM components lining the right-hand side. This is tried-and-trusted Strix technology dutifully repurposed for another GPU.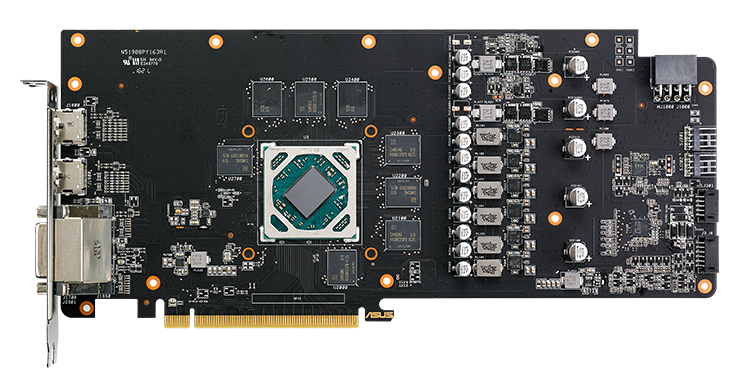 And it shan't come as a surprise to learn the PCB has the same overall layout as GTX 1080/GTX 1070 and GTX 1060. AMD's reference card uses a single six-pin power connector; Asus bumps this up to a single 8-pin, also seen on the GTX 1060 version, giving rise to a potential 225W of power through the board. Tweaking aficionados will appreciate the six voltage monitoring points to the left and behind the PCB..
Strix also houses a couple of extra FanConnect headers below the eight-pin power connector. Their purpose is to supply the card with more chassis-based airflow if there's insufficient movement inside the case. A handy feature that separates Asus from most of the competing crowd, if you're into this sort of thing.

Asus' all-digital outputs comprise two Display Port, two HDMI and a single dual-link DVI. Compared to reference, the third DisplayPort is substituted for HDMI, with Asus claiming, rightfully, that the Strix combination is better for connecting a VR headset and regular display concurrently.
The Taiwanese giant has a recent history of charging a decent premium for its best-in-breed GPUs. This ROG Strix RX 480 OC fetches £290 at retail, meaning pricing that's up to £40 dearer than other partners' custom-designed models. That said, it's also £40 cheaper than the GTX 1060 OC variant. Wouldn't it be handy to compare the two head-to-head...