Introduction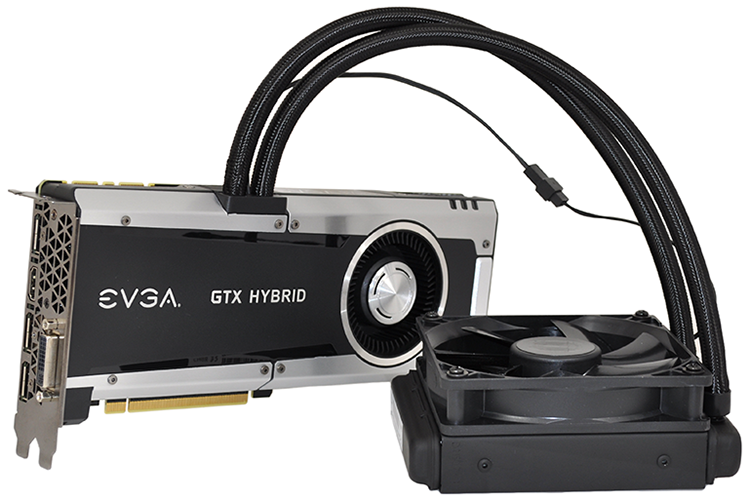 Maybe it's the excitement of a new year, or perhaps we're just growing impatient in our old age, but whatever the reason, it feels as though a cutting-edge GPU is overdue. The stand-out choice in Nvidia's current consumer line-up is the GeForce GTX 980 Ti, which first appeared in May of last year and sits between two even older cards; Titan X and GTX 980.
The latter dates way back to September 2014, but said cards will continue to hold the fort in the months ahead, as neither Nvidia's Pascal nor AMD's Polaris are expected to make their debut in the enthusiast space until June or July at the earliest. With next-gen cards still some way away, add-in-board partners are having to revitalise their current portfolio with tweaks to existing designs, and EVGA has done exactly that with the GTX 980 Ti Hybrid Gaming.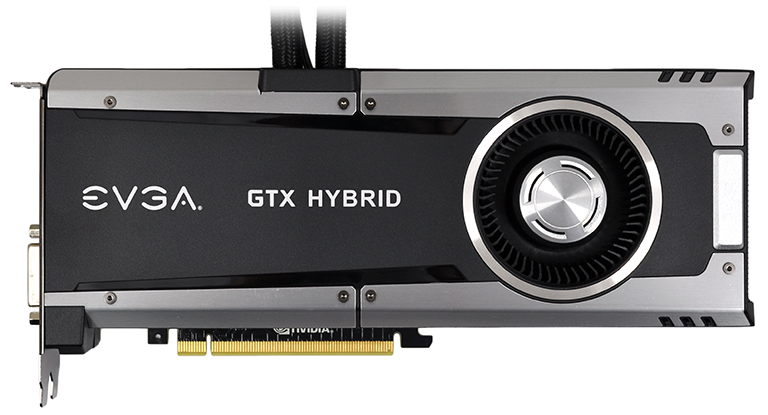 Priced at £600 and first unveiled back in June, the GTX 980 Ti Hybrid is an enthusiast board that has since been outfitted with a revamped shroud designed to give the card a classier look and feel. It's an attractive thing, though it may appear familiar to existing owners as EVGA previously made the new shroud available as a free upgrade to GTX 980 Ti Hybrid owners.
All new cards should now ship with this new aesthetic - though, frustratingly, neither the EVGA product page nor retailer listings appear to have been updated with new imagery. Nevertheless, this is how the card will look and the formula hasn't changed - it's still a factory overclocked GTX 980 Ti tied to a 120mm radiator and fan assembly via sleeved tubing.

EVGA's fit and finish is among the best we've seen on a liquid-cooled GTX 980 Ti, and for users who don't want to dabble with custom water blocks and other third-party paraphernalia, the convenience of an all-in-one, closed-loop solution can't be overlooked. And of course, EVGA's three-year warranty adds further peace of mind.
Measuring roughly 270mm from tip to toe, the card conforms to our expectations of a modern-day enthusiast board and occupies two expansion slots. Users spending this amount on a graphics card should have plenty of room in their chassis, though do remember to take the radiator assembly into account, as the 120mm unit can be a tight squeeze if you have a particularly large CPU heatsink installed.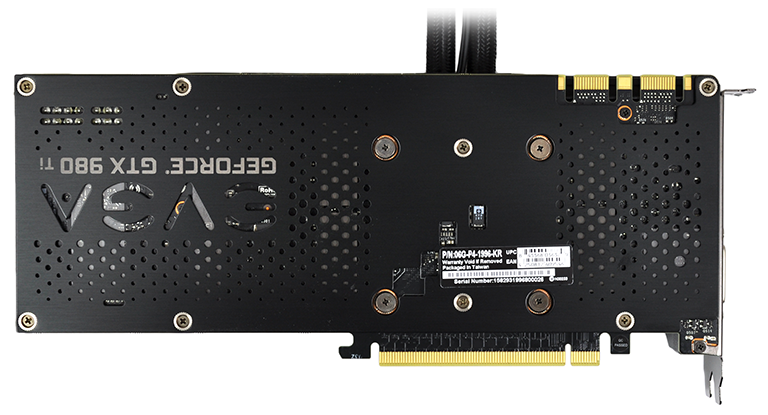 Perusing the exterior doesn't reveal anything out of the ordinary. The GTX 980 Ti Hybrid retains dual SLI connectors, and power continues to be sourced from an upward-facing 6+8-pin configuration, however EVGA has added a few little extras. The GTX Hybrid logo on the top edge is backlit in white for added effect, and it's nice to see a full-size backplate included as standard, though we'd expect nothing less at this price point.
The key question, of course, is how high is the factory overclock? Well, it isn't as high as we'd imagined. EVGA has core and boost frequencies dialled in at 1,140MHz and 1,228MHz, respectively, and though the numbers are a healthy increase over reference (1,000MHz and 1,076MHz), the Hybrid card falls short of the immediate competition. Inno3D's iChill GTX 980 Ti Black, for example, will boost to 1,304MHz while Gigabyte's GTX 980 Ti Xtreme Gaming WaterForce is rated at 1,317MHz.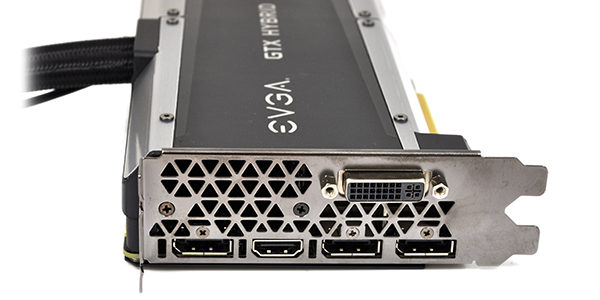 If all you're after is the fastest liquid-cooled GTX 980 Ti, EVGA's Hybrid doesn't look as tasty as the alternatives when it comes to shipping frequencies. It could be argued that the gap in headline figures isn't going to make a great amount of difference during real-world gameplay, but it does feel as though EVGA has played it safe, and that suspicion is magnified when you realise that this is one of few liquid-cooled GTX 980 Tis to ship with stock-clocked memory. The 6GB buffer ticks along at the default 7,012MHz.
It's a good-looking card, there's no doubt about that, but unless the boost profile is particularly generous, we suspect the GTX 980 Ti Hybrid Gaming will struggle to top the charts. Let's see if that's true.