Introduction
AMD's discrete graphics division is on the rebound according to the latest market research, posting the best quarter-to-quarter gain in quite a while. Good news for AMD's bunch of add-in board partners who have had to weather the GeForce storm, but AMD's overall market share remains significantly below that of last year.
Perhaps the top-to-bottom revamp of the upper echelons of the discrete card market have finally told. There's the HBM-equipped Fury at the top, touting genuinely new memory technology, but the supporting products are just as important. Take the seminal £250 price point as an example. AMD believes it offers better value than rival Nvidia's hot-selling GeForce GTX 970.
This price-to-performance proposition is handed over to the Radeon R9 390 GPU. Ostensibly a Radeon R9 290 but with faster frequencies, double the frame buffer, and a host of software-related tweaks, it's the price of the R9 390 that's telling. You can pick up this 2,560-core pixel muncher for £250 or very much GeForce money.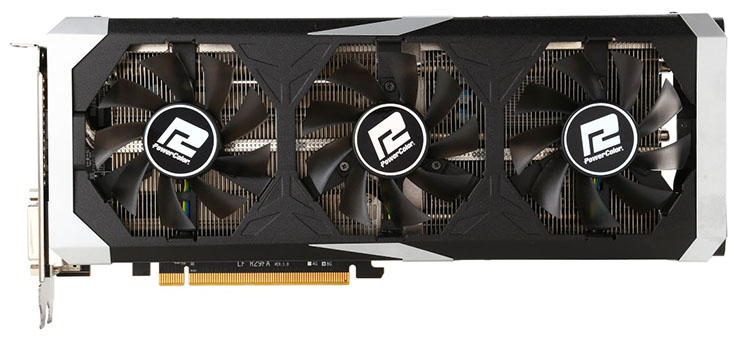 Such a tempting price point brings all of AMD's partners out to play. The formula is pretty simple; the R9 390 is a drop-in upgrade over the R9 290 from November 2013. It is entirely plausible that AIB partners use the same cooling and card design as on the outgoing model.
This is what PowerColor has largely done with its Radeon R9 390 PCS+ card. Yet thankfully this isn't a complete replica of the 290 variant. The all-metal heatsink has been redesigned to offer a cleaner aesthetic. The card measures 305mm from tip to toe and continues to use a 2.5-slot form factor - which in reality means three. That real estate provides room for a trio of 80mm fans that, like most modern cards, switch off when the temperature is below 60°C.
Underneath lies four heatpipes - three 6mm, one 8mm - that cross through a pure copper insert and array of nickel-plated aluminium fins. This is one heavy-duty heatsink that has been a proven solution in the past. Not missing the finer points, there's a healthy amount of thermal tape between the cooler and 8GB of GDDR5 memory as well as two smaller 'sinks for the PWM circuitry.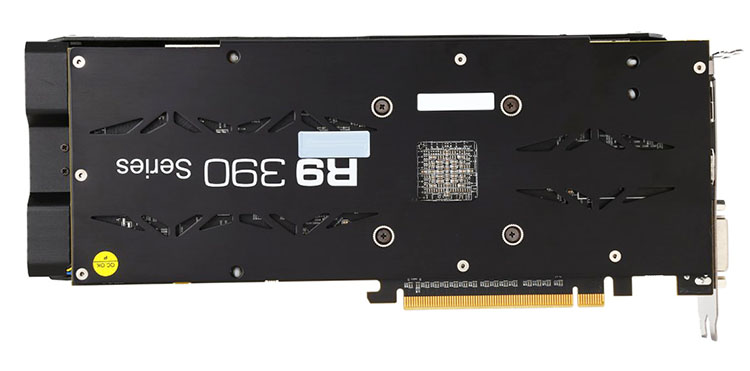 More metal is found on the backside of the PCS+. The plate, as usual, gives the card an extra level of rigidity that is needed for this 1,042g beastie. It also becomes quite warm to the touch after extended use, suggesting that it's doing its job well.
Such focus on cooling is somewhat undermined by the near-stock frequencies. PowerColor plays it safe - too safe for our liking - by adding just 10MHz to the standard 1,000MHz engine clock. This appears to be common practice on the R9 390, however, so it's a case of the underlying GPU's lack of core potential than the AIB deliberately not going for super-high frequencies. Memory, too, remains at a stock 6,000MHz. The end result is that the PCS+ will benchmark at very close to the levels of any other R9 390.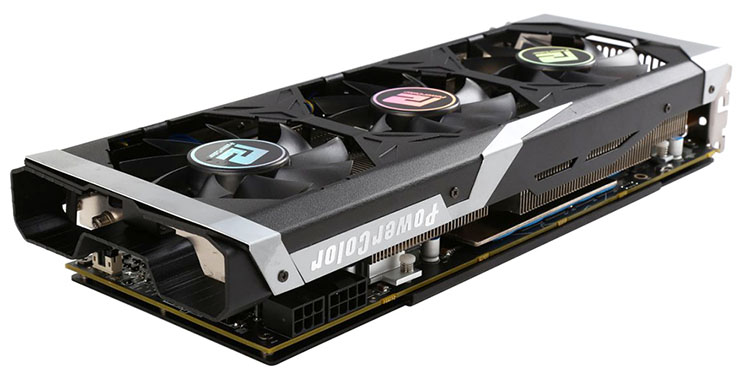 A side-on shot reveals the presence of both six- and eight-pin power connectors. We like the fact there are no garish LEDs or bright lighting on this model. Further on down is a two-position switch which toggles the BIOS into either quiet or standard modes - frequencies are unaffected. The quiet mode sacrifices a little temperature for a less intrusive gaming experience, and our logs showed that the card was able to sustain the 1,010/6,000MHz speeds on both settings.

There isn't much call for a card-wide exhaust vent on an open-air cooling design such as the PCS+; PowerColor recognises this fact by sticking to AMD's default quartet of two dual-link DVI, DisplayPort and HDMI, all of which can be used concurrently to drive four high-resolution panels. HDMI, though, is of the older variety, so no 4K60 if connected to a new-ish TV.
The usual questions are whether such a card has the beating of its peers in a roster of games. Let's find out.