Introduction
Can you believe the GeForce GTX 970 is already a year old? Where does the time go? 12 months ago we approved of Nvidia's mid-range offering, alluding to "a mighty-attractive price for a very-decent card." It wasn't all clear sailing, though, particularly at the turn of the year when the Internet caught wind of GTX 970's memory shenanigans.
Turns out 4GB of memory isn't quite what it seems, but put aside your feelings on Nvidia's failure to disclose the finer details from the offset and you'll probably agree: despite the bad press, GeForce GTX 970 remains as good a bet as any. Prices now start at under £250 and for that amount it offers plenty of bang for your buck. So while the GPU may be getting on a bit, it's worth revisiting and we're doing precisely that with a recent addition from Gainward, the GeForce GTX 970 Phoenix.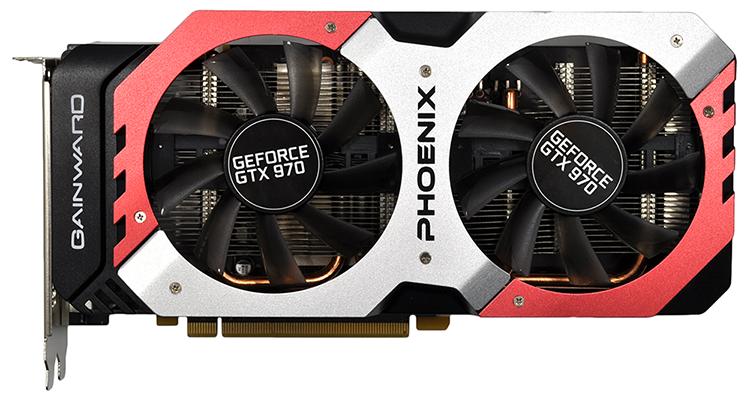 Seem familiar? There's good reason for that, as Gainward's GTX 970 Phoenix looks awfully similar to Palit's existing GTX 970 JetStream. Palit acquired the Gainward brand back in 2005, so it's no surprise to find that both firms' offerings now share more than just a passing resemblance.
The most obvious change in terms of appearance is that Gainward has opted for a red, black and silver aesthetic - a colour combination that never fails and will blend well with most modern gaming rigs. The lightweight plastic shroud is such that build quality isn't the best - it feels like a step down from, say, an Asus or EVGA card - but the dual-fan cooler is certainly meaty.

Measuring 250mm in length and weighing in at 615g, the GTX 970 Phoenix conforms to most expectations of an overclocked GTX 970 but there are a few potential niggles. In order to squeeze in two 90mm fans, both of which turn off completely at low load, the cooler is both taller and wider than reference and occupies the best part of three expansion slots.
There are plenty of smaller alternatives if size is a genuine concern, though Gainward does attempt to justify the bulk with a decent factory overclock. Right out of the box, core and boost frequencies are raised to 1,152MHz and 1,304MHz, respectively. A 10 per cent increase over Nvidia's reference speeds (1,050MHz and 1,178MHz) is not to be scoffed at, but it's worth noting that the shipping frequencies are exactly the same as... yep, you guessed it, Palit's GTX 970 JetStream.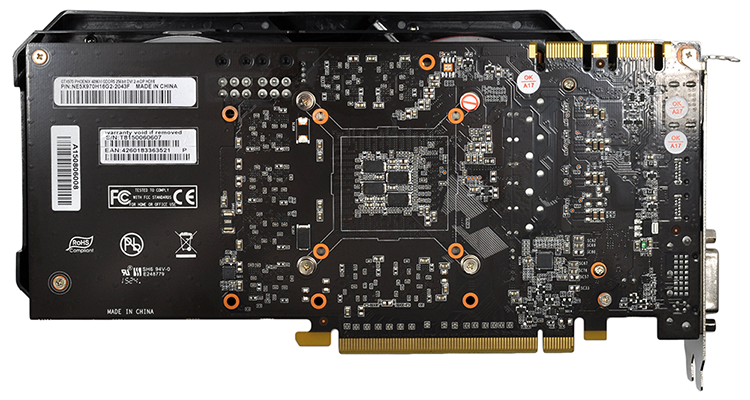 The frame buffer is dialled-in to a reference 7,012MHz, and in keeping with Nvidia's default specification, power is sourced via a pair of six-pin PCIe connectors located near the middle of the card. SLI support is of course present and accounted for, with GTX 970 capable of operating in a two-, three- or four-way configuration.
Meaningful changes between the Palit and Gainward cards are few and far between, however there is one slight tweak with regards to outputs. Unfortunately it isn't a good one as Gainward eschews one of the DisplayPort outputs, leaving HDMI, two mini-DisplayPort and DVI. That's enough to cover most usage scenarios, but we do prefer Nvidia's default selection, which includes a trio of full-size DisplayPort connectors.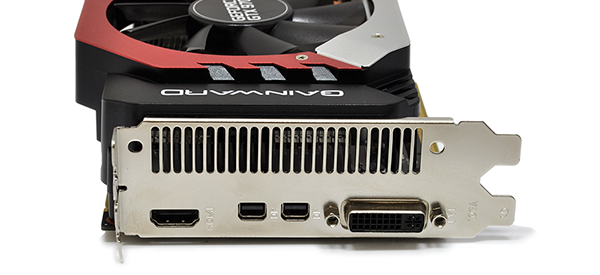 With no backplate and fewer outputs, the Phoenix card doesn't exude confidence in the way that other GTX 970s do, but the biggest question mark is arguably one of price. Gainward's solution is currently fetching £275 at reputable UK retailers, making it £25 dearer than entry-level GTX 970s and, more importantly, at least £15 dearer than a practically identical Palit GTX 970 JetStream.