The Asus Interpretation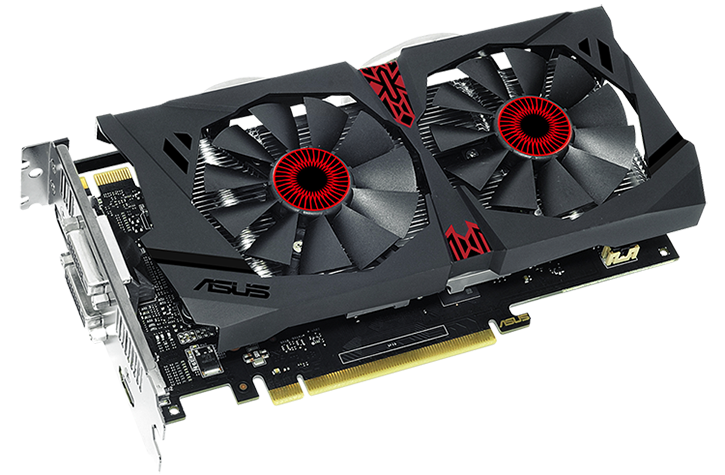 Asus sees the GTX 950 as ripe for a Strix makeover. Officially titled the Strix GTX 950 DirectCU II OC - quite a mouthful - the card is likely to fetch a £10-£20 premium over basic models and uses two fans that switch off completely when there is minor load on the GPU. Our testing showed the duo remained off until the GPU surpassed 60°C, or enough to play in-browser games in silence.
The shroud appears to be borrowed from the GTX 750 Ti model of the same Strix family. This is no bad thing as that card proved to be cool, quiet and better than reference in every way. Asus claims the GTX 950 version is 20 per cent cooler and substantially quieter than a reference card, made possible by using almost 3x the cooling surface area that is interspersed with two 8mm heatpipes.
All the ingredients for good cooling are present, and with a base GPU that sips through just 90W at full chat, we're fully expecting the Strix to do well in the noise and temperature tests later on in the review.
Reference-beating credentials are all well and good, but Asus backs them up by clocking the Strix in at a 1,165MHz core speed that opportunistically boosts to 1,355MHz in the out-of-the-box OC mode. We can tell you our sample does more, keeping a steady 1,443MHz across our games, thus making a mockery of the official GTX 950 specification. As good as the core is, the GDDR5 memory, sadly, is left untouched, operating at 6,612MHz.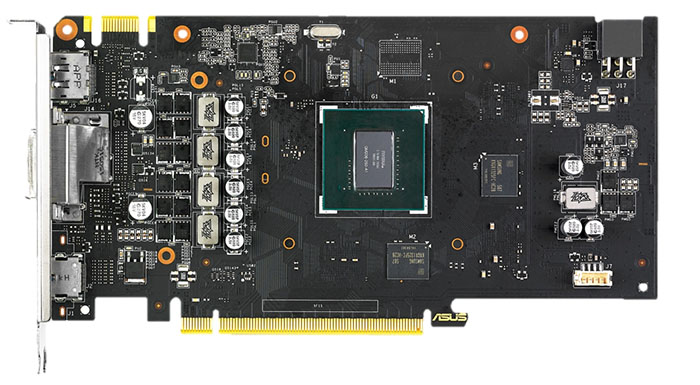 Stripping away the cooler is revealing in more ways than one. Strix GTX 950 measures 220mm long though it clearly could be made much shorter; Asus keeps this length in order to house the large cooler without too much overhang. A single 6-pin power connector is reversed for easy connection, and a small LED glows white if there's adequate power being provided to the card.
A few extra touches underscore the OC nature of the Strix. The chokes, capacitors and VRMs lining the left-hand side of the board all have specifications that far exceed a standard card. For example, the VRMs have a 30 per cent higher voltage threshold while the 'Super Alloy' chokes are said to decrease buzzing compared to the cheapest examples. It's always difficult to verify long-term claims when using a card for a few hours, but we observed no coil whine and had no stability-related issues during testing, which included leaving the card looping a benchmark overnight. It's also straightforward to see how Asus would create a 4GB version of this GPU - there's ample board space to house more memory chips.

We usually look for DisplayPort, HDMI and DVI on a midrange card. Asus has that trio covered, as well as a secondary DVI port for running multiple screens on older monitors. The outputs make sense when considering the kind of market the Strix GTX 950 will be sold into.
Backed by a three-year warranty and building on the Strix brand that has been in existence for about a year, the Asus GTX 950 implementation is geared more towards the enthusiast than those looking for the cheapest card available.