Introduction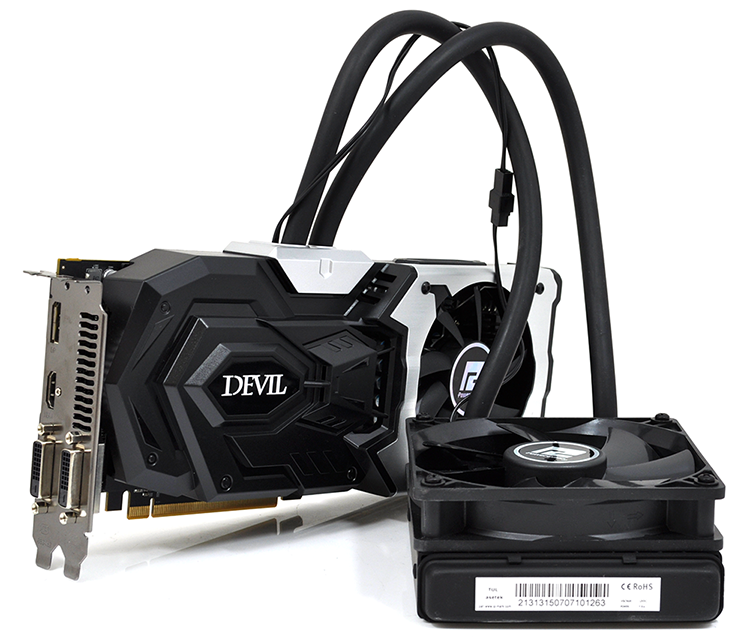 Is it fair to say that AMD's Radeon R9 390X hasn't received the attention it deserves? Sure, the 'new' GPU is essentially a rebranded R9 290X, but increased shipping frequencies, a doubled-up 8GB frame buffer and a lower TDP all combine to give the revised silicon greater attraction.
And more importantly, if the price is right, R9 390X can offer GTX 980-like performance for a lower fee. That alone makes it a GPU not to be overlooked, and PowerColor is playing on those facts by giving AMD's best 300-series part a radical makeover with the Radeon R9 390X Devil.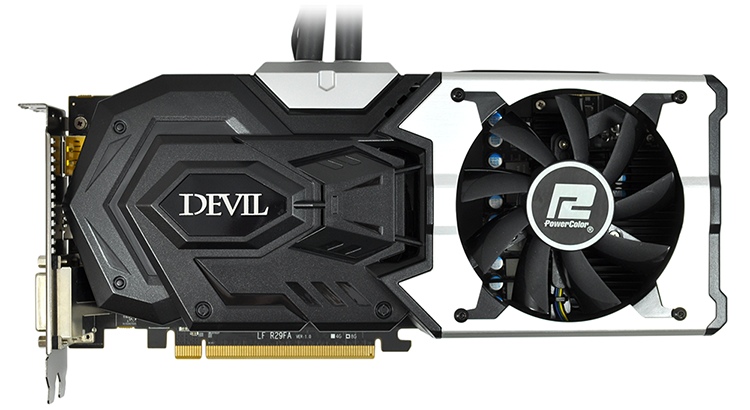 Making its way to UK stores carrying a price tag of £369, PowerColor's Devil demands a £60 premium over the most aggressively priced R9 390X cards, and the launch MSRP puts the Radeon within touching distance of a basic, reference-cooled GeForce GTX 980s.
PowerColor's card, however, is anything but basic. Following in the footsteps of other weird and wonderful models launched under the Devil umbrella, the 390X takes a novel approach to board design by employing a hybrid cooler. A surprise choice, we feel, as such an elaborate cooling mechanism seems a better fit for Fury - the next card up in AMD's product stack - but PowerColor must see the third-rung 390X as a sweet spot for high-quality gaming.
Given that the underlying Grenada XT chip is known to run warm, the hybrid cooler could make sense. PowerColor is using a fan angled at 15 degrees to direct airflow over the VRMs and other on-board circuitry, while the GPU is attached to a low-profile pump and fed directly to a 120mm radiator via a pair of flexible rubber tubes.

The closed-loop liquid cooler is supplied by Asetek, an OEM with plenty of expertise in this area, and the radiator comes equipped with a single 120mm fan that by default draws power from the graphics card but can be unplugged and attached to a motherboard header instead, should you prefer.
We're expecting to see ice-cold cooling performance a little later in the review, however it's worth pointing out that the hybrid cooling mechanism does come with a couple of caveats. Firstly, the card isn't small - it measures 280mm from tip to toe, occupies three full PCIe slots, and of course you'll also need to find room in your chassis for the radiator and fan assembly, whose combined width is a fraction over two inches.
Secondly, and this could be the deciding factor for enthusiasts who buy into liquid cooling, the R9 390X Devil's aesthetic appearance will undoubtedly divide the crowd. The card's largely plastic shroud comes across as particularly aggressive, and you're either going to love the way it looks or hate it; there isn't really a middle ground here. It's one for the younger crowd, we suppose.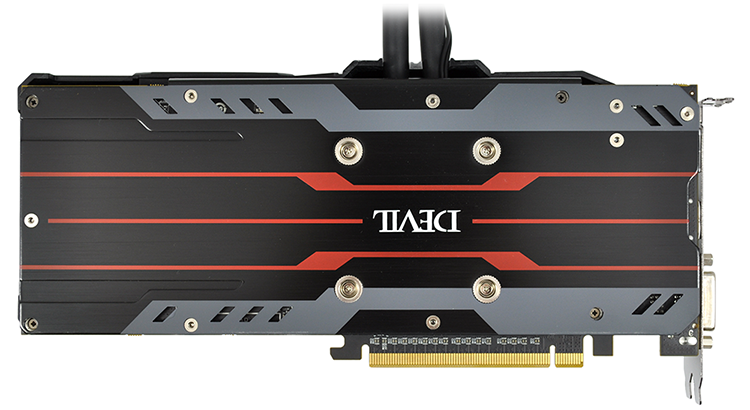 In stark contrast to the front, the rear board-encompassing PCB is surprisingly sleek, and we wish PowerColor had attempted to retain this sort of styling on both sides of the card.
Then again, if all you want is an R9 390X that's particularly fast, PowerColor's Devil is among the quickest going. Right out of the box, the core is hurried along from a reference 1,050MHz to 1,100MHz, while the 8GB GDDR5 frame buffer is notched-up from 6,000MHz to 6,100MHz. A near-five-per-cent hike isn't huge considering the exotic cooler, but going by our own experiences, the R9 390X core doesn't go a lot higher, so we suspect PowerColor isn't far from the limit.
Choosing not to exert too much pressure on the GPU's overclocking capabilities, power requirements are kept to a standard 6+8-pin arrangement, though there is a dual-BIOS implementation for those who really want to tinker. CrossFire support, meanwhile, is baked into the silicon itself, meaning multiple cards can be teamed together without the need for an external bridge.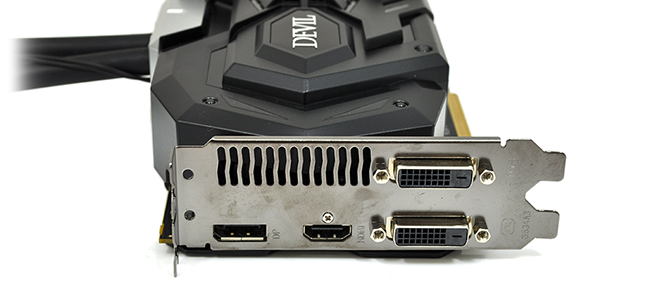 Taking a somewhat basic approach to outputs, PowerColor has equipped the R9 390X Devil with two dual-link DVI outputs, DisplayPort 1.2a and HDMI 1.4a. The latter doesn't support a 4K resolution at 60Hz - you'd need HDMI 2.0 for such niceties - and we'd like to have seen more than one DisplayPort. Though this arrangement was commonplace on previous-generation 290X cards, there are updated 390X models sporting multiple DisplayPort connectors, and PowerColor has missed a trick in not mirroring Sapphire's Tri-X in this regard.
All things considered, this is shaping up to be one of best-performing R9 390X cards on the market, so let's move on to the benchmarks.