Introduction
We've definitely seen our fair share of GTX 980 Ti GPUs in the last two months. Highly capable, highly efficient and more than speedy enough to see off the AMD R9 Fury X threat, the GTX 980 Ti is our choice for a premium graphics card. That sentiment rings particularly true once in the hands of partners who have shown a willingness to overclock the core by a healthy degree.
And it seems that Nvidia hasn't let said partners go crazy with their custom designs. All of the cards to pass through the labs have been well-built, quiet, cool and capable of running even faster. So, with no bad GTX 980 Ti on the horizon, shouldn't enthusiasts simply look at the cheapest available and make do?
That line of thinking is attractive if you want to save every penny, but anyone contemplating the GTX 980 Ti, which retails for £500-plus, isn't going to mind paying extra for ultimate performance.
Speaking of ultimate, we've seen partners such as Gigabyte, Inno3D and Palit clock the 2,816-core GPU in at 1,152MHz and 1,241MHz boost. That's good, sure, but it's not ultimate, especially for an air-cooled card. This preface leads us nicely on to the Zotac GeForce GTX 980 Ti AMP! Extreme monstrosity.
This here beastie runs at 1,253MHz/1,355MHz for base and boost, respectively; figures that are higher than the absolute limit of other cards. The memory, too, sees a boost from 7,010MHz to 7,220MHz. If you ever wanted to sell a product on pure specification alone, the Zotac would be a good bet.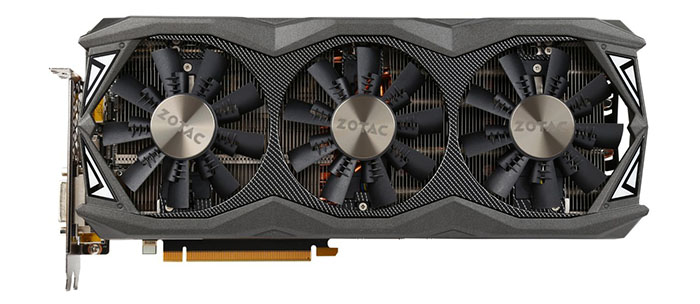 The question is one of how Zotac is comfortable clocking the GTX 980 Ti so high. The answer is in selecting the very best-performing silicon and then strapping on the biggest, baddest and hardest cooler you can find. Enter the Extreme.
Extreme looks a lot like the standard AMP! on first glance. Three 90mm 'Ice Storm EKO' fans sit on a card-wide heatsink, and like many they remain off when there's little load on the card. But taking another look shows exactly what's different, for this enlarged cooler dwarfs the standard-sized IO plate by jutting out massively.
It's so big, in fact, that it takes up three expansion slots in your PC. Build quality is suitably solid throughout so it's a weapon in more ways than one. Be warned that it measures 328mm long, 133m high and weighs a considerable 1,285g. Zotac doesn't include any bracing in the box so do be sure to secure it properly to avoid sagging.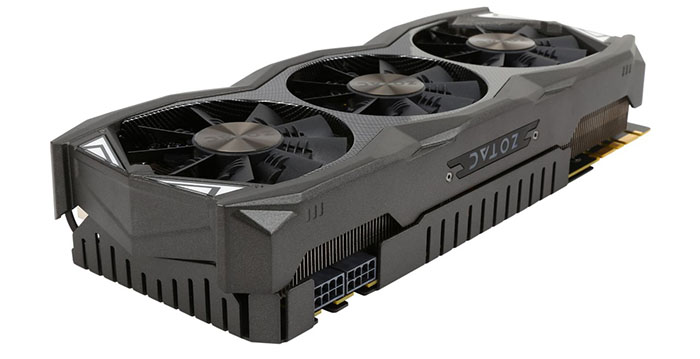 The extra height is a result of Zotac using a massive heatsink that's equipped with two sets of aluminium fins connected via five thick heatpipes. Special care has been taken to ensure the memory and VRMs are covered by proper heatsinks and indirectly cooled from the three fans on top. This is old-school, heavy-duty cooling on a modern GPU.
Zotac's logo lights up white while two 8-pin connectors provide ample juice at full load. What you see at the bottom is a wraparound rear backplate that lends extra rigidity to the Extreme.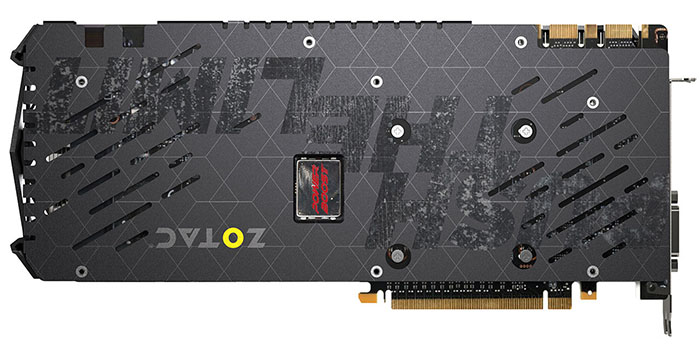 The purposely distressed 'Carbon ExoArmor' plate does become warm after light use suggesting it's doing a good job. There's a small cutout for Zotac's Power Boost technology, which is the firm's flashy name for using solid capacitors for better power regulation.
A massive core overclock offers fertile ground for increasing performance by a reasonable margin over the reference card, but we're happy to see Zotac inching up the memory to 7,220MHz, thus increasing bandwidth which can be particularly useful at higher resolutions.

Elsewhere, Zotac keeps many of the card's essential features in line with reference. Dual SLI fingers are present to allow for 2-, 3- or 4-way configurations, and the familiar array of five display outputs - dual-link DVI, HDMI 2.0 and a trio of DisplayPort 1.2 - is present and accounted for on the custom-designed IO section
As with all GTX 980 Tis, Nvidia is currently throwing in a free copy of Batman: Arkham Knight for a limited time, and Zotac also sweetens the deal by offering a five-year warranty upon registration.
Performance junkies will be pleased to learn that this card is currently retailing for £590, or the same price as other companies' premium offerings. We very much doubt there will be a faster air-cooled GTX 980 Ti in the offing anytime soon. Join us to see just where this model sits in the overall high-end landscape.