Introduction
Something kind of weird is happening in the graphics world. The high-profile and eagerly anticipated launch of AMD's Radeon R9 Fury X has unwittingly sparked a surge in sales for Nvidia's rival GeForce GTX 980 Ti. Our conservations with retail partners suggest that keeping GTX 980 Ti on the shelves is proving to be a challenge, as said cards are now being snapped up by all those gamers who were, until recently, sat on the fence.
Buoyed by such news, and heartened by the fact that there are currently no custom R9 Fury X cards, Nvidia's partners are doubling down in their efforts to flood the market with an eclectic array of air- and liquid-cooled GTX 980 Ti solutions. Inno3D has both bases covered with five variants to choose from, and we have the mid-range iChill X3 Ultra in for review today.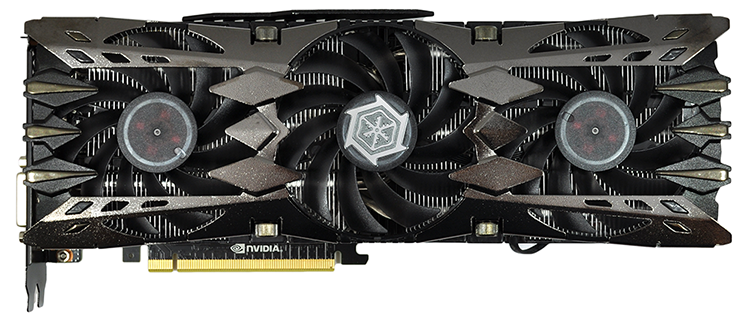 Priced at around £575 - that's £50 more than the GTX 980 Ti entry point - this, clearly, isn't one for the faint of heart. Inno3D's unusual, almost Goth-like aesthetic design is very much an acquired taste, and you could either love the shroud's intricacy, or it may even give you nightmares.
It's a scary-looking beast, and it definitely doesn't shy away. Measuring 300mm in length and occupying the best part of three expansion slots, the iChill X3 Ultra is one of the meatiest GTX 980 Tis we've seen and tips the scales at 1.2kg. You could argue you're getting more card for your money, and if a compact form factor isn't a priority, you'll like the fact that Inno3D has made good use of the card's dimensions.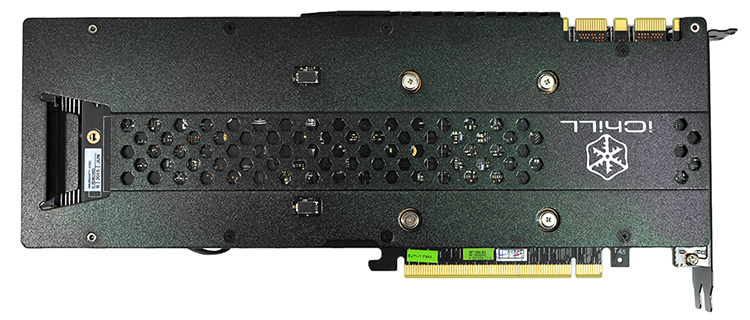 There's a full-size backplate, for starters, which shields the PCB and gives the card an extra feel of rigidity. The way in which the backplate extends well beyond the PCB reveals that the card is bigger than it needs to be, though the extra room does allow for three 90mm fans to be squeezed into the gigantic cooler.
Described as a modular design that's "easy to install, easy to clean," the iChill X3's metal cover can be detached using an Allen key, providing simple access to the three removable fans and a 118-fin aluminium heatsink interspersed with five heatpipes of varying widths. The removable parts are a handy way of keeping the card free of dust in the long run, though do be careful during the disassembly as the shroud does feel fragile and plasticky in parts.

A side-on-view gives you a better idea of the iChill X3 Ultra's girth. Such bravado hints at a good dollop of factory overclocking and Inno3D duly obliges by notching-up base and boost frequencies from 1,000MHz and 1,076MHz to a much tastier 1,152MHz and 1,241MHz, respectively. That's on par with Gigabyte's G1 Gaming, but Inno3D goes a step further by elevating memory from a reference 7,012MHz to an effective 7,200MHz. A nice touch, as overclocked memory is something of a rarity on custom GTX 980 Tis.
Inno3D has made all the right tweaks and, just as importantly, knows better than to mess with what already works. Power continues to be sourced by 6+8-pin connectors, two SLI fingers allow for multi-GPU configurations and Nvidia's usual display outputs - dual-link DVI, HDMI 2.0 and a trio of DisplayPort 1.2 - are ever present.

The iChill X3 Ultra's overall aesthetic has divided the crowd here at HEXUS HQ, though one element we all agree on is the black I/O panel - it's a neat little addition that fits in well with most PC enclosures.
Knowing that it lacks the brand power to go toe-to-toe with the likes of Asus, EVGA, Gigabyte and MSI, Inno3D is relying on a balanced mix of price and factory overclock. The iChill X3 Ultra should be one of the fastest GTX 980 Tis available at the £575 price point - if not the fastest - so let's see if the benchmarks stack up.