The reference card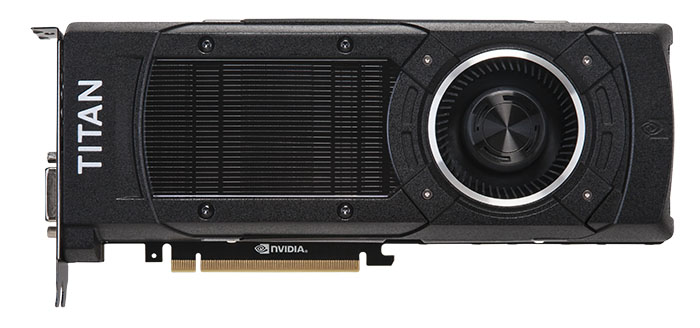 Nvidia is of the opinion that it makes little sense to change an aesthetically-winning formula. The Titan X looks and feels like various reference incarnations from the past few years, exemplified by excellent build quality, handsome looks and an off-centre radial fan for pushing air through the vapour chamber and out of the back.
Cooling a 250W TDP is well within the remit of this heatsink that's also found on the similar wattage GeForce GTX 780, GTX 780 Ti, Titan and Titan Black GPUs, amongst others. This model should have been called Titan Black instead, given the darker shroud, and there's no overt 'X' messaging to be found anywhere on the card.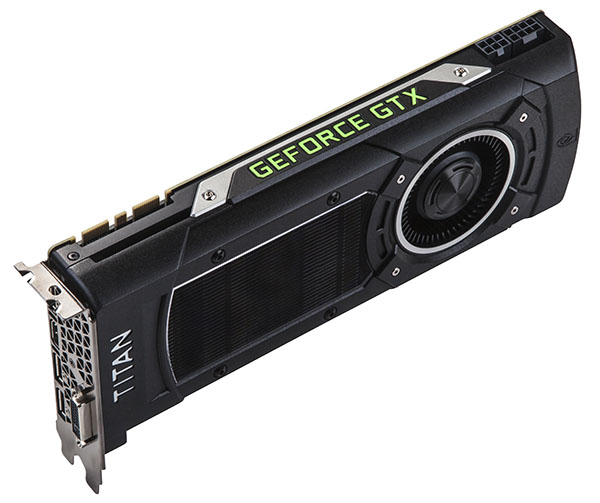 You could be looking at any high-end Nvidia GPU of late. 250W requires the standard 8+6-pin power delivery arrangement on the far side. Two SLI fingers pave the way for up to four cards to be used in a single system, helped by each having a strictly dual-slot profile.
Following in typical Titan positoning, Nvidia's partners will not be allowed to bolt on their own 'reference-beating' cooling and cannot meddle with the frequencies at the time of launch. Enterprising AICs such as Gigabyte will likely sell the overclocked version with its own WindForce cooling included in the bundle, a la the Titan Black version.
Speaking of frequencies, Nvidia plays it safe by clocking the GM200-based Titan X in at 1,002MHz core (1,076MHz boost) and 7,012MHz memory. The conservative core frequency has likely been established due to the unknown performance of the upcoming competition from AMD... Nvidia can go comfortably higher, as you will see later on in the review.
Aiding overclocking and designed to lower noise when at full chat, Nvidia says it has modified the inductors to reduce the amount of coil whine emitted by the card, following user complaints of various Maxwell-based GPUs during the previous six months.
Here's the large vapour-chamber cooler that's proven to strike a good balance between noise and performance. The rear I/O section is identical to the GeForce GTX 980, so HDMI v2.0, a trio of DisplayPort v1.2 and a dual-link DVI.
Putting 12GB of GDDR5 memory on the board is achieved by having 24 SK hynix chips arranged on both sides, identical to first-generation Titan. This time around, however, memory density is doubled.
Previous Titan-esque cards have laid down a familiar footprint on which to base ultra-enthusiast designs. Nvidia taps into the energy-efficiency nature of the Maxwell architecture to release a card that fits into a 250W power envelope considered to be the sensible limit for air cooling. The only question that remains is just how fast it is, so let's hop to it.