Introduction
Nvidia's GeForce GTX 960 is a decent graphics card for 1080p gaming, but if you've read our launch-day coverage, you'll know that the underlying GM206 GPU could have delivered much more had it been equipped with a larger frame buffer and a wider memory bus.
Two simple changes, it seems, so it begs the question, why did Nvidia stifle the GTX 960 with a miserly 2GB frame buffer allied to a narrow 128-bit bus? Don the conjecturing hat and cynical scarf and you might say it's a clever design choice that prevents GTX 960 from cannibalising sales of the high-end GTX 970 and GTX 980.
This theory could prove particularly relevant when multiple GPUs come into play. Perusing the specification sheet, it's easy to think of the GTX 960 as half a GTX 980 - the number of cores, texture units, ROPs and memory have been cut straight down the middle.
By that rationale, couldn't two GTX 960s deliver GTX 980-like performance for just £320? That's something Nvidia would no doubt prefer to avoid, and to find out exactly how SLI performance holds up, EVGA sent us a pair of GTX 960 SSC (SuperSC) graphics cards for review.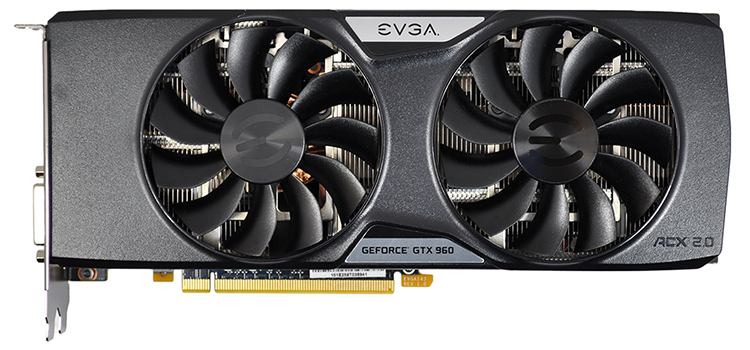 Priced at £180 - £20 more than Nvidia's suggested retail price - the SSC slots in above EVGA's standard SuperClocked model and below the range-topping FTW. For the 13 per cent premium, users get a highly-regarded ACX 2.0+ cooler as well as a customary factory overclock.
The board should look familiar to any EVGA fans, with the GTX 960 retaining the simple, sleek ACX look and feel. Measuring 257mm from end to end, the dual-slot card is one of the longest GTX 960s on the market, and one of the heaviest, too, weighing in at 690g.

Most of the bulk can be attributed to the cooler, of course, which takes in a pair of double-ball-bearing fans, a board-encompassing heatsink outfitted with three 8mm heatpipes, and a memory/MOSFET cooling plate that covers almost the entire PCB.
EVGA's cooling plate gives the GTX 960 SSC a nice rigid feel, though considering the price point, it's a shame the card doesn't also include a backplate as standard - that's reserved for the top-of-the-range FTW. Both fans turn off when core temperature is below 60ºC, allowing the card to stay silent during light loads, and given the GM206 GPU's ability to run cool, we're expecting noise levels to be barely noticeable under load.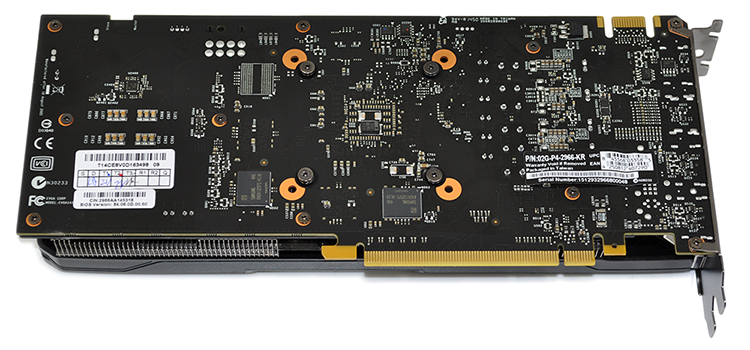 With overclockers in mind, EVGA has swapped-out Nvidia's default six-pin PCIe power connector in favour of an eight-pin arrangement. The change is overkill on a card of this ilk, we feel, and it does limit compatibility with older PCs - not all systems have an eight-pin PCIe connection.
Maintaining the enthusiast approach, a dual-BIOS has been included for those who like to tinker, with a simple toggle switch positioned along the top edge of the PCB. And as the product name suggests, there is a lofty out-the-box overclock. The SuperSC card ships with base and boost frequencies of 1,279MHz and 1,342MHz, respectively, putting it alongside Palit's Super JetStream in the GTX 960 frequency charts. Very nice, though EVGA has missed a trick by not overclocking the 2GB frame buffer - it runs at the default 7,012MHz.

When it comes to outputs EVGA knows not to mess with a good thing. All five of Nvidia's default options remain intact - HDMI 2.0, DVI and three DisplayPort 1.2 - and any four can be used concurrently.
This is another well-made GTX 960, but we already know what to expect in terms of single-card performance. Maxwell GPUs have a propensity to scale well in two-way configurations, so let's see what happens when dual GTX 960 SSC cards are strapped into our Z97 test platform.