Introduction
Nvidia's GeForce GTX 960 hasn't rewritten the rule book for mid-range graphics performance - this year's GPU isn't a great deal quicker than the outgoing GTX 760 - but performance at 1080p remains decent, and energy efficiency is better than ever.
The GPU's ability to run cool and overclock well has paved the way for partner cards that are able to deliver capable performance in a quiet and compact form factor. Asus's DirectCU II and Palit's Super JetStream have already been under the microscope, and today we're turning our attention to KFA2's GeForce GTX 960 EXOC.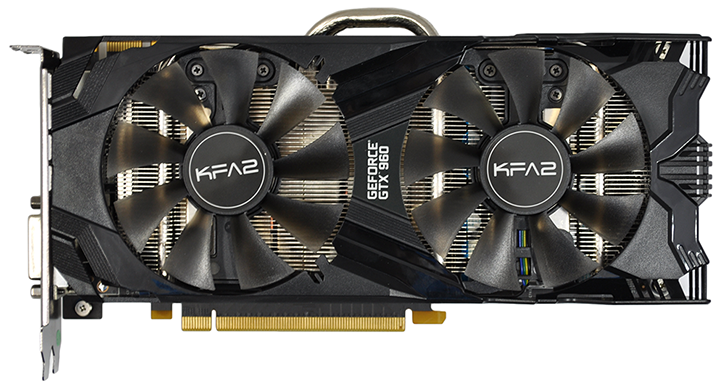 Hang on a minute, didn't KFA2 rebrand to Galax a few months ago? Yep, it did, back in September, but the company has since hit a snag - an apparent trademark dispute in Europe has prevented the firm from using the new name, and the KFA2 brand has consequently been revived for the GTX 960.
Hardly ideal circumstances for a new launch, but KFA2 is nonetheless offering its full support to Nvidia's latest GPU with three new models; a stock-clocked variant priced at £162; a small-form-factor 'Mini OC' priced at £170; and, on the review table today, a range-topping EXOC priced at £180.

Measuring 241mm in length and weighing in at 652g, KFA2's EXOC features a full-size PCB and a dual-fan cooler. The black-and-silver colour scheme makes this one of the more stylish GTX 960s, though the central heatpipe will divide opinions - it's plus-size dimensions will aid cooling, but the way in which it protrudes above the cooler does detract from the overall aesthetic.
Cooling shouldn't be a problem for this card and we like the fact that KFA2 has jumped on the silent-when-idle bandwagon. Both 90mm fans turn off at low loads to eliminate unwanted noise - KFA2 calls this 'Silence Extreme Plus' technology - and the passive configuration has become a must for most modern-day graphics cards.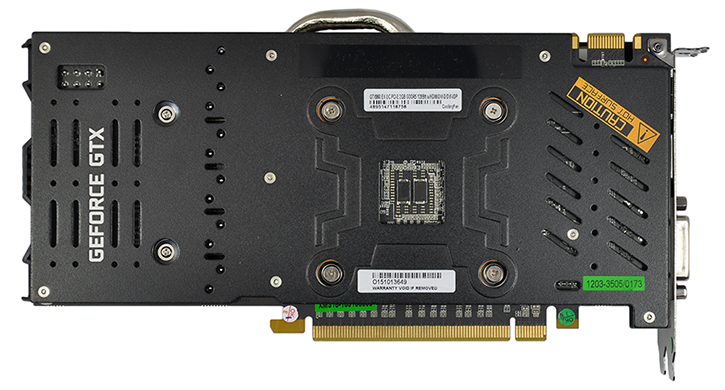 A full-size backplate completes the package and adds to the EXOC's rugged look and feel. One surprise alteration is the switch from Nvidia's default six-pin PCIe power connector to an eight-pin setup. KFA2 will state that the availability of extra power will aid the card's overclocking capability, but on the flip side the heightened power requirement does limit the card's versatility - some older PCs may have only one single six-pin connection.
Another unexpected aspect is KFA2's factory overclock. Rather than push the boat out, the manufacturer has kept the EXOC somewhat conservative with base and boost clocks of 1,203MHz and 1,266MHz, respectively. At its peak, core speed is almost six per cent slower than the recently reviewed Palit JetStream, and confounding matters, the 2GB frame buffer is dialed-in to a stock 7,012MHz.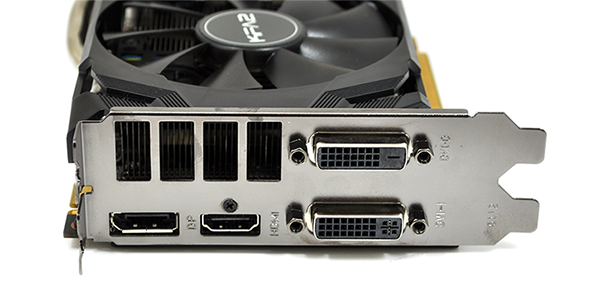 Elsewhere, we have a single SLI finger for two-way graphics configurations, and a revised quartet of I/O ports that includes DVI-I, DVI-I, DisplayPort 1.2 and HDMI 2.0. All four can be used concurrently, though we don't believe this layout to be optimal and we prefer Nvidia's reference selection of HDMI, DVI and three DisplayPorts.
Considering the £180 price tag, we were expecting a higher factory overclock. Will the banausic shipping frequencies significantly hamper performance? We imagine not, and for those who look to determine their own GPU speed, KFA2 reckons the EXOC will go like the clappers when pushed. Let's take a look at some benchmarks before engaging in a little OC activity.