Asus Strix GTX 960 DirectCU II
Playing on the frequency headroom available to the GTX 960, Nvidia has opted not to put forth a reference design and instead hands partners the initiative in creating customised and factory-overclocked boards. The first under our radar is the Asus Strix GTX 960 DirectCU II.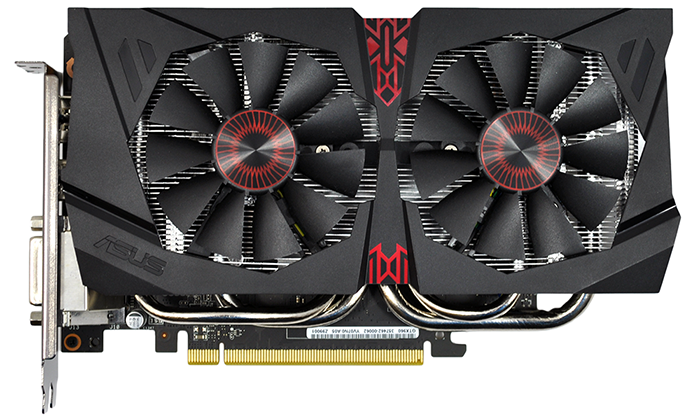 Asus graphics cards typically command a price premium and the GTX 960 DirectCU II is no exception, with launch-day pricing in the UK set to start at around £190. That figure will make this one of the costliest GTX 960s available, and it puts Asus's card squarely in the crosshairs of the Radeon R9 280X and R9 285, both of which can be found for £175 if you shop around.
There will be cheaper GTX 960s from rival manufacturers - OC cards are expected to start from £160 - but with Asus you're paying extra for top-notch build quality from a well-known brand. True to form, the DirectCU II feels sturdy and well put together throughout, though the owl-turned-transformer aesthetic is a little peculiar.

Measuring 215mm x 121mm x 41mm in size, Asus's board adopts a tall dual-slot form factor and tips the scales at just 600g. We can see that the cooler overhangs the underlying PCB by a good distance, which suggests that smaller GTX 960s are certainly a possibility.
Asus is more interested in keeping down temperatures and noise levels, and has made use of a dual-fan configuration outfitted with a large aluminium heatsink and four good-sized heatpipes. Overkill for a 120W GPU? In a way, yes, but the DirectCU II's heat dissipation capabilities allow the fans to remain switched off until core temp reaches 50ºC. The card is silent until that point, further bolstering its HTPC credentials.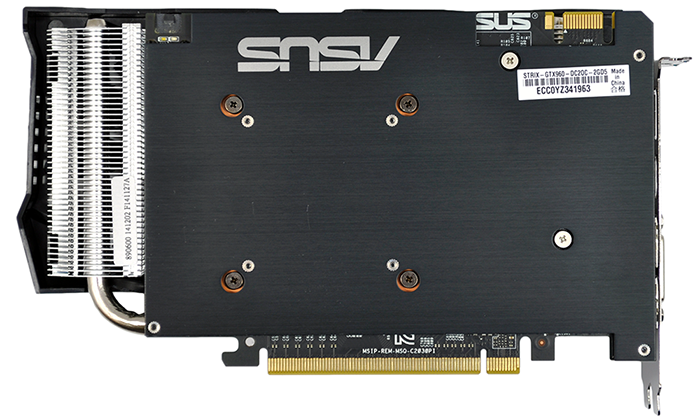 A reversed six-pin PCIe connector is accompanied by red and white LEDs to indicate whether or not the power cable is properly attached, and there's a single SLI finger for two-way GTX 960 configurations. Has GM206 got what it takes to handle higher resolutions when two cards are paired together? That remains to be seen but we'll have the answers soon in a forthcoming SLI review.
Getting back to the DirectCU II, we like the fact that Asus has included a backplate as standard, and under the hood there's a five-phase, super-alloy power delivery system that touts "buzz-free operation," a longer lifespan and better overclocking potential.
Speaking of which, how adventurous is Asus's factory overclock? Right out of the box, base and boost clocks are raised to 1,253MHz and 1,317MHz, respectively, representing on average an 11.5 per cent increase over Nvidia's reference clocks. A very healthy gain, and Asus has also taken the time to ramp-up memory from the reference 7,012MHz to an effective 7,200MHz on the DirectCU II.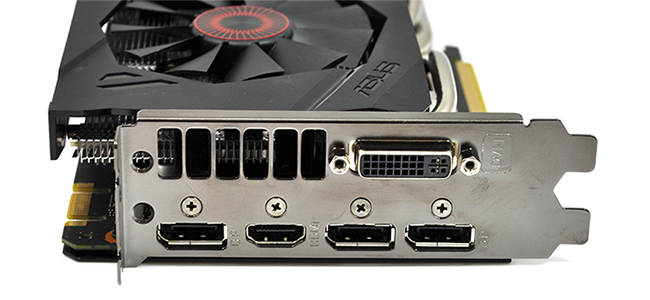 In keeping with many of Nvidia's recent designs, five display outputs are provided as standard. These include DVI, HDMI 2.0 and a trio of DisplayPort 1.2, and any four can be used concurrently.
From an implementation perspective, Asus has ticked all the right boxes. The DirectCU II feels like a quality product, it's overclocked on both core and memory, it has the right outputs, needs only a single six-pin power cable and should run extremely quiet. Now on to the important bit: performance.