Introduction
Galax has already dipped its toe into GTX 980 waters with the recently reviewed SOC, but it turns out the company was merely whetting our appetite in anticipation of the range-topping GTX 980 HOF.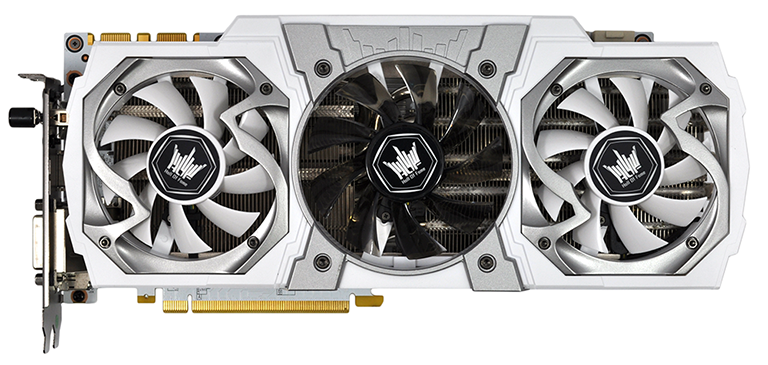 Hall of Fame cards under the previous Galaxy and KFA2 brands were renowned for lavish design and lofty overclocks, and the Galax GTX 980 HOF is no exception. Finished in white with silver and black highlights, this is without a doubt one of the most eye-catching GTX 980s we've seen thus far. And of course, if you're planning a snow-white build this winter, this is the card to consider.
But brace yourself, it won't come cheap. £500 is the asking price, and that's roughly 25 per cent more than some of the cheaper GTX 980s currently on the market. It's a hefty premium, though that's unlikely to deter enthusiasts who fall in love at first sight. And fair do's, the GTX 980 HOF does look fantastic.

The card's dimensions are a sizeable 308mm x 129mm x 49mm, making it longer, taller and wider than reference. It's a beast alright.
A custom white PCB is sandwiched between cooler and aluminium backplate, and the whole package weighs almost 1.3kg. The bulk of that can be attributed to the 'SOS' cooling solution, which includes seven nickel-coated heatpipes (three 6mm and four 8mm), a copper contact plate and a 90mm central fan flanked by a pair of 80mm outer fans.
Galax is naturally touting high-end components such as "aerospace-grade inductors" and there's a 10-phase power delivery system, with eight phases for GPU and two for memory. Providing a further nod to the HOF's enthusiast credentials is a dual BIOS controlled via a hardware toggle switch, paving the way for risk-free tweaking.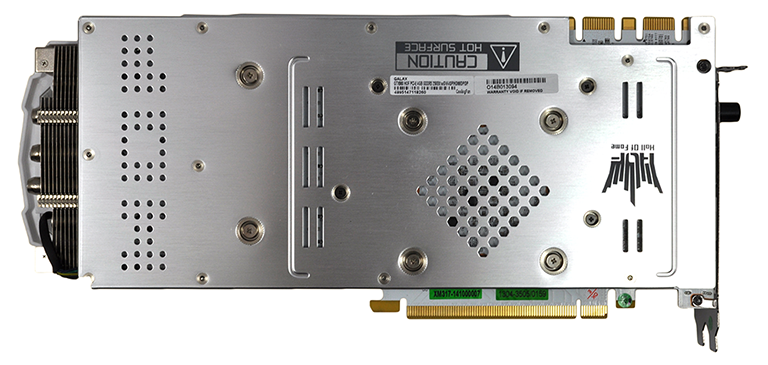 The silver aluminium backplate is very sturdy, and we like the way 'HOF' branding has been punched into the end. For those who enjoy a little illumination, you'll also be pleased to hear that the Hall of Fame logo across the top is backlit with white LEDs - ideal for a windowed chassis.
Presentation is very good throughout, though the shroud encompassing the fans isn't of the same quality as the backplate. We'd have loved an aluminium shroud in a powder-coated finish, but alas, it's a mostly plastic covering with a few reinforced elements.
What's important for the target market, however, is that the card has a unique look and it's very, very fast. Right out of the box, Galax has the GTX 980 core ramped up to a 1,304MHz base clock and 1,418MHz boost. That's up 17 per cent over Nvidia's reference specification and the numbers suggest that Galax is using cherry-picked GPUs. Good news on one front, but not on the other, as memory sadly doesn't receive similar encouragement; the 4GB frame buffer operates at a standard 7,012MHz.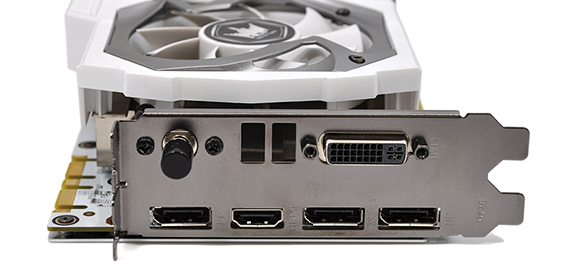 Core speed alone is enough to make this the fastest GeForce GTX 980 to enter our labs. As expected on a card of this ilk, power is sourced from a pair of eight-pin connectors, dual SLI fingers are present for multi-GPU setups and all five full-size video outputs remain intact. These include three DisplayPort and one HDMI, all of which support 4K at 60fps, and up to four outputs can be used concurrently.
One last item of interest is the black 'OC' button located on the I/O panel. As with previous HOF cards, the purpose of the button is straightforward enough: before engaging in the trials and tribulations of overclocking, press it and the fans will instantly ramp up to high speed in an effort to maintain stability.
Is the HOF worth the £80 premium over Galax's own GTX 980 SOC? Looks alone cover most of the bill, but there needs to be superlative performance to match so let's fire it up and see what the heightened shipping frequency can achieve.