Introduction
The arrival of Nvidia's GeForce GTX 980 makes this an opportune moment to launch a new graphics brand. At least, that's the thinking over at Galaxy Microsystems, who after 20 years of trading has decided to merge its regional Galaxy and KFA2 arms into a single, worldwide brand known as Galax.
We're not entirely convinced by the new name - we preferred Galaxy to Galax - but it's the hardware that matters most so let's take a look at one of the first Galax cards to hit retail, the top-tier GeForce GTX 980 SOC.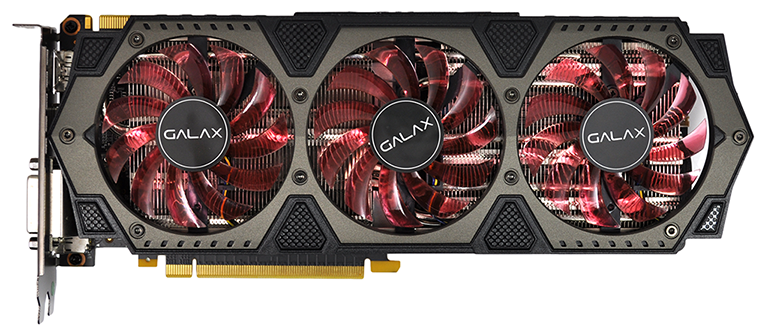 Presented in a dual-slot form factor, the 980 SOC card measures 281mm (L) x 124mm (H) x 42mm (W) in size and incorporates 80mm fans. The pink fan blades are an acquired taste, and the same could be said for the overall design; you're either going to like the rugged-looking shroud or you're not.
What is going to tickle the fancy of enthusiasts, however, is the combination of lofty shipping frequencies and keen retail pricing. The Galax GTX 980 SOC ships with a 1,228MHz core (1,329MHz boost), putting it alongside Gigabyte's WindForce as the joint-fastest GTX 980 we've tested.
Such an accolade might have commanded a significant premium, yet the current UK price tag for the Galax card is £430, representing a £70 saving on the same-speed Gigabyte. That's well worth knowing about if out-the-box speeds are your primary concern.

But there is more to graphics-card design than frequency alone. We personally don't put too much stock in aesthetics, but for those who do, Galax's overall design arguably doesn't match what's on offer from the likes of Asus and MSI, whose admittedly pricier cards are chunkier in size and more formidable in appearance.
Then again, aren't these meaty coolers overkill for the 165W GTX 980 GPU? Probably so, and Galax has five card-encompassing, nickel-coated heatpipes attached to a copper contact plate, so keeping the underlying GPU running cool under load shouldn't be an issue.
We would, however, like to see a bit more consistency in branding, as the card is sold and marketed as the GTX 980 SOC Edition, yet the hardware carries a 'Gamer' logo that doesn't tie in with anything else. The logo is bolted onto the top of the card via a small add-on plate, and in case you were wondering, it isn't backlit.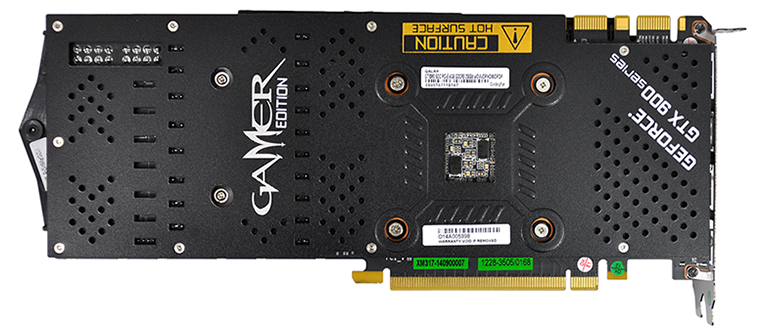 Elsewhere, we can see that the customary pairing of SLI fingers is readily available for multi-card configurations, and power for this single GPU is sourced from dual eight-pin connectors. Galax is open to feeding the graphics chip with more juice than the reference design, so we're expecting good overclocking results later in the review.
Further bolstering those SOC ambitions, the stock-clocked 4GB GDDR5 frame buffer is provided by Samsung K4G41325FC memory chips that are said to overclock well, and there's a 6+2 phase digital PWM helping with power delivery.
Galax also does the right thing in equipping its premium card with a solid-metal backplate. Doing so gives the 980 SOC a rigid, high-quality feel, but it's a shame the same level of detail hasn't been applied to the fan profile. Whereas other manufacturers have chosen to turn off their fans completely at low load, the trio on offer here are always running.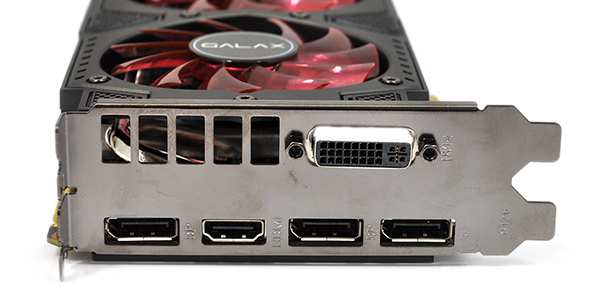 Our first impression was that the fans were running too quick, and Galax appears to agree - a BIOS update was made available this week that reduces idle fan speed from 50 per cent to 30 per cent. All three fans could, we feel, be turned off when idle with no detrimental effect, but we're told that a completely passive mode won't feature on this particular card.
Opting not to meddle with Nvidia's default array of outputs, the Galax 980 SOC comes equipped with the usual selection - DVI, HDMI 2.0 and a trio of DisplayPort 1.2 - and any four can be used concurrently.
There's nothing out of the ordinary about the overall package, but seeing as it's a GTX 980 at heart, does there need to be any superfluous additions? Maybe not. As a new brand, Galax wants to make an impact first and foremost and the combination of high core frequency and competitive pricing may be exactly what's required.