Introduction
Nvidia's GeForce GTX 980 is the premier GPU for the 2014 holiday season, and it's no surprise to find that add-in-board partners are racing out of the gate with an array of custom cards all vying for your attention.
The Asus Strix and Gigabyte G1 Gaming derivatives have already been put through the wringer, and today we turn our attention to another usual suspect, MSI, who has sent in its rather-awesome looking GTX 980 Gaming 4G.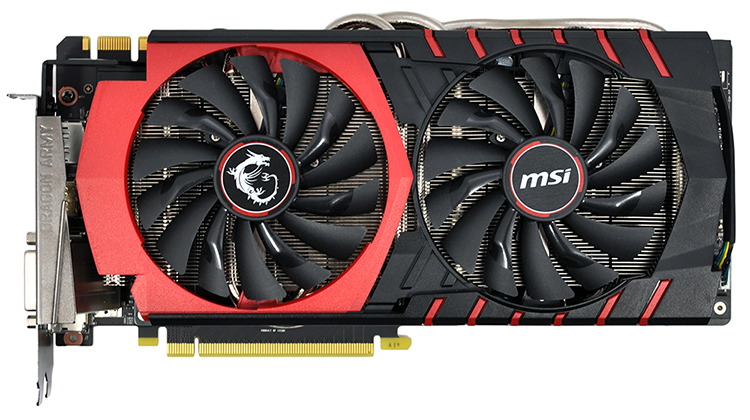 Yeah, we know, a graphics card should be more concerned with performance than aesthetics. But hey, a bit of pizazz can't do any harm, and if you do like to show off your hardware, we're of the opinion that MSI's card is one of the most stylish GTX 980s on the market. Heck, it's a no-brainer if putting together a red-and-black gaming rig.
Measuring 279mm x 140mm x 36mm in size, the GTX 980 Gaming 4G is a fair bit taller than reference, but MSI has put the increased dimensions to good use with the implementation of its latest-generation Twin Frozr V cooler.
In a nutshell, MSI's elaborate thermal solution is comprised of two 10cm Torx fans and four nickel-coated copper heatpipes (two 8mm, two 6mm), all of which are soldered into a channelled copper contact plate that's sat in a 9mm-thick block of aluminium fins. Factor in the VRM and memory heatsinks, and you have a meaty cooling solution for an efficient, 165W GPU.

Overkill in the extreme? Perhaps, though the grandiose cooler does bring a few advantages to the table. Firstly, it uses "Hybrid Frozr" technology, which automatically turns off the fans when the temperature is below 50ºC. This is a feature that's becoming increasingly common on high-end Nvidia cards, but MSI is keen to point out that Hybrid Frozr came before Asus's Strix. If you're into big corporations swinging handbags, you might enjoy this YouTube clip.
Back to more pertinent info, we're told that the 10cm Torx fans produce "19 per cent better airflow" and "5 per cent lower noise" when compared to the older Twin Frozr 4. In keeping with MSI's Lightning cards, the GTX 980 Gaming 4G also carries temperature measurement ICs on its PCB, allowing the fans to be controlled independently based on GPU or PWM conditions.
Elsewhere, we see a pair of reversed eight-pin PCIe ports, as well as dual SLI connectors alongside a backlit dragon, and you might have noticed that MSI's form factor is slightly thinner than a standard dual-slot design. This fraction of extra space is said to be beneficial to cooling when multiple GPUs are stacked together.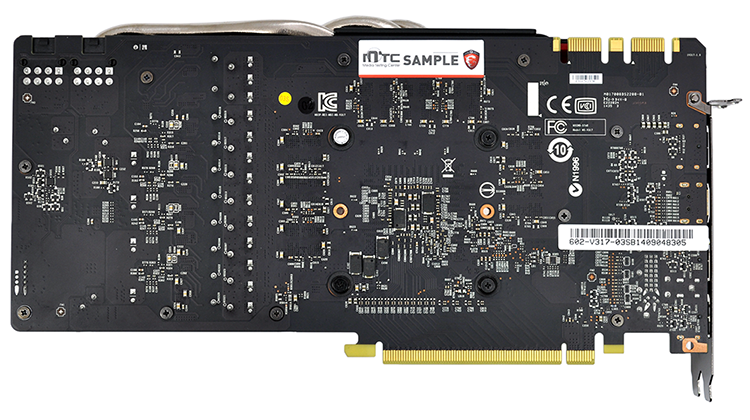 Build quality is good throughout, though we're surprised to see MSI doesn't attach a backplate as standard. It's something that rival boards do offer and tends to add extra rigidity to cards as large as this, though in MSI's defence, the black PCB on show here does look smart.
So what about frequencies? The GTX 980 Gaming 4G is of course factory overclocked and ships with core and boost clocks of 1,216MHz and 1,317MHz, respectively. That's higher than the Asus Strix, but a fraction behind Gigabyte's G1 Gaming.
Performance should be excellent, though it's a shame MSI hasn't overclocked the memory. Like so many partner cards, the 4GB frame buffer is configured to run at an effective 7,012MHz, matching what's on offer from Nvidia's default specification.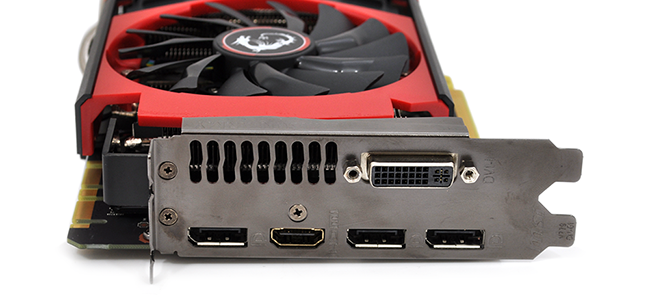 Knowing better than to interfere with a good thing, MSI also chooses not to alter the available display outputs. This means five choices are on offer - DVI, HDMI 2.0 and a trio of DisplayPort 1.2 - and any four can be used concurrently.
Now how about price? Most of the custom-cooled and overclocked GTX 980s we've seen thus far have come in at £499, so you'll be pleased to hear that MSI is being competitive by positioning the Gaming 4G at £470. That's still £40 more than a reference model, mind you, so let's see how MSI's card stacks up.