Introduction
Now is a good time to purchase a decent graphics card. AMD is bringing more of its GCN 2.0 goodness to the mainstream market while Nvidia forges ahead through the release of Maxwell-powered 900-series GPUs.
Any gamer looking for a semblance of futureproofing needs to consider spending £250 on their next card, because such a budget brings the Radeon R9 290X - AMD's finest single-GPU card - and the recent GeForce GTX 970 into play. Both offer excellent performance at a 1080p resolution and, backed with 4GB of GDDR5 memory, offer reasonable returns at 4K.
Nvidia's partners are charging up to £40 extra for custom models that offer higher frequencies and better cooling than the hard-to-get reference design. Such a premium dulls the value proposition, so wouldn't it be good if an add-in card (AIC) partner retailed a well-overclocked model at close to reference prices?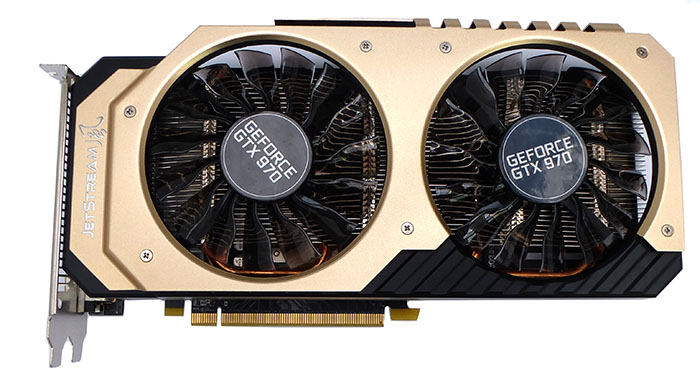 Palit is one of those vendors whose philosophy is in attracting the value-conscious user. Priced at £265, the GTX 970 Jetstream uses a custom cooler on top of an overclocked GM204 GPU. Operating at a base clock of 1,152MHz that runs up to 1,304MHz under GPU Boost, core frequency is about average when compared to a broad section of GTX 970s. Like all cards we've tested thus far, actual in-game frequency is higher - 1,362MHz in this case.
But again, Palit toes the reference line with respect to memory frequency. Manufacturers often argue they source GDDR5 from multiple vendors, thus making it difficult to guarantee a higher speed, but we'd encourage the AICs to overclock the memory, particularly as we've found it helps the meaty Maxwell core realise its potential.
The gold-and-black colour scheme is an acquired taste. Build quality isn't the best, certainly a notch below the Asus Strix, but it remains one of the smaller cards out there, measuring just under 10in long. One downside of making it shorter is increased height - the twin-fan cooler sits proud enough to take up 2.5 expansion slots.
Those 90mm fans are programmed to remain switched off at temperatures below 60°C, much like the Asus Strix. This firmware-enabled feature is handy because the system remains quiet under low loads. Cooling a 145W TDP is small potatoes for heatsinks routinely exercised by GeForce GTX 7x0 GPUs.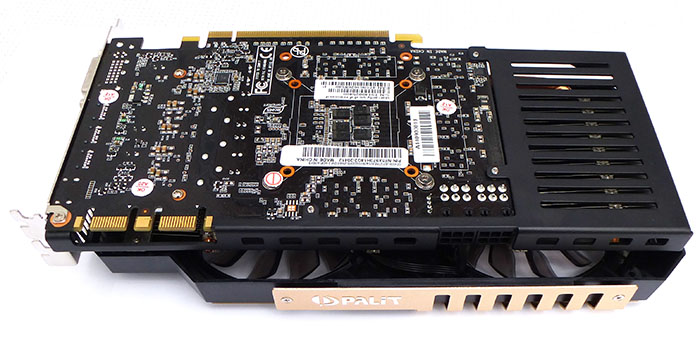 There's no real consensus on which location is best for plumbing in power. Palit goes for just left of centre for the card, using two 6-pin connectors, though getting them in place and removing the power cables is harder than it should be. Disengaging the plugs requires pushing on the latches which, in this regular orientation, are underneath the cooler, so getting your fingers in is onerous. It would be far more practical to rotate the plugs 180°.
Stripping away the cooler reveals that Palit actually situates the power plugs to the right of the PCB and includes a further holding brace/plate. This card could be made significantly smaller. A heatsink on the left-hand VRMs isn't matched by equivalent pads on the 4GB GDDR5 memory from Samsung; Palit, instead, relies on the downward force of the twin fans for PCB-wide cooling.

Nvidia has made a good choice regarding video outputs on the reference card. Partners are free to use any combination they wish, but Palit doesn't help matters by mini versions of the HDMI and trio of DisplayPort outputs. Attaching via these methods, as you would need to do when gaming on a 4K screen for example, requires additional investment in mini-to-standard dongles. Palit's rationale rests with providing adequate area for exhausting hot air out of the chassis, we suppose, yet we'd opt for the quintet of Nvidia ports instead.
£265 for an overclocked GeForce GTX 970 draws immediate attention and brings the Palit in the crosshairs of the most inexpensive Radeon R9 290X cards. Which is better? Let's find out.