EVGA GTX 970 FTW Overview
All the usual suspects will be bringing GTX 970 cards to retail over the coming weeks, and we're already seeing various manufacturers play on the energy-efficient strengths of the Maxwell architecture by designing cards that are geared to run silently when not in use.
EVGA's GTX 970 FTW, which we expect to see priced close to £300 in the UK, takes the alternative path by arming performance purists with lofty shipping frequencies and bags of cooling potential.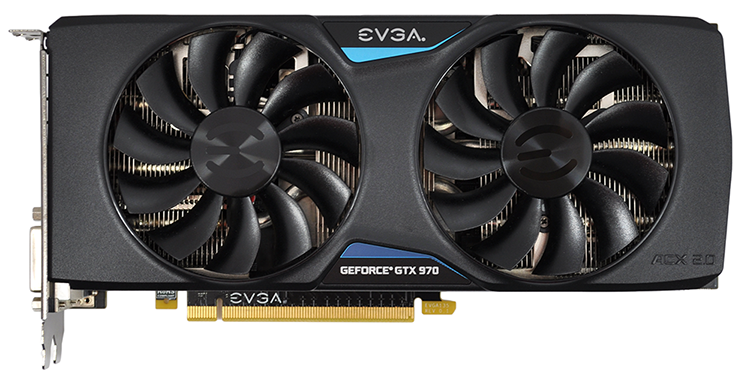 Measuring 241mm in length (9.5in), EVGA's dual-slot card tips the scales at 660g and feels reassuringly well-built. The stylish appearance of Nvidia's reference cooler is hard to match, but EVGA has made a reasonable fist of things, with a sleek, mostly-black design showing just a few simple blue accents.
Chief among the FTW's selling points is the use of a new cooling configuration dubbed ACX 2.0. Comprised of two 90mm fans, four heatpipes and an array of aluminium fins, the cooler touts a higher number of fan blades, a redesigned fan motor and improved magnets. According to EVGA, these enhancements allow the cooler to work more efficiently than ever before, and such claims are backed-up by our real-world temperature readings, which we'll get to a little later in the review.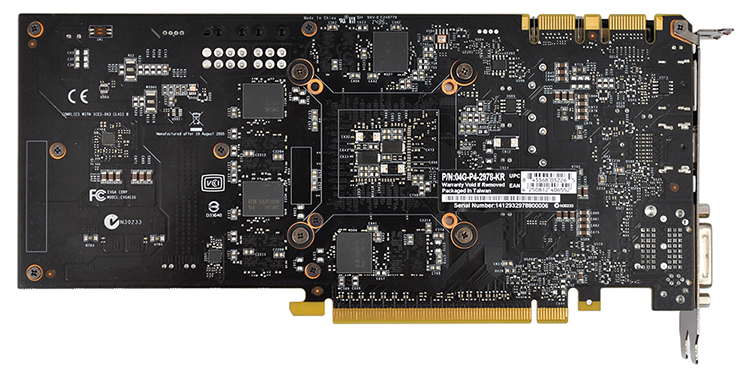 It isn't the cooler that will attract end users, mind you. What's really going to catch the eye of enthusiasts is EVGA's shipping frequencies. Right out of the box, the FTW card's base clock is ramped up from the default 1,050MHz to a brisk 1,216MHz. That's a near-16 per cent improvement right there, and the specified boost clock sees similar gains, jumping from 1,178MHz to 1,367MHz.
High-end Nvidia cards of recent years have shown that the reference specification is merely a starting point - expect most partner cards to be considerably quicker, and remember, the listed boost clock is just a taster. When gaming, we caught the FTW card running occasionally at 1,404MHz when conditions allowed.

There's sadly no memory overclock to accompany the spruced-up GPU - EVGA keeps the 4GB GDDR5 framebuffer ticking along at the default 7,012MHz - and examining the card's exterior doesn't identify any unexpected surprises.
In keeping with most of the GTX 970 solutions we've seen thus far, dual SLI fingers are made available for multi-card configurations and power is sourced from a pair of six-pin PCIe connectors. The position of said connectors tends to be a personal preference, but we do prefer to have them located near the far end of the board: EVGA's off-centre positioning can make cable management a little more awkward.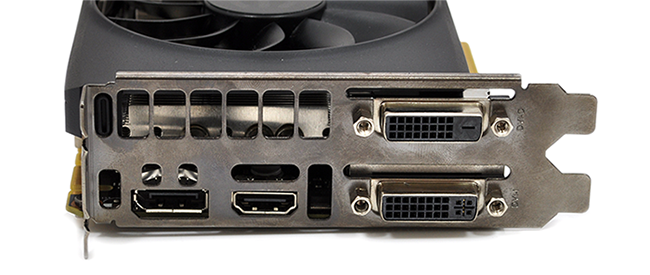 A highlight of Nvidia's reference design is the inclusion of three DisplayPort outputs. EVGA has opted against that particular layout and reverts to DVI-I, DVI-D, DisplayPort 1.2 and HDMI 2.0. Note that either of the latter two can be used to drive a 4K panel at 60Hz, but while all four outputs can be used concurrently, the configuration doesn't allow for three 4K60 screens to be run from the single card. Worth knowing, just in case you have such hardware at hand.
Clocked to the high heavens and priced to compete with GTX 780 and R9 290X, we're expecting to see EVGA's GTX 970 FTW return handsome benchmark scores. Let's fire it up and see what we get.