Introduction
It has been a little quiet on the high-end graphics front in recent months, and though next-generation hardware is on the horizon, we reckon now's a good time to revisit one of the most powerful GPUs of the current generation: Nvidia's GeForce GTX 780 Ti.
Launched all the way in November 2013, GeForce GTX 780 Ti still ranks as one of the best single-GPU cards going and commands price tags ranging from £450 to £670, with the latter representing liquid-cooled territory. There's a good choice of custom designs and bundles available from all the usual suspects, and the one that's going under the spotlight today is MSI's GTX 780 Ti Gaming 3G, priced at £500.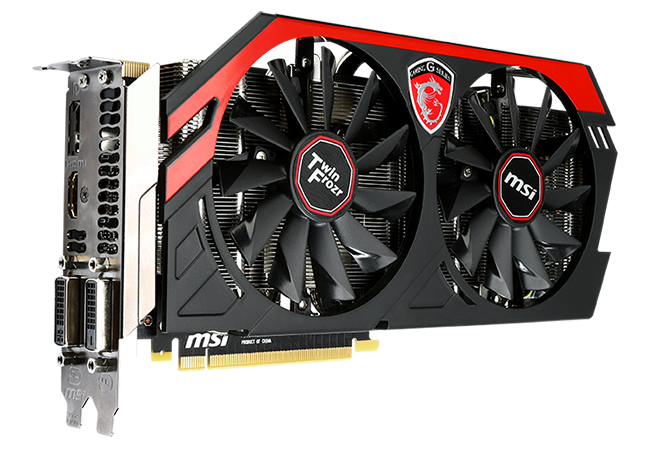 Making use of the tried-and-trusted Twin Frozr cooling configuration, MSI's card occupies two slots and measures 266mm x 129mm x 33mm in size. Tipping the scales at 782g, it isn't overly heavy yet feels sturdy and well put together, and though the colour scheme is more befitting a rival Radeon, it'll match-up nicely with most of MSI's other Gaming Series gear.
We've seen the Twin Frozr cooler work well in the past, and we'd expect nothing else from this premium £500 solution. Beneath the two large fans is an array of board-encompassing aluminium fins that are infused with five heatpipes, two of which are extra-thick for added efficiency. Both fans are PWM-controlled, and if previous MSI cards are anything to go by, should run nice and quiet under load - we'll have confirmation of that a little later in the review.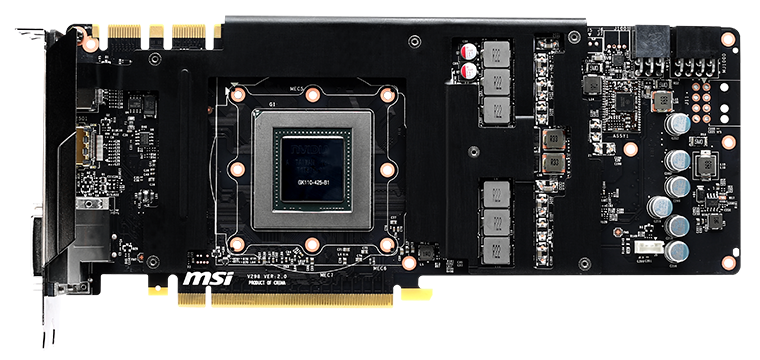 Removing the cooler assembly would reveal a metal supporting bracket attached to the PCB for that extra bit of rigidity. Build quality is well above average, though perusing the rest of the layout doesn't offer any real surprises: the customary two SLI fingers are available for multi-GPU configurations and power is sourced from standard six- and eight-pin PCIe connectors.
It's the GK110 GPU that MSI has spruced-up accordingly. Nudging ahead of Nvidia's default specification, the 780 Ti Gaming card ships with the core overclocked from 875MHz to 980MHz, while the average Boost clock jumps from 928MHz to 1,046MHz. Those aren't the fastest shipping frequencies we've seen, mind you, but it's worth noting that MSI's bundled software utility does come with two other operating modes - switch to 'silent' and Boost clock dips to 928MHz or crank it up to 'OC' mode and Boost clock will jump to 1,085MHz.

Elsewhere, the accompanying 3GB GDDR5 frame buffer remains untouched - it operates at the default Nvidia-specified speed of 7,000MHz - and display outputs are also unchanged. In keeping with the reference design, MSI's card provides DVI-D, DVI-I, DisplayPort and HDMI connections, and as expected all four can be used concurrently to drive multiple displays.
It's worth noting that a current Nvidia promotion allows eligible buyers to claim a free copy of Borderlands: The Pre-Sequel - free games always help lessen the sting of a £500 purchase - but the real reason to consider MSI's card, or indeed any GeForce GTX 780 Ti, is ultra-high-res gaming. Such a powerful GPU is frankly wasted at a meagre 1080p, and MSI reckons the card on show today is a reasonable bet when playing games at a demanding 4K resolution (3,840x2,160).
Prior analysis has shown that today's best single-GPU cards will struggle when put to task at such lofty resolutions, yet driver optimisations and a factory overclock must count for something. So with that in mind, let's move on to some 4K benchmarking fun...