Introduction
We had to wait what felt like an age for custom-cooled Radeon R9 290X graphics cards, but in the past couple of months we've seen a deluge of options from AMD's various partners.
HEXUS has previously taken WindForce, DirectCU II and PCS+ models for a spin, but now that availability has improved and prices have settled, we reckon it's a good time to take a closer look at one of Sapphire's newest additions - the R9 290X Vapor-X.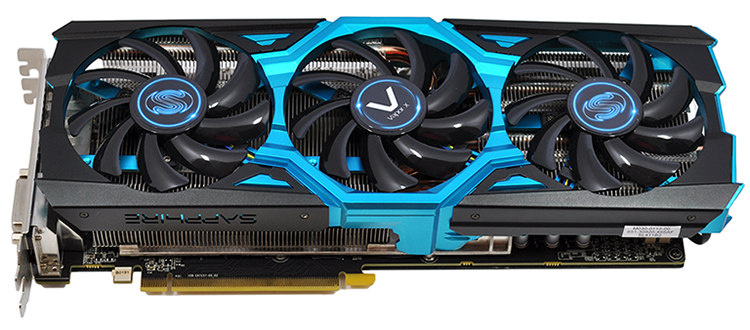 In stock and available for £440, Sapphire's card is in our estimation one of the best-looking 290X solutions currently on the market. The triple-fan cooler is clearly designed to impress and the black-and-turquoise colour scheme is a welcome change from the norm.
Build quality is good throughout, with Sapphire using a metal shroud and a full-size backplate on the rear of the card. And if size matters, you aren't being short changed: this beastie measures almost a full 12in long, tips the scales at a hefty 1,283g and is slightly thicker than your average dual-slot design.
Getting two of these cards running in CrossFire shouldn't be too much of a problem on a board with well-spaced PCIe slots, but the sheer size of the 290X Vapor-X is worth bearing in mind if you're working within tighter confines.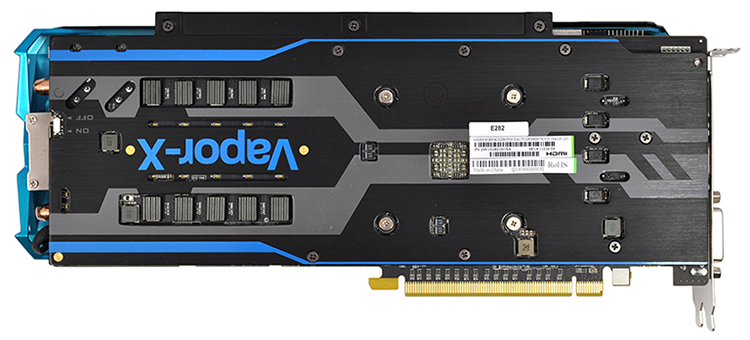 Flipping the card over suggests that this isn't your average R9 290X. Sapphire has outfitted the Vapor-X with a 10-phase digital power design, Black Diamond chokes and a couple of other interesting features attached to the custom PCB.
Firstly there's the protruding bit of circuit board at the top of the card - this small extension leaves a copper layer exposed and is attached directly to the heatsink. According to Sapphire, that alone is enough to shave 'several degrees' off core temperature.
Then there's the curious-looking on/off switch positioned at the end of the board. Turning it on activates 'Intelligent Fan Control' (IFC), which allows the two outer fans to turn off when temperatures are low. This makes the card audibly quieter during everyday use, as all three Tri-X fans only kick-in when gaming or running other GPU-intensive apps. Extreme gamers or overclockers wanting the fans on at all times can easily flip the IFC switch to off - a reboot isn't required.

And the goodies don't stop there. Sapphire has added a backlit button to the BIOS toggle switch, which allows users to choose between legacy and UEFI operating modes, and the Sapphire logo on the top of the card is not only backlit but temperature dependant. It'll glow blue when cool (60ºC or less), yellow when warm (60ºC to 80ºC) and red when toasty (80ºC or more). A nice little visual indicator, and though we'll cover operating temperatures in more detail later in the review, it's worth mentioning that we didn't see red at any point during our benchmarks.
These extras are all noteworthy additions and they don't detract from the cooler itself. This is one of Sapphire's top-tier solutions and the proof is what's lying underneath that massive shroud. Attached to the GPU is a vapour chamber that leads to five heatpipes - a 10mm central pipe flanked by two 8mm and two 6mm - and a board-encompassing stack of aluminium fins.
The hefty heatsink suggests a massive factory overclock, but that surprisingly isn't the case. Sapphire ships the 290X Vapor-X with a 1,030MHz core (up from 1,000MHz) and a 4GB frame buffer running at an effective 5,300MHz (up from 5,00MHz). The mild factory overclock isn't the most impressive we've seen, and there's a reason for that, as Sapphire is bringing two other Vapor-X cards to market. An OC model priced at £500 will ship with a 1,080MHz core and 5,640MHz memory, and there's also an outlandish 8GB model available for a wallet-busting £600.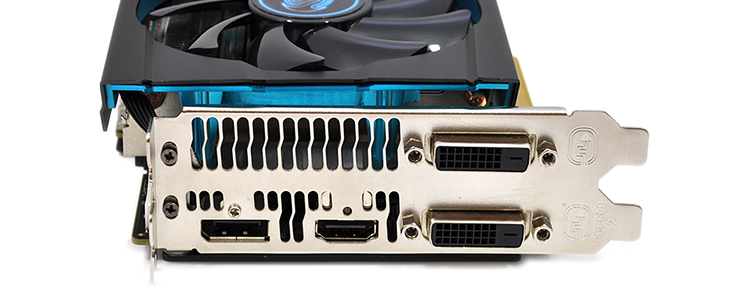 Looking around the rest of the card reveals that power is provided by a pair of eight-pin connectors, CrossFire support is baked into the silicon itself so multiple cards can be combined without the need for an unsightly bridge, and AMD's default quartet of display outputs are all present. These include two dual-link DVI, DisplayPort and HDMI, and all four can be used concurrently to drive four panels.
Sapphire has built a formidable board and the only real caveat that stands out thus far is the £440 price tag. Reference R9 290X cards are now available for around £360, and given the mild out-the-box overclock, you're effectively paying an £80 premium for what's admittedly a substantial cooler.
The manufacturer's congested product stack is such that we're unlikely to see a lower price point anytime soon - the £420 segment is currently occupied by the standard Tri-X model - but AMD's Never Settle bundle does help sweeten the deal by giving 290X buyers a choice of three free games. Still, the Vapor-X is going to have to run particularly cool and quiet if it's to justify the extra outlay, so let's take a look at some benchmarks.