Improving upon the reference card
Released just the other day, the GeForce GTX 750 Ti GPU is the first bearing the Maxwell architecture from Nvidia. Considered a heavily tweaked and refined version of the Kepler core found in most Nvidia graphics cards today, with particular emphasis on improving performance-per-watt, low energy consumption is the hallmark of this mainstream graphics processor.
A well-thought-out retail card needs to push the Maxwell core further by overclocking both the core and memory, ensure the entire package is eerily quiet and cool under load, and, most of all, be priced competitively. Hoping to achieve all of those aims is Palit.
Palit retails two GTX 750 Tis, both overclocked, and they're positioned under the StormX banner. The single-fan model overclocks the base 1,020MHz/5,400MHz of the reference card to 1,085MHz and 5,500MHz, respectively, while there's even more frequency headroom for the StormX Dual.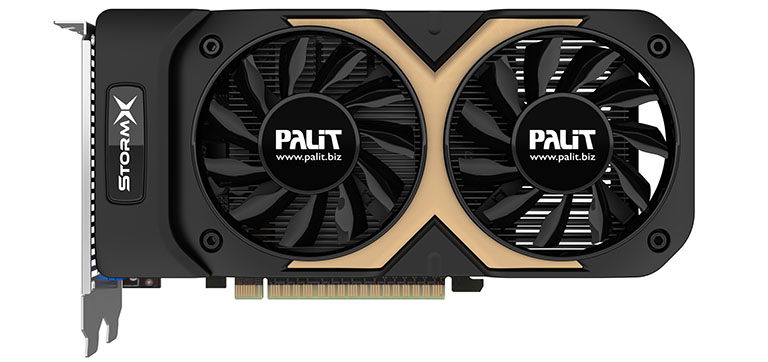 The dual-fan card uses two 80mm fans dubbed TurboBlade. The overall heatsink design, StormX, is new for this model, and the cooler's understated looks and black-and-gold colour scheme work well to create an attractive card.
Heatsink construction is very similar to Asus', with this GTX 750 Ti being cooled by a medium-sized block of aluminium. Much like Asus, there is no copper insert or use of heatpipes. Overall card length is the same 8.5in, and the PCB is so small that Palit adds a 2.5in brace/extender on the back that provides extra rigidity and stops the cooler appearing to overhang unnecessarily.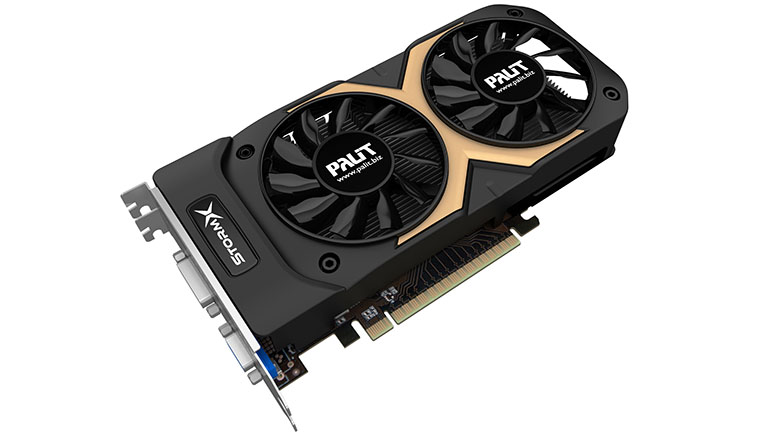 Palit improves upon the reference design by upgrading the Mosfets, PWM circuitry and uses higher-quality solid capacitors. These upgrades pave the way for clocking this GTX 750 Ti in at the highest speeds of any partner card, as far as we can tell, as the StormX Dual chimes in at 1,202MHz core (rising to an average 1,281MHz under GPU Boost). Putting this into context, the card is running a full 18 per cent faster than the default.
Partners usually bypass memory overclocking on mainstream cards; thankfully Palit hasn't done this and raises the default 5,400MHz clock to an impressive 6,008MHz, though it uses the same array of 2GB (4x4Gbit) Samsung K4G41325FC-HC03 chips as the previously-reviewed Asus. This is a GeForce GTX 750 Ti overclocked properly.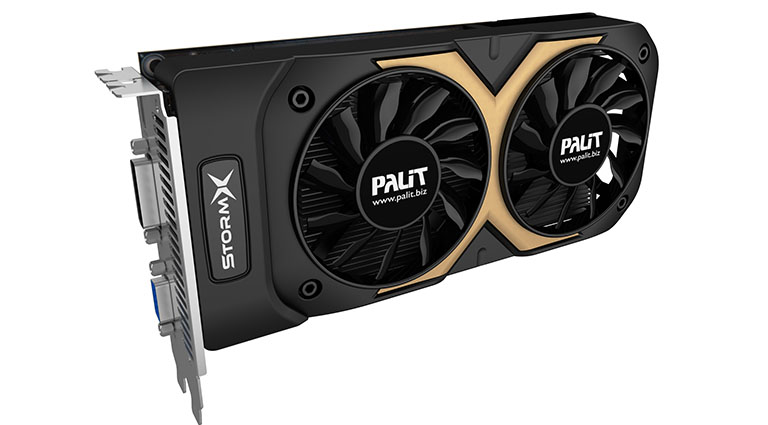 We also appreciate that Palit has cranked up clocks without adding a six-pin connector, which goes against the grain of the energy-efficient Maxwell GPU.

The heatsink isn't a fully-enclosed design and warm(er) air is expelled from the sides, thus making the upper vent somewhat pointless. Outputs take in mini-HDMI, dual-link DVI and VGA, yet, as usual, we'd prefer all-digital connections for a graphics card of 2014.
Pricing for Palit cards is typically keen compared to rivals. The basic, overclocked StormX is available from £107, and this dual-fan model is set to retail for £120, or £5 more than many other reference-like cards. A small premium seems like a price worth paying at first glance, so let's hop to the benchmarks and see just how good Palit's card is.