Asus does GTX 750 Ti
Nvidia has promised a hard retail launch of the GeForce GTX 750 and GeForce GTX 750 Ti GPUs released yesterday. Add-in board partners are keen to take advantage of the all-new Maxwell graphics architecture and have been busy readying their retail implementations for the past couple of weeks.
We see GeForce GTX 750 Ti as a small, quiet and unobtrusive retail card, helped by its meagre 60W TDP and tiny reference PCB. Industry giant Asus still views the energy-efficient GPU as one deserving some overclocking attention, and the 'OC' variant does just that.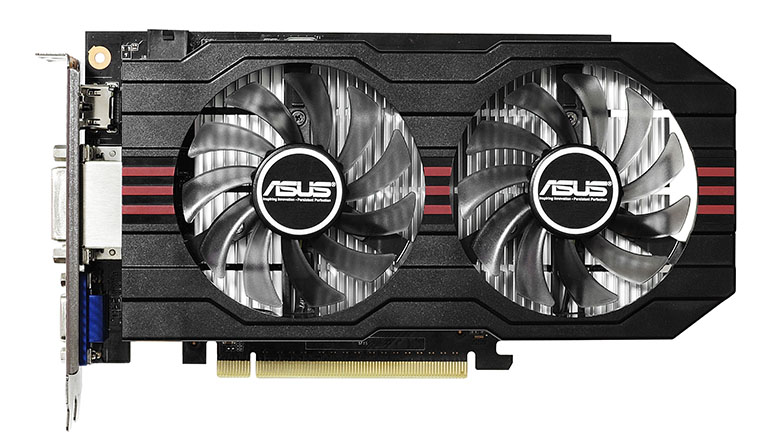 This version of the GTX 750 Ti provides, in Asus' own words, '2x the airflow and [is] 3x quieter' than the reference model, which is quite some boast for a base card that's already mighty efficient.
Two 80mm fans sit on top of a standard aluminium heatsink that does without the usual array of heatpipes. Construction is up to Asus' usual high standards, with this OC card using a non-reference PCB as well as company-specific cooler that overhangs the board and also covers the memory chips via some thermal tape. All told, the card measures 8.5in long and takes up two expansion slots.
Asus also upgrades the board components by using super-alloy capacitors and Mosfets. This, then, is a GTX 750 Ti geared towards the enthusiast. We have mixed feelings about such a card, given the underlying GPU is all about energy efficiency, and the OC feels like a case of design overkill.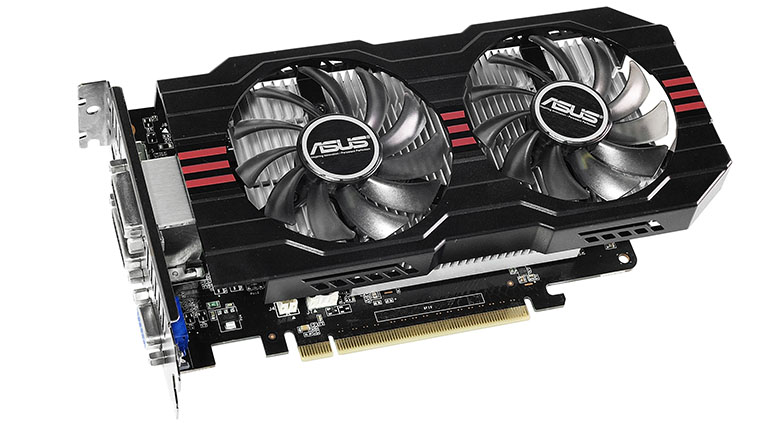 One of the reference card's attributes is the ability to run with the power provided by the PCIe slot alone. Asus, on the other hand, employs a six-pin power connector on the far side, primarily to allow for enough juice when overclocking further. The connector's located close to the PCI bracket on the back, thus making it potentially awkward to pull the PSU's power cable across the card.
The reference card chugs along with a peak core speed of 1,085MHz and GDDR5 memory operating at an effective 5,400MHz. Four (4Gbit) Samsung K4G41325FC-HC03 are the chips of choice and, interestingly, these are also specified on the PlayStation 4 console, though run at 5,500MHz in that instance.
Asus increases the GPU-Boosting core frequency to 1,150MHz but, somewhat strangely, leaves the 2GB of GDDR5 memory alone. Understanding that the GPU is fed by a 128-bit bus means that AIBs should, in our opinion, at every opportunity, try to increase available bandwidth. Asus has been a little conservative with the clocks, mind, as we know of other AIBs clocking their GTX 750 Tis in at a peak 1,281MHz, while also overclocking the memory.

Asus does take advantage of the dual-slot bracket and includes two dual-link DVI, HDMI and VGA. We're of the digital persuasion these days and would have preferred the analogue VGA to be replaced by DisplayPort, but we can appreciate that Asus includes it for legacy purposes.
Priced at £135, thereby attracting a £20 premium over the cheapest models, and available to purchase today, Asus has gone down the enthusiast route with its GTX 750 Ti. Let's now see how much better it is than the reference card in our slew of GPU-taxing benchmarks.