The Card Itself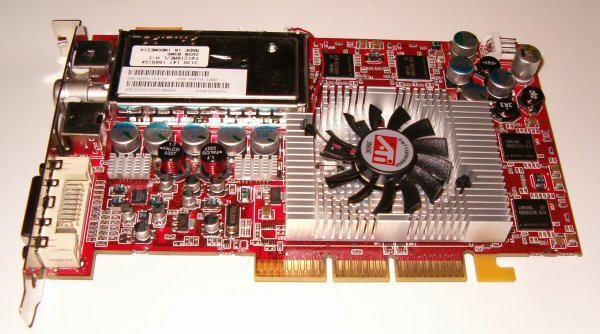 As you can see, the board itself is pretty much what you'd see with a full, 128MB 9800 Pro All-In-Wonder. The PCB, aluminium cooler, external power connection, L-shaped memory module arrangement and the All-In-Wonder hardware all conspire to give the illusion that we're looking a full 9800 based product. The PCB is small, as we've come to know and love on recent ATI boards, meaning it should fit just fine in all systems. This particular model of card should become especially popular with Small Form Factor PC owners, owners looking to outfit their diminutive systems with TV features and excellent 3D performance. The All-In-Wonder features mean that the card draws heavily on the 5V rail on bootup, as the Philips tuner and RT200 ASIC initialise, causing many recent SFF chassis' to trip their power supply units and shutdown automatically. Beefier SFF models such as Shuttle's upcoming ST61G4, featuring 250W power supplies, should be more equipped to handle the boot load on the 5V rail. Models that will trip the PSU upon use of an All-In-Wonder have a couple of options available to them, including a delay circuit that delays draw of power from the All-In-Wonder, until the PSU is over the initial hill of powering up the rest of your system. Something to watch out for.





In terms of backplane connectivity, it's identical to the 9800 Pro All-In-Wonder that I looked at a while ago. The purple connector on the left is for the video and audio capture via the RT200 ASIC. Here's a quick rundown of the RT200 feature set, for those that haven't come across it before.


Rage Theater 200 Features

• Decode video from a wide range of sources, including broadcast video, DVD and S-VHS
• Accepts and outputs S-Video, Composite and HD Composite (HDTV) signals
• Decode all PAL, NTSC and SECAM discrete video formats
• Decode from multiple inputs including Y:Pr:Pb component input and a combination of compostite and S-Video sources
• Supplies dual 12-bit analogue to digital processors for decoding analogue video input
• Cleanup of noisy video signals using AGC and Clamp methods • 2D Comb filter and horizontal and vertical video downscalers
• Macrovision detection and filtering
• Demux and split all broadcast television audio signals into discrete stereo
• 16-bit sampling at 32kHz, 44.1kHz, 48kHz and 96kHz
• Decodes second language audio transmissions
• Modulation of volume based on signal strength


The purple breakout box (picture on the following page) feeds the RT200 with compatible signals so that you can easily capture video and audio via the card.

The next connector on the backplane feeds the Philips TV tuner with an antenna feed for tuning television signals, before feeding them to the RT200 for display. The Philips tuner is a custom tuner built solely for ATI, to their exact specifications.

The third connector is a standard 10 pin S-Video port for TV output. While the main function of the All-In-Wonder is to capture video and tune TV signals directly on the PC, it's still quite capable of outputting them to a television that may have its own tuner. You may very well prefer the All-In-Wonder tuner to the televisions own, allowing you to take advantage of EASYLOOK and hardware deinterlacing and scaling of video sources like DVD, something you'd spends thousands of pounds on otherwise. A dedicated video scaler, popular with home cinema enthusiasts, can often cost more than an entire high performance PC. Being able to use your PC for that function, with its inherent benefits, is something you can easily see the allure of.

The final connector is the ubiquitous dual link DVI-I output connector, for hooking up a regular PC monitor, be it a digital flat panel or a regular analogue monitor. Of course the DVI to analogue VGA convertor is supplied.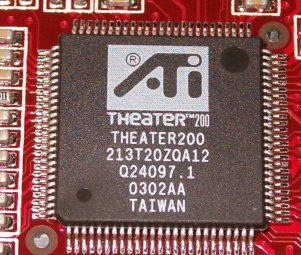 As you can see, the RT200 takes up a small part of the back side of the PCB, near the AGP connector. A part of the board worth commenting on is the soundcard input port above the Philips tuner (cable not supplied), for processing audio provided by your PC.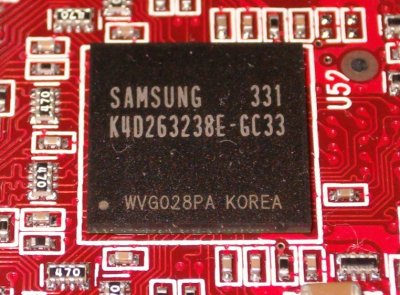 The memory modules are Samsung's K4D263238E-GC33 parts. 4 on each side of the PCB and specced to 300MHz (600MHz DDR), they provide 600Mbps/pin sampling which on a 256bit memory interface and factory overclocked by Hercules to run at 340MHz, allows for the 21.76GB/sec bandwidth figure quoted on the previous page.

Tiny aluminium heatsinks on the power regulation circuitry besides the Philips tuner are the last noteworthy PCB feature.

What about the bundle?