R9 290 Tri-X
Go ahead, folks, pinch yourself to make sure you are not dreaming. Custom-cooled Radeon R9 290-series graphics cards really are here.
Almost two months after the introduction of the high-flying Radeon R9 290X, AMD's partners are finally ready to begin rolling out customised variants that tout better cooling and, usually, higher performance. The question that's on the tip of everyone's tongue is are these custom coolers going to be able to tame the hot-running underlying GPU?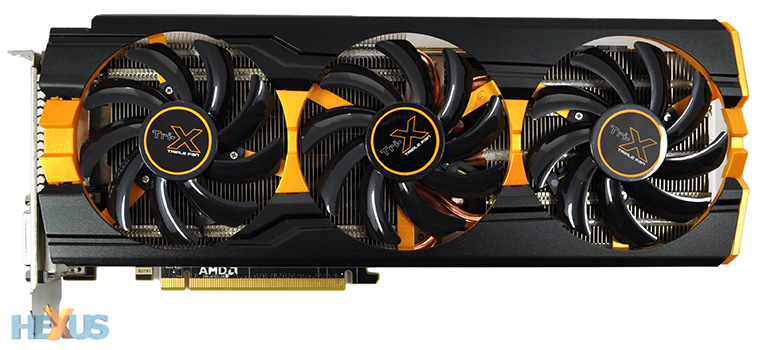 We'll be putting a slew of cards under the spotlight over the course of the next few weeks and we start to today with Sapphire's Radeon R9 290 Tri-X. This is a revised variation of AMD's second-rung card, the R9 290, which we believe to be one of the most convincing high-end solutions on the market today.
Enthusiasts will know that there are faster options available - AMD's own R9 290X takes things up a notch and the rival Nvidia GeForce GTX 780 Ti is a well-known speedster - but the R9 290, priced from around £315, is a tempting choice for those who want near-chart-topping performance without breaking the bank. £315 isn't necessarily cheap, granted, but it is almost half the price of the aforementioned GTX 780 Ti.

We've yet to see confirmed pricing for Sapphire's beefed-up offering, but we suspect the R9 290 Tri-X will make its appearance in stores before the end of the year priced somewhere around £380. That's a higher premium than we anticipated, and we were hoping to see Sapphire hit somewhere closer to the £350 mark, but the firm is clearly positioning its latest Tri-X to go head-to-head with the GeForce GTX 780 in the value stakes.
And let's be clear, Sapphire is offering a lot of card for the money. The R9 290 Tri-X measures a full 12-inches in length and tips the scales at a hefty 1,024g. That makes it longer and heavier than AMD's reference design, and you can clearly see the fan shroud stretch way beyond the edge of the custom underlying PCB.
This extra headroom has allowed Sapphire to attach a trio of 90mm fans that each promise "dust repelling bearings" and "highly efficient airflow at low noise levels." Underneath the fans are four thick copper heatpipes that extend through card-encompassing blocks of aluminium fins.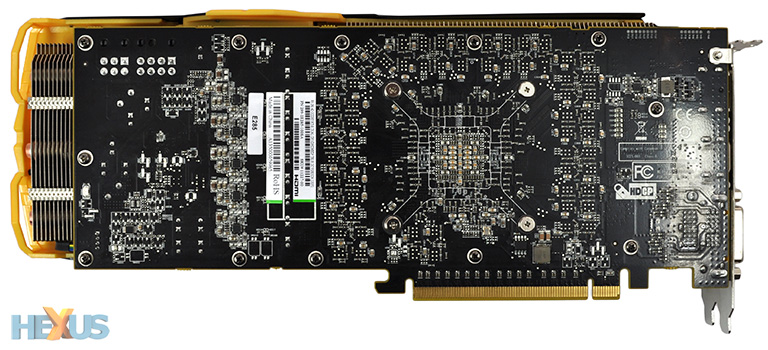 Cooling performance really shouldn't be a problem, we feel, and with the extra airflow at hand, Sapphire dutifully raises both core and memory clock speed.
Whereas AMD's reference design debuted at speeds of 947MHz and 5,000MHz, respectively, Sapphire's R9 290 Tri-X moves things along by bumping the core to a cool 1,000MHz and the 4GB GDDR5 memory to an effective 5,200MHz.
All things considered, this is shaping up to deliver in the three ways that every partner card should: it ought to be quicker, quieter and cooler than reference. The only small caveat we can think of is that the black-and-orange/gold colour scheme is an acquired taste and won't be an obvious match for most users' builds.

Knowing not to mess with a good thing, Sapphire keeps the output selection in line with AMD's default specification - that means DVI-I, DVI-D, HDMI and DisplayPort are all present and accounted for, and the card has the ability to drive four displays.
Power, as expected, is sourced from 8-and-6-pin connectors, and in keeping with the R9 290-series design, CrossFire functionality is baked into the silicon itself - you can tie a couple of these cards together through PCIe slots without the need for a CrossFire bridge.
Elsewhere, much has been made of the bundle deals on offer from both Nvidia and AMD, and as we know, the latter only offers Battlefield 4 with 'select' Radeon R9-series products. The good news is that Sapphire's R9 290 Tri-X is taking part in the promotion, so yes, each buyer will receive a free downloadable copy of Battlefield 4 while the offer lasts.
Enough of the chit-chat, let's get on to some benchmarks...