Say hi to the beast
We've waxed lyrical about the speed of the GeForce GTX 780 Ti graphics card. Taking advantage of the complete Kepler GK110 architecture and muscling its way to the top of the single-GPU performance charts, Nvidia's partners have made it even faster through custom-cooled, pre-overclocked variants. But £600 is heck of a price to pay for such speed.
Take a step back and the regular GeForce GTX 780, though not quite as quick, looks mighty tempting, especially at the current starting price point of £380. Inno3D has a couple of contenders in this space, and both use extravagant cooling.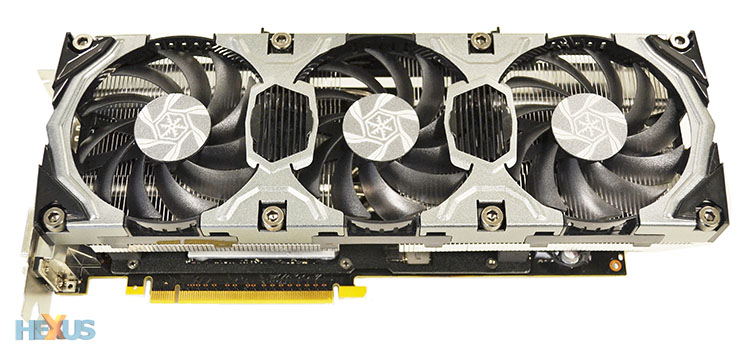 Based on a triple-slot-taking heatsink design, the 58mm-tall iChiLL GeForce GTX 780 HerculeZ X3 Ultra is a beast of a card in name and appearance. The industrial look isn't just for show as removing the Allen bolts provides easy access to the trio of 90mm fans. Interestingly, they can be set to bypass the usual PWM control by flicking a so-called 'BOOST' jumper located on the far side. The fans blow air over five 6mm-thick heatpipes attached to a large copper base that makes good contact with the core.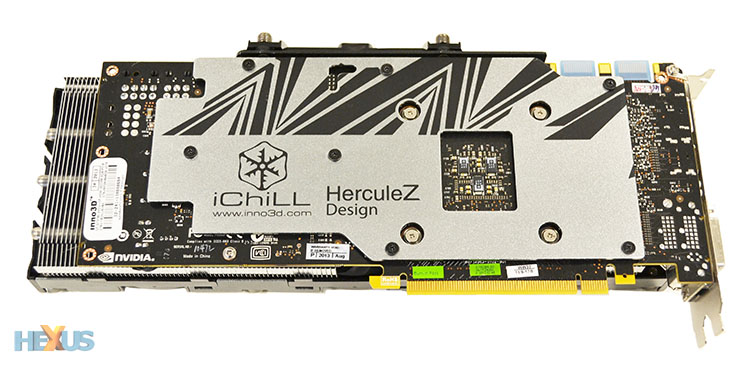 A plate on the back provides PCB protection and, acting as a heatsink, gets mighty warm under load. It also serves as a brace by providing more rigidity to the card. Measuring tip to toe, the card is 300mm long and the HerculeZ cooler spills over the edge of the board, so do bear the length and triple-slot form factor in mind if contemplating using it in a standard chassis.

The thinking here is that bigger is better. Standard GeForce GTX 780s chime in at a maximum core speed of 900MHz. Inno3D raises it to 1,046MHz, though a second HerculeZ model, dubbed DHS, cranks this up by a further 40MHz. We are also appreciative of the memory frequency being raised from the standard 6,000MHz to 6,212MHz. A 1,046/6,212MHz-clocked GTX 780 is, as far as we can tell, among the fastest of any partner card, meaning it should benchmark well against a stock GeForce GTX 780 Ti.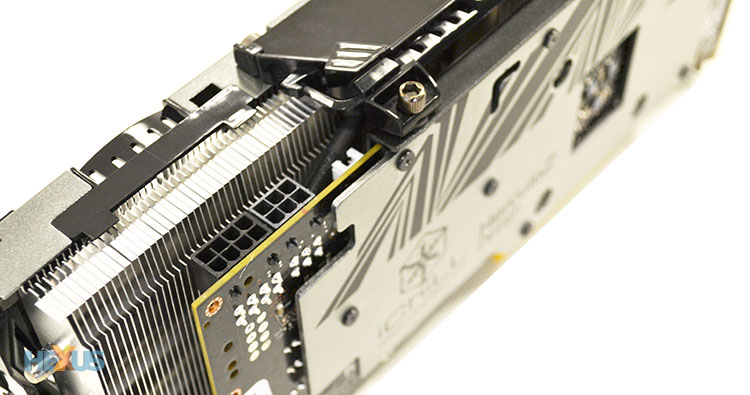 Power is sourced from the combination of 6+8-pin connectors. Next to them is what Inno3D terms the 'Stylist Lighting Box'. You can insert a provided see-through plastic Inno3D logo here that, once the board is powered, is illuminated by two LEDs from either side. The company also provides a blank logo plate for, intentionally, a completely custom look.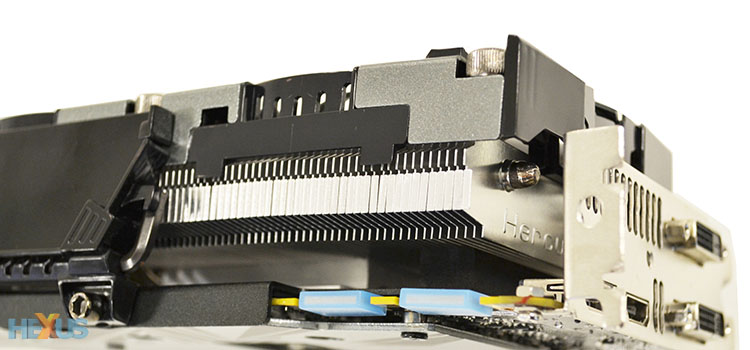 Also note the rectangular cutouts in the side of the fans. They provide additional air intake should a couple of cards be tied together via SLI, limiting the amount of available airflow. Sensibly, the card retains Nvidia's preferred video outputs. Big, brash and bold, Inno3D's GTX 780 HerculeZ X3 Ultra, available for around £420, looks every inch an enthusiast card.