Introduction
The 'next-generation' consoles are just about catching up to 1080p, but in the world of PC gaming, things have moved up a further few notches through the emergence of 4K panels touting a lush 3,840x2,160 resolution.
Lovely as they are - and it's true, games have never looked so crisp - pushing this number of pixels requires some serious horsepower on the part of the accompanying GPU. And from what we've seen thus far, a single Radeon R9 290X or GeForce GTX Titan doesn't quite provide the talent that's needed to drive some of the latest games at such extreme resolutions.
But how about the new king of the realm, the GeForce GTX 780 Ti? With 3GB of fast GDDR5 memory and a full compliment of SMX units, encompassing 2,880 processors and 240 texture units, is this the card that's best geared toward 4K gaming? Yours for a cool $699 (£560), we're here to see if Nvidia's latest has the resources to take on ultra-high-res games by comparing it directly against AMD's crown jewel, the Radeon R9 290X.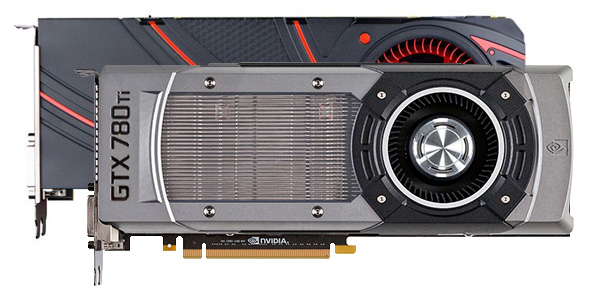 Test Methodology
Comparison GPUs

GPU

Nvidia GeForce GTX 780 Ti

AMD Radeon R9 290X

Driver

331.70

13.11 beta 8

Process

28nm

28nm

Transistors

7.1bn

6.2bn

Approx Die Size

551mm²

438mm²

Processors

2,880

2,816

Texture Units

240

176

ROP Units

48

64

GPU Clock/Boost (MHz)

up to 928

up to 1,000

Shader Clock/Boost (MHz)

up to 928

up to 1,000

GFLOPS

up to 5,345

up to 5,632

Memory Size

3,072MB GDDR5

4,096MB GDDR5

Memory Clock (MHz)

7,000

5,000

Memory Bus (bits)

384

512

Max bandwidth (GB/s)

336.5

320

Power Connectors

8+6

8+6

TDP (watts)

250

250

GFLOPS per watt

21.38

22.52

MSRP

$699

$549
HEXUS 4K Graphics Test Bench

Processor
Intel Core i7-4770K (3.50GHz, 8MB cache, quad-core)
CPU Cooler
Intel reference E97378-001
Motherboard
Gigabyte GA-Z87X-UD3H
Memory
16GB G.Skill RipJaws (2x8GB) DDR3 @ 1,600MHz
Power Supply
Corsair AX760i
Storage Device
Crucial M500 240GB SSD
Chassis
Corsair Graphite Series 600T
Monitor
Asus PQ321Q (3,840x2,160)
Operating system
Windows 8 64-bit
HEXUS 4K Benchmark Suite

GPU Benchmarks
Mode and Resolution
Quality Settings
Crysis 3
DX11 at 3,840x2,160
4xMSAA, High Preset
Far Cry 3
DX11 at 3,840x2,160
2xMSAA, Ultra Preset
GRID 2
DX11 at 3,840x2,160
4xMSAA, Ultra Preset
Just Cause 2
DX10 at 3,840x2,160
8xMSAA, High Preset
Total War: Rome II
DX11 at 3,840x2,160
4xMSAA, High Preset
Notes
Just as before, we've run the best two cards from each team - GeForce GTX 780 Ti in the green corner and Radeon R9 290X in the red corner at 4K on an Asus PQ321Q monitor. In-game image-quality settings range from high to ultra-high. Note that we're continuing to use lots of GPU-bustin' antialiasing, to really put the hurt on the cards. The results will prove whether it's possible to game on a 4K-resolution screen, with top-notch settings, using the very best single-GPU graphics cards that money can buy.