Primed for overclocking
High-end graphics cards have been getting our attention of late, but few can afford to lay down £500-plus for a GeForce GTX 780. The sensible end of the market, if we can call it that, provides excellent 1080p-resolution performance for under £200. AMD and Nvidia have strong hands to play in this all-important category.
Though it's been out for 18 months already, which is a long time in graphics, AMD's Radeon HD 7870 still makes a compelling case for purchase, especially as most retail cards are augmented by the Never Settle Silver gaming bundle. Available from £150 for reference-like cards and rising to £200 when in partner-overclocked form, PowerColor's been advancing its £180 'Devil' solution as the best to date.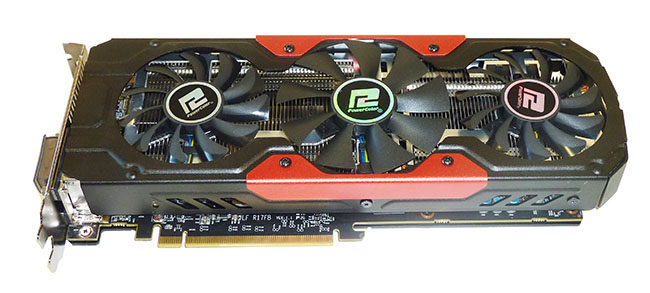 The muscular look is carried over from the original Devil 13, albeit toned down in the transition between dual-GPU HD 7990 and mid-range HD 7870. There's little need to go for extravagant cooling unless overclocking is key; PowerColor duly obliges by clocking this Devil in at 1,100MHz core and 5,000MHz memory, up from 1,000Mhz/4,800MHz frequencies for a standard card. Helping matters, the power-delivery hardware has been upgraded over reference, too, with the Devil totin' a nine-phase 'Platinum Power Kit' supply.
PowerColor's heatsink could well be used on higher-specified GPUs because it's well-built, large (11.3in across), and uses three fans - a 90mm flanked by two 80mm - to cool a quartet of 6mm-thick heatpipes that run through an array of aluminium fins. It's a tried-and-trusted method that has historically worked well.

Power is sourced through two six-pin connectors that are placed on the side. PowerColor's metal shroud isn't designed to funnel all the air out of the back, as there are various vents that enable the hot air to escape back into the chassis.

We're not convinced that a card of this ilk requires a backplate for any meaningful purpose. It doesn't make contact with any components on the rear side and, as far as we can tell, is more for aesthetics than pragmatic use. The specification-beating memory is contained on the topside, near the GPU, and the Devil is outfitted with 2GB Elpida ICs that are natively rated at 6Gbps.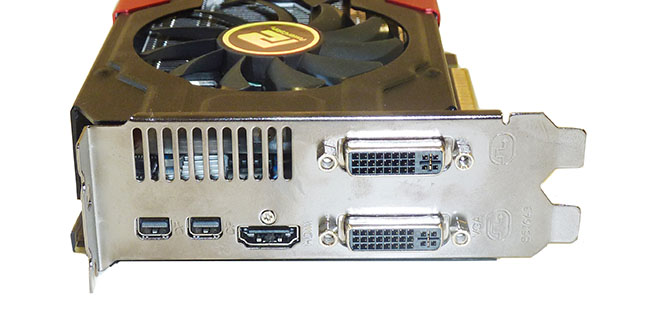 This is very much a custom card, so it's no surprise to see PowerColor mixing up the outputs, too. In addition to the 7870's standard selection of dual-link DVI, HDMI and two mini DisplayPorts, the Devil edition also provides a single-link DVI connector. The configuration makes it easy to attach multiple displays in Eyefinity mode, but users should note that AMD's internal layout is such that a third monitor (or any additional) must be connected via DisplayPort.
We find it interesting that PowerColor has invested in the Radeon HD 7870 when the next-generation cards are due for release sooner rather than later. Yet HD 7870 remains a competent GPU if priced well. The £180 asking price, however, is at odds with the cheapest Radeon HD 7950s - a faster GPU in every respect - and hybrid cards such as PowerColor's own Myst.
The HD 7870 Devil will need to best Nvidia's nascent GeForce GTX 760 if it's to score well. Let's find out how it does.