Meet The HOF
All signs suggest that AMD's next-generation Radeons are getting ready for a big unveil, but if you have to have an ultra-fast card and you have to have it now, you should be considering Nvidia's GeForce GTX 780.
Offering outstanding single-card performance for around £500, the GTX 780 is the obvious choice for many an enthusiast. And the good news for those who like something a little different is that Nvidia's various add-in-board partners are continuing to serve up GTX 780s in new and enticing variations.
We've seen our fair share over the course of the past few months, but none quite as lavishly designed as KFA2's GeForce GTX 780 Hall Of Fame.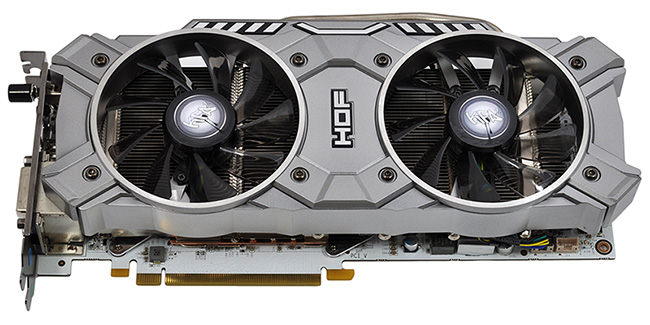 "HOF" Edition cards should be familiar to overclockers across the pond - parent company Galaxy has been serving up Hall Of Fame solutions for a while - but subsidiary KFA2 is now bringing the brand to European enthusiasts.
As the name suggests, these high-end offerings are designed to break into the 3DMark Hall Of Fame, which in turn intimates extreme overclockability and exceptional performance. A card promising so much should be made to look the business, and we can't fault the GTX 780 HOF in that regard.
Measuring just shy of 11in long, the card tips the scales at 887g and really does look the business. Angular, chiselled, and hard as nails - exactly how an enthusiast card ought to look.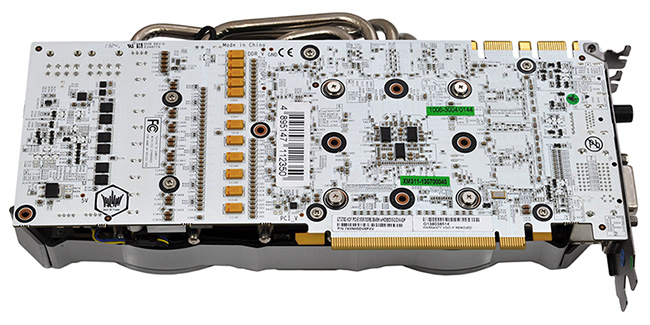 For its base, KFA2 is using a signature white PCB, and this time it's adorned with all sorts of overclocker-friendly enhancements. We get an eight-phase CHiL 8318 digital PWM, a PowIRstage IR3550 integrated driver and MOSFET package, yellow-coloured POSCAP capacitors from KEMET and ten high-current power inductors from Coiltronics.
Might sound like gibberish to your average gamer, but for overclockers, this should mean ultimate power delivery and long-term stability.
Given all the frills, you'd expect the card to be clocked high and KFA2 duly obliges by shipping the GTX 780 core at 1,006MHz. That's the joint-highest factory overclock we've seen, putting the Hall Of Fame right in line with Zotac's AMP! Edition, though Zotac's card does have a better-tuned GPU Boost implementation.
During real-world use, we found that the GTX 780 HOF would happily ramp up to 1,111MHz - an increase of 10 per cent. That's a healthy bump, but not the best we've seen as the AMP! Edition rival hit 1,163MHz in the same scenario, as illustrated by the table above.
Core speed is good, yet it's a shame KFA2 hasn't overclocked the memory at all. The 3GB GDDR5 frame buffer hums along at the default 6,008MHz, and while that's hardly slow, it feels like a missed opportunity on a card of this ilk.

Close examination suggests that shipping frequencies are merely a starting point for the GTX 780 HOF. The extravagant cooler takes up two-and-a-half expansion slots, and includes four 70mm heatpipes, two 90mm fans and an LED-backlit 'Hall Of Fame' logo blazoned across the top.
The card looks terrific when installed and there's more here than meets the eye. Underneath the chunky heatsink, KFA2 has a vapour chamber attached to the GPU, in which coolant evaporates in hot conditions, cools and then returns to the base to start over. Repeating the process quickly, the vapour chamber is said to be a more efficient means of heat transfer, and it should bode well for cooling performance in extreme scenarios.
Elsewhere, two SLI fingers are available for multi-GPU configurations - though you'll need well-spaced expansion slots to install two or three HOF cards - and power is sourced through a pair of upward-facing, eight-pin PCIe connectors that are also finished in white.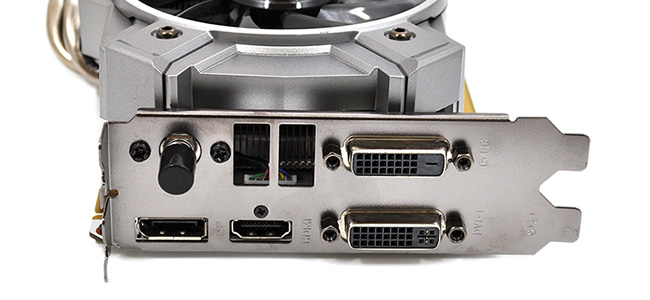 There's more. On the I/O panel, the HOF has the usual Nvidia outputs - DVI-D, DVI-I, DisplayPort and HDMI - but there's an intriguing 'Hyper Boost' button thrown into the mix. We were expecting an automatic overclock when pushed, but sadly, that isn't the case. Instead, the button is used to kick the fans into top gear; a manoeuvre that should, in theory, aid overclockers and allow the card to maintain heightened GPU Boost frequencies for prolonged periods of time.
Now on to the important bit: how much is this all going to cost? Well, it ain't cheap. At the time of writing, the GTX 780 HOF fetches a staggering £576 from UK retailers. This, clearly, isn't a graphics card for the faint of heart, but let's cut to the chase and see what it can do.