AMP! Edition, Take Two
Editor's note: HEXUS readers may be getting a sense of déjà vu, and rightly so. Our Zotac GeForce GTX 780 AMP! Edition review was originally published on September 10, 2013, and concluded that, while the card was strong in many regards, it was "let down by conservative GPU Boost frequencies that ultimately hamper performance."

Zotac has since identified an issue in the graphics card BIOS, admitting that the card should perform better and a second, updated sample, is on the HEXUS test bench today. Zotac has confirmed that all shipping cards will come equipped with this revamped BIOS, which promises both greater performance and reduced noise.

What follows is an updated version of the original HEXUS review, now complete with retail-indicative benchmarks and a revised overall verdict.
What is the best single-GPU graphics card available to gamers today? Technically, it would have to be the GeForce GTX Titan, whose unsurpassed muscle makes a mockery of most other cards and commands a wallet-busting £800 at retail.
The price alone has most die-hard enthusiasts looking elsewhere, but the good news for gamers is that the second-best solution - Nvidia's GeForce GTX 780 - is practically every bit as fast when a healthy dollop of overclocking is applied.
For this reason, add-in-board partners are fighting it out to produce the fastest/best GTX 780. That means plenty of choice, and with so much variation, we've set out on a journey to cut through the marketing jargon and identify the one GTX 780 that rules them all. EVGA's SuperClocked ACX, Gigabyte's WindForce 3X, Palit's Super JetStream, Asus's DirectCU II and Gainward's Phantom GLH have all been under the spotlight, but we're not done yet as we're now turning our attention to Zotac's GTX 780 AMP! Edition.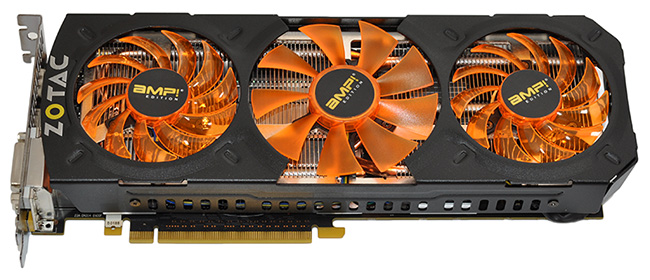 Currently priced at around £560, Zotac's factory-overclocked offering costs £60 more than a reference card and will need to impress in more ways than one if it's to warrant the premium.
From a design point of view, going one better than Nvidia's lovely-looking stock cooler is easier said than done. However, if you're looking for a card that stands out, Zotac's AMP! Edition is certainly designed to appear loud and fast. Three bright-orange fans adorn the full length of the 11in card, with a black metal shroud covering the array of underlying heatsinks.
The cooling mechanism - dubbed Triple Silencer - incorporates a single 90mm fan in the middle, flanked by two smaller, 75mm fans either side. Build quality feels good throughout, though the AMP! Edition isn't extravagantly heavy - it tips our scales at 780g, compared to, say, 1,145g for Asus's meaty DirectCU II OC.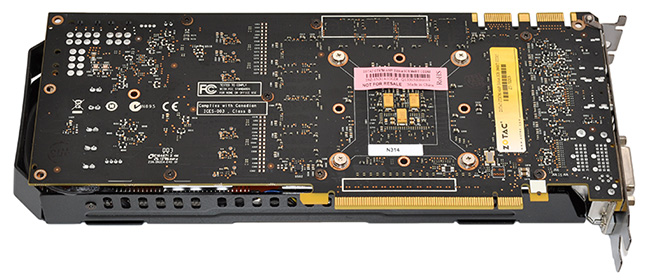 The card's appearance is of course of little importance compared to how it performs, so if the orange-on-black aesthetic isn't tickling your fancy, perhaps Zotac's factory overclock will. Right out of the box, the AMP! Edition is shipped with a 1,006MHz core (up from 863MHz) and a specified Boost frequency of up to 1,059MHz (up from 900MHz).
A near-17-per-cent increase in core frequency is not to be scoffed at, and memory, too, is overclocked, with Zotac bumping the 3GB GDDR5 frame buffer from the default 6,008MHz to a tastier 6,208MHz. These are the fastest out-the-box frequencies we've ever seen on a GeForce GTX 780, yet while the numbers are indeed enticing, they don't tell the full story.
With our original review sample, we found that the card would boost, on average, to just 1,045MHz. GPU speeds in excess of 1GHz are typically considered fast, but Zotac's boost represented a paltry 3.9 per cent increase. Our second, correctly-tuned review sample, has been in our test platform today happily ramping-up to a massive 1,163MHz. That's an extra 118MHz right there, and a new GPU Boost ceiling of 15 per cent.
The change has a dramatic impact on benchmarks, as we're about to see over the next couple of pages, but it also highlights the importance of a well-implemented BIOS. Zotac tells us that all retail cards have the new BIOS in place, but if you want to be certain, you can examine your own card's GPU Boost potential using freeware software utilities such as GPU-Z.

Elsewhere, all the usual GeForce GTX 780 ingredients are present and accounted for. A pair of SLI fingers allow for two- or three-way multi-card configurations, while power is sourced from six- and eight-pin upward-facing PCIe connectors. Knowing there's no need to interfere with Nvidia's default choice of outputs, the AMP! Edition retains DVI-D, DVI-I, DisplayPort and HDMI, allowing four displays to be powered from the single card.
Question is, are the GPU and memory overclocks alone enough to warrant the extra premium? Not in our book, so it's good to see Zotac sweetening the deal with a couple of other incentives. Firstly, the card is backed by a two-year warranty for UK consumers, but those who choose to register their product within 14 days can claim an additional three-year warranty, for a full five years' peace of mind.
Secondly, there are free games to be had. Zotac's own Splinter Cell bundle gives buyers download codes for Splinter Cell: Double Agent, Splinter Cell: Conviction and Splinter Cell: Blacklist, and on top of that Nvidia's current promotion is adding in a copy of Batman: Arkham Origins. Core overclocked, memory overclocked, an extended five-year warranty and four bundled games. The £70 premium doesn't sound too bad right now.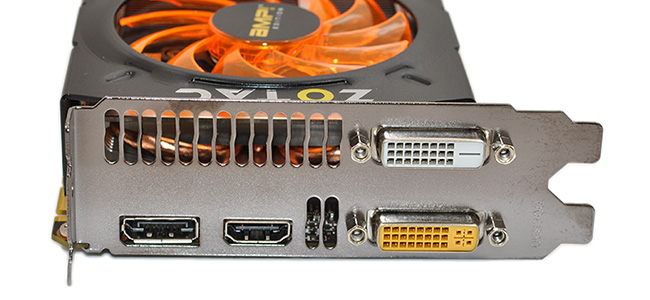 The GTX 780 AMP! Edition is a tempting package headlined by a 1,006MHz core clock speed, and the revised GPU Boost implementation should put the card in contention for chart-topping performance. Let's see what it can do.