Mixing It Up
Nvidia's GeForce GTX 760 has been hogging the limelight in recent weeks, but it's the preceding Kepler makeover - GeForce GTX 770 - that should be whetting the appetite of enthusiasts. Launched at the tail end of May, the GTX 770 essentially offers all of the underlying goodness of incumbent GTX 680, topped up with higher frequencies, GPU Boost 2.0 and a more palatable price tag of around £300.
Is there a better deal at said price point? Well, AMD's Radeon HD 7970 offers stern competition thanks in no small part to an excellent Never Settle games bundle, but on a card-only basis, we'd probably give the nod to Nvidia's newer, fresher, high-end powerhouse.
It's settled, then, GTX 770 is the card to buy if you're looking to spend in the region of £300 on PC graphics. The question now is, which GTX 770 is right for you? We're partial to Nvidia's Titan-like reference design, but said configuration is tough to find, with most manufacturers opting to use custom coolers of their own. Indeed, Inno3D is, as far as we can tell, the only manufacturer to offer the GTX 770 in its default guise.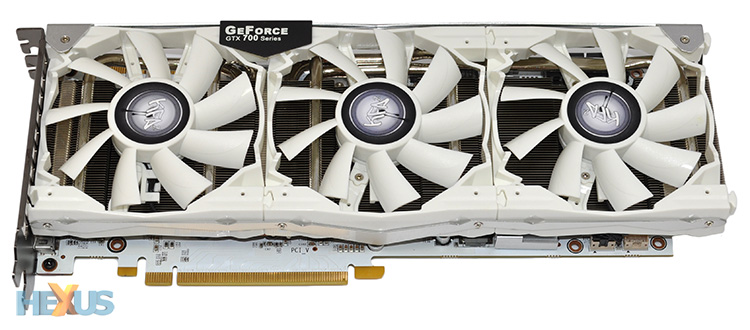 That leaves us with a smorgasbord of custom-cooled derivatives, and though we've already examined offerings from the likes of Palit, Zotac and Gigabyte, you would have to say that few are as eye-catching as KFA2's GTX 770 LTD OC.
Finished with a white lick of paint and matching PCB, this here card is clearly aimed at those rocking, say, a white Graphite Series 600T chassis and a couple of sticks of matching memory. The end result would be ideal for those who like to show off their hardware, and make no mistake, KFA2's GTX 770 LTD OC is a formidable-looking beast.
Helping keep this monster cool under load, KFA2 employs a trio of 90mm fans, five heatpipes and a board-encompassing array of aluminium fins. The end result looks the business, but if you were being overly critical you'd notice that the white isn't quite as pure or brilliant as it might have been - the fans and the plastic shroud in particular have a cream tint to them that's noticeable up close.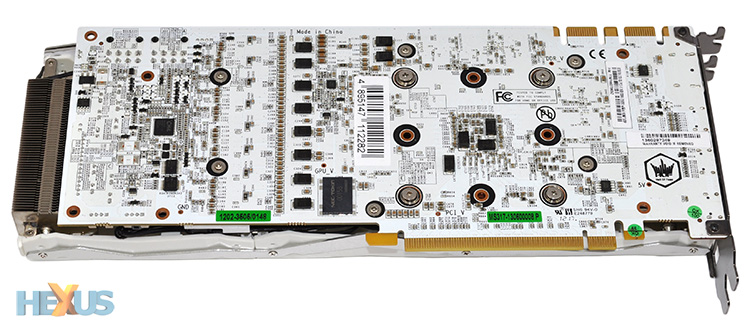 Measuring 11.5in from end to end and tipping the scales at 1,005g, KFA2's design is the longest and heaviest GTX 770 variant we've come across. Immense is how we'd describe it, yet you may be thinking it doesn't look particularly new - and with good reason.
As we know, the GTX 770 is based heavily around GTX 680 foundations, and as a result a fair few add-in-board partners are recycling their previous-generation designs for this year's refreshed model. KFA2 is doing exactly that, and if you think the 'new' GTX 770 LTD OC looks familiar, it's because the same all-white design made its debut earlier this year in GTX 680 form.
But let's be honest hear, how a card looks is of little consequence to most gamers. What matters is how it performs and the good news here is that KFA2 isn't holding back in terms of core frequency. Fresh from the factory, the LTD OC card comes equipped with a GK104 GPU ramped right the way up to 1,202MHz - that's a massive 222MHz higher than reference, representing an increase of almost 23 per cent.

The GPU will of course go higher courtesy of Nvidia's second-generation Boost technology, with KFA2 officially quoting a Boost speed of 1,255MHz. These are lofty numbers, folks. We've seen GTX 770s that struggle to overclock past the 1,200MHz mark, so the fact that KFA2 is shipping at a higher speed suggests that the best chips have been used to help construct this card.
It isn't all good news on the frequency front, however, as the LTD OC's 2GB frame buffer isn't overclocked at all - it runs at the default 7,012MHz, which is a tad disappointing for a card of this ilk. Elsewhere, Nvidia's two SLI connectors remain intact and available for extreme multi-GPU configurations, and in an effort to keep the overclocked core well fed, power is sourced from a pair of upward-facing, eight-pin connectors.
There's more jiggery-pokery going on here than in most other non-reference designs, and the changes, for better or for worse, extend to the array of outputs, too.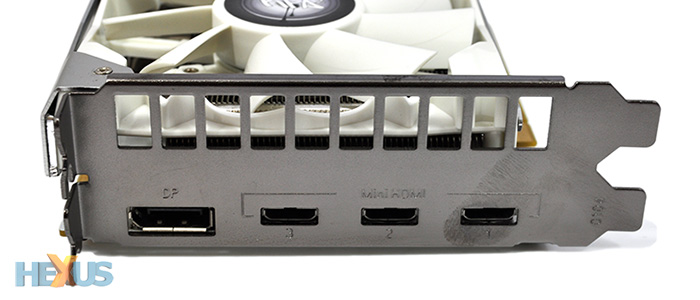 Nvidia's reference specification mandates DVI-I, DVI-D and full-size HDMI and DisplayPort; a quartet that covers just about all bases and allows for four independent displays to be run off one card. Unnecessarily complicating matters, KFA2 has opted to change things up in favour of DisplayPort and three mini-HDMI.
This configuration leaves DVI users in a pickle, particularly those who, like us, utilise high-res panels that only accept 2,560x1,600 over dual-link DVI. Active-DisplayPort-to-dual-link-DVI adaptors are a possible workaround, but they don't come cheap and KFA2 doesn't include one in the bundle. Instead, as part of the package you get one mini-HDMI-to-HDMI adaptor, one HDMI-to-DVI adaptor and, for a limited time, a download code for Tom Clancy's Splinter Cell Blacklist.
Now for the detail you've been waiting for: how much can you expect to pay? Well, at the time of writing, Overclockers UK is the exclusive retailer European retailer of the card and has the GTX 770 LTD OC priced at £360. A 20 per cent premium for one of the most unique and fastest-clocks GTX 770s on the market sounds about right, so let's put the card through its paces and see what it can do.