Testing methodology
ASUS GeForce GTX 780 DirectCUII OC 3GB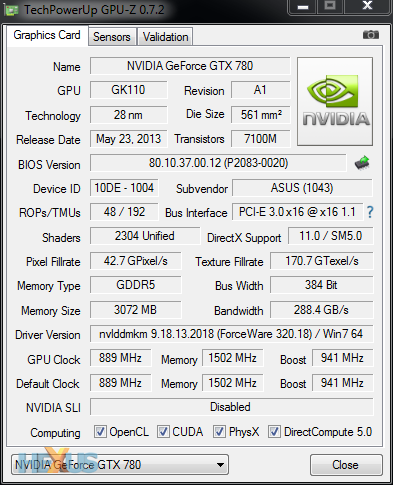 GPU Comparisons

Graphics Card
GPU Clock
(MHz)
Stream
Processors
Shader Clock
(MHz)
Memory Clock
(MHz)
Memory Bus
(bits)
Graphics Driver
Approx Price
Nvidia GeForce GTX Titan 6GB
837 (876)
2,688
837 (876)
6,008
384
GeForce 320.18
£790
ASUS GeForce GTX 780 DirectCU II 3GB
889 (941)
2,304
889 (941)
6,008
384
GeForce 320.18
£600
EVGA GeForce GTX 780 SC ACX 3GB
967 (1,020)
2,304
967 (1,020)
6,008
384
GeForce 320.18
£555
Palit GeForce GTX 780 Super JetStream 3GB
980 (1,033)
2,304
980 (1,033)
6,200
384
GeForce 320.18
£545

Gigabyte GeForce GTX 780 WindForce 3X 3GB

954 (1,006)
2,304
954 (1,006)
6,008
389
GeForce 320.18
£550
Nvidia GeForce GTX 780 3GB
863 (902)
2,304
863 (902)
6,008
384
GeForce 320.18
£515
Nvidia GeForce GTX 770 2GB
1,046 (1,085)
1,536
1,046 (1,085)
7,008
256
GeForce 320.18
£310
Nvidia GeForce GTX 760 2GB
980 (1,033)
1,152
980 (1,033)
6,008
256
GeForce 320.39
£200
Nvidia GeForce GTX 680 2GB
1,006 (1,058)
1,536
1,006 (1,058)
6,008
256
GeForce 320.18
£350
Nvidia GeForce GTX 670 2GB
915 (980)
1,344
915 (980)
6,008
256
GeForce 320.18
£280
Nvidia GeForce GTX 660 Ti 2GB
950 (1,013)
1,344
950 (1,013)
6,008
192
GeForce 320.18
£220
Nvidia GeForce GTX 580 1.5GB
772
512
1,544
4,008
256
GeForce 320.18
NA
AMD Radeon HD 7970 GHz 3GB
1,000 (1,050)
2,048
1,000 (1,050)
6,000
384
Catalyst 13.5 beta 2
£320
AMD Radeon HD 7970 3GB
925
2,048
925
5,500
384
Catalyst 13.5 beta 2
£280
AMD Radeon HD 7950 3GB
850
1,792
850
5,000
384
Catalyst 13.5 beta 2
£215
AMD Radeon HD 7870 2GB
1,000
1,280
1,000
4,800
256
Catalyst 13.5 beta 2
£170
AMD Radeon HD 5870 1GB
850
1,600
800
4,800
256
Catalyst 13.5 beta 2
NA
HEXUS High-End Test Bench

Processor
Intel Core i7-3770K (3.50GHz, 8MB cache, quad-core)
CPU Cooler
Intel reference E97378-001
Motherboard
Gigabyte GA-Z77X-UP4 TH
Memory
8GB G.Skill RipJaws (2x4GB) DDR3 @ 1,600MHz
Power Supply
Corsair AX750W
Storage Device
Samsung 830 Series 256GB SSD
Optical Drive
Generic 24x DVD-RW
Chassis
Corsair Graphite Series 600T
Monitor
Dell 3007FPW
Operating system
Windows 7 Ultimate (64-bit, SP1)
HEXUS High-End Benchmarking Suite

GPU Benchmarks
Mode and Resolutions
Quality Settings
3DMark
DX11 at 1,920x1,080 and 2,560x1,440
Fire Strike and Fire Strike Extreme
BioShock Infinite
DX11 at 1,920x1,080 and 2,560x1,600
Ultra + DOF
Call of Duty: Black Ops II
DX9 at 1,920x1,080 and 2,560x1,600
8xMSAA, High/Extra Preset
Crysis 3
DX11 at 1,920x1,080 and 2,560x1,600
4xMSAA, High Preset
DiRT Showdown
DX11 at 1,920x1,080 and 2,560x1,600
4xMSAA, Ultra Preset
Far Cry 3
DX11 at 1,920x1,080 and 2,560x1,600
2xMSAA, Ultra Preset
Just Cause 2
DX10 at 1,920x1,080 and 2,560x1,600
8xMSAA, High Preset
General Benchmarks
Description
Power Consumption
To emulate real-world usage scenarios, we record mains power draw both when idle and while playing Far Cry 3
Temperature
To emulate real-world usage scenarios, we record GPU core temperature both when idle and while playing Far Cry 3
Noise
A PCE-318 meter is used to record noise levels when idle and while playing Far Cry 3
Notes
It's worth measuring the in-game frequency across our six games, especially as the card ships with a mediocre core clock. Investigating GPU Boost frequency while running through the benchmarks, here how the Asus compares against the previously tested GTX 780 competition:
GTX 780 OC card

Asus

Palit

EVGA

Gigabyte

Average GPU Boost clock

1,019MHz

1,124MHz

1,124MHz

1,046MHz
In our test system, the Asus card boosts, on average, 130MHz higher than the default 889MHz. Trouble is, the other GTX 780s aren't shy in running way, way past their shipping frequencies, either.