Custom-cooled and factory overclocked
In the market for a GeForce GTX 770? Then you won't be left wanting in terms of choice. In a little over a week since launch, popular UK retailers have Nvidia's latest card in plentiful stock, and it comes in all shapes and sizes as the usual Nvidia partners put forth there custom-cooled variations.
Herein lies a dilemma of sorts. We're partial to Nvidia's reference cooler - it's quiet, it keeps the GPU suitably cool, and better yet, it exhausts a lot of the hot air out the rear of the chassis.
However, from what we can gather, the Titan-like cooler doesn't come cheap, and as a consequence most (if not all) partners have opted to use their own cooling solutions. We've seen Palit flaunt the triple-fan JetStream, and today we're taking a closer look at Zotac's GTX 770 AMP! Edition.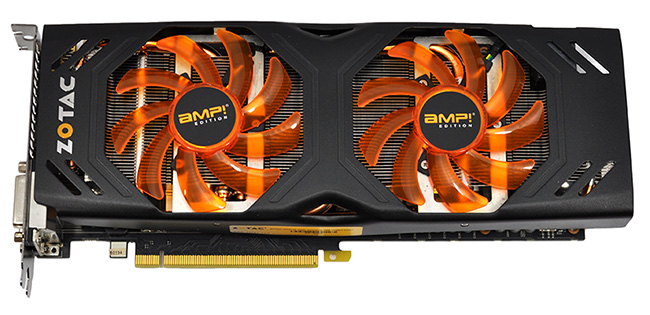 Currently available at around £350, the AMP! Edition card carries a £20 premium and is marketed as Zotac's fastest GTX 770 offering. It's interesting to note, however, that the company has three GTX 770 models in its line-up, and there are some noteworthy variations between them all.
All three offerings tout the same twin-fan cooler - dubbed the Dual Silencer - but the trio are set apart through frame-buffer size and operating frequencies. The basic £335 card is a 2GB, stock-clocked affair; then there's a 4GB, stock-clocked solution priced at a lofty £375; and the AMP! Edition that's under the spotlight today has 2GB of memory, a factory overclock and a £350 price tag.
There's no 4GB overclocked variant - at least not yet - but given how little difference a 4GB frame buffer is likely to make in most titles, it's safe to assume that the cheaper, overclocked AMP! Edition is the card to go for.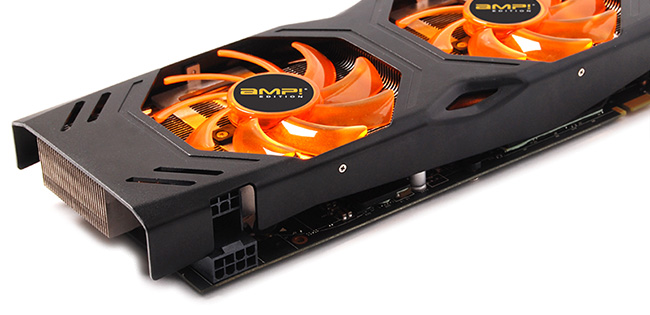 Measuring 10.5in long, Zotac's metal shroud overhangs the PCB and houses a pair of bright-orange 85mm fans, five copper heatpipes and a good-sized aluminium heatsink. The card tips the scales at 760g and feels well put together, however the open-air design won't be everyone's cup of tea.
The dual-fan solution will no doubt keep the underlying GPU running suitably cool, however we feel that exhausting hot air outside of the chassis is the way forward - as is the case with Nvidia's reference design - and it's a shame more partners aren't following suit with funnelled solutions.
Of course, as far as appearances are concerned you're either going to like the you've-been-Tango'd aesthetics or you're not. It's not a bad-looking card by any means - we're fond of a bit of orange and we like the fact that Zotac has the 8+6-pin power connectors in a stacked configuration - but it doesn't possess the overall suave of Nvidia's reference design.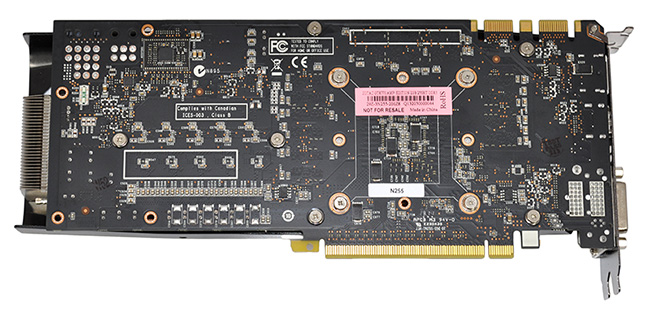 How a card looks is insignificant compared to how it performs. What's really of interest here is Zotac's factory overclock. Right out of the box, the GTX 770 AMP! Edition card is shipped with a 1,150MHz core (104MHz faster than reference) and a 2GB frame buffer clocked at an effective 7,200MHz (188Mhz faster than reference).
The core clock is line with what we've seen from Palit's competing JetStream, but Zotac throws in a free memory overclock to boot. And let's be fair, we don't see many cards with a frame buffer ramped right the way up to 7,200MHz.
There's no change in the output department, with the AMP! Edition sticking with DVI-I, DVI-D, HDMI and DisplayPort, but we're pleased to see Zotac actively competing with the Never Settle bundle available to competing Radeon cards. For all GTX 770 and GTX 780 models, the company is including a Splinter Cell Compilation that includes download codes for Splinter Cell: Double Agent, Splinter Cell: Conviction and the soon-to-be-released Splinter Cell: Blacklist.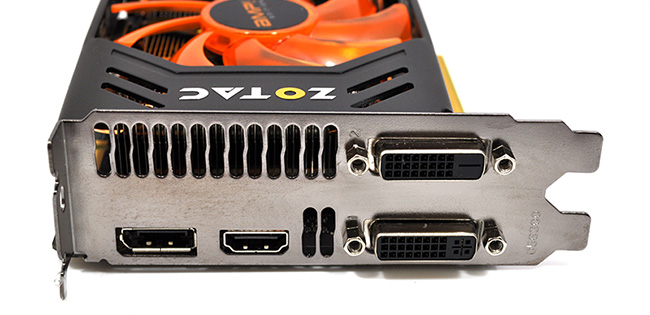 There isn't a great deal to choose between the various GTX 770s on the market, so the questions here are simple; how does the cooler compare to reference and are the overclocks enough to blur the lines between this and a £500 GTX 780? Only one way to find out.