In the jet stream
The release of a new GPU series is an opportune time for add-in card (AIC) partners to launch a bevy of new boards. This has already happened with the GTX 780, launched last week, and there's no reason why the just-introduced GTX 770 will be any different.
We've written ad nauseam of how much we like Nvidia's latest heatsinks designed for enthusiast cards - they marry good looks, solid thermal performance and excellent acoustics into one tidy package - but as EVGA has demonstrated, custom-designed offerings can improve it further still.
Palit is certainly of the same thinking, believing it has the wherewithal to beat out the elegant reference cooler with respect to outright performance and low-noise operation. To that end the company sent us the pre-overclocked GTX 770 JetStream 2GB model for editorial consumption.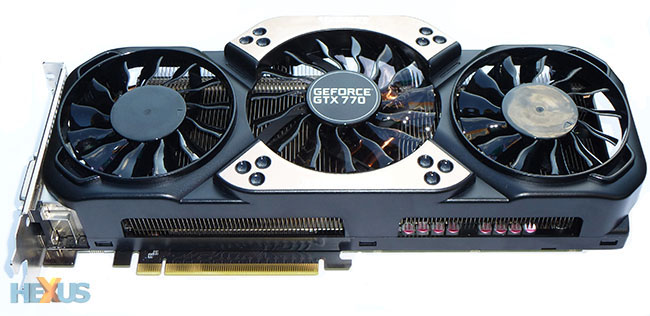 The JetStream series embodies the very best of Palit's engineering and, as such, always uses a customised cooler. The GTX 770 pulls comfortably more watts than a GTX 680 when under the cosh, even more so when overclocked and overvolted, so Palit implements a beefier version of the triple-fan heatsink found on the equivalent GTX 680 and base GTX 770 cards.

Two 80mm fans surround a 92mm fan that causes the plastic shroud to bulge on one side. The cooler appears absolutely huge on first glance but its size represents a minor optical illusion. You see, while it does overhang the underlying PCB by an inch, cementing thoughts that it's truly massive, Palit uses a custom board that's only 10in long - or half-inch shorter than the reference card.

And while Nvidia's reference design is about compromising between super-low noise and absolute performance, Palit has no such qualms here; the JetStream is about cranking out the frequencies above all else.

Thick heatpipes and copious amounts of copper give the card plenty of heft - it weighs 880g - and it may well be needed as this model is clocked in at 1,150MHz core and 1,202MHz Boost - up from the 1,046MHz/1,084MHz of the reference card - though memory is kept at a default, albeit impressive, 7,010MHz.

Palit also upgrades the power circuitry to eight phases for the GPU, presumably in a bid to offer very stable juice - through lower load on each phase - at the higher-than-default frequencies the core is tasked to run at.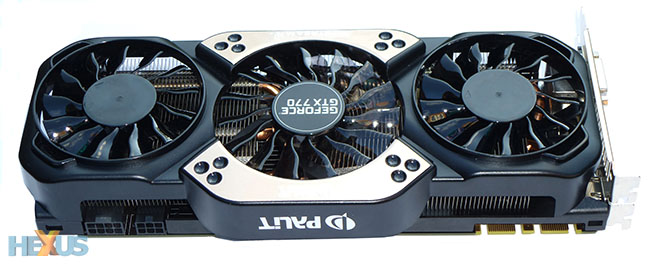 The company actually positions the central 92mm fan a little further up the heatsink than is absolutely needed, leading to that larger-than-necessary bulge in the middle. Adding some bling, the middle fan is lit up by blue LEDs when in operation. The effect is subtle enough not to be a distraction.
The liberal use of plastic and a gold-and-black colour scheme does make it feel rather cheaper than, and certainly not as attractive as, the LED-backlit, beautifully-built reference card, but it's doubtful that potential purchasers will care much once it's in a chassis.

A side-on shot shows how the copper heatpipes and stack of aluminium fins dominate the card. The JetStream features about as chunky a cooling solution as we've seen on a high-end board, leading the fans to be just tall enough to impinge on the second and third slots in a regular motherboard setup. The cooling arrangement thus makes the card a 2.5-slot affair.
This JetStream is outfitted with 2GB of GDDR5 memory that's all contained underneath the cooler, though it's absolutely possible Palit will release a version with 4GB, just as it has done with the GTX 680 model. We doubt that the extra framebuffer will have any huge advantages for common monitors, but hey, more choice is certainly better.
There's provision to hook-up a second and third card in a system for multi-GPU rendering; the SLI connectors are nice and clear, but do realise that the oversized cooler, grabbing over two slots, may inhibit a third card in most boards.
Power is sourced by a combination of eight- and six-pin plugs. As you may recall, this is an 'upgrade' on the dual six-pin connectors present on most GTX 680s. Nvidia says a GTX 770 can burn up to 235W when at full chat, so this Palit will require an even-higher TDP threshold due to higher clocks and higher associated voltage.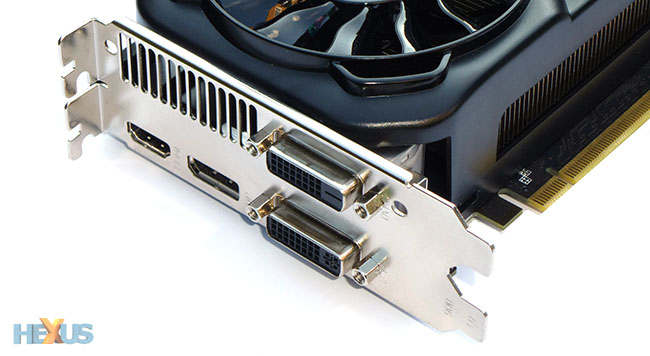 One area where Palit engineers have been told is a no-go area is the display outputs. The JetStream carries over the DVI-I, DVI-D and full-size HDMI and DisplayPort configuration present on GeForce 6- and 7-series boards. Heck, why mess around with a winning formula?
Most coolers attach to the PCB via four screws. Palit's 2.5-slot beastie requires 20 such screws before the PCB is revealed. Thermal-transfer pads are positioned in all the correct places, which is good practise, and this card also uses 2.8ns-rated Samsung GDDR5 memory present on the reference model.
Taking the GeForce GTX 680 update that one step further, Palit's highly-clocked card promises to nip at the heels of the nascent GeForce GTX 780 while coming £340, or just £10 more than the reference GTX 770.