Introduction
AMD and NVIDIA finished March 2013 locked in a battle for mainstream graphics-card supremacy. The red team brought out the Radeon HD 7790 only to be followed, days later, by the GeForce GTX 650 Ti Boost riposte. Both GPUs are now available via a wide range of partners and typically retail at between £120 and £150. And while we've seen our fair share of HD 7790s from AMD's add-in board partners, it's time to take a good look at a non-reference Ti Boost courtesy of Palit.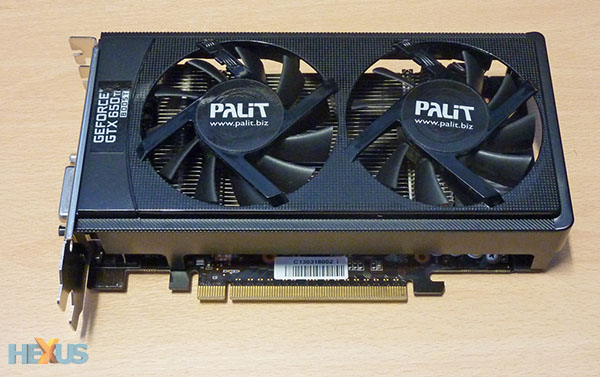 The Palit GeForce GTX 650 Ti Boost is available in four flavours: two reference-clocked cards and two OC models in both 1GB and 2GB framebuffer sizes. This here is the top-of-the-line Ti Boost OC 2GB, retailing for £140, and it increases the default frequencies of 980MHz core and 6,008MHz memory to 1,006MHz and 6,108MHz, respectively. The increase is more for marketing than tangible improvements in gameplay, mind, as the overclock is less than three per cent on either count. Palit reckons that, on average, the core boosts to 1,072MHz.
Though we're not overly impressed by the jump in frequencies, Palit has taken a good, long look at the GTX 650 Ti Boost 2GB and built an appropriate card around it. Measuring 173mm long - or 70mm shorter than reference - it appears an ideal candidate for a small-form-factor system. That said, Palit has previous experience in manufacturing smaller-than-normal cards, as its GTX 660 OC has identical dimensions.
Palit chooses to run with two 80mm fans rather than a single, larger one, as found on the same-sized GTX 660. The fans need to be shallow in order for the cooler to fit into a two-slot form factor. Palit foregoes any flashy lights or other graphics bling and, while overclocked, still prices its card in the middle of the GTX 650 Ti Boost market.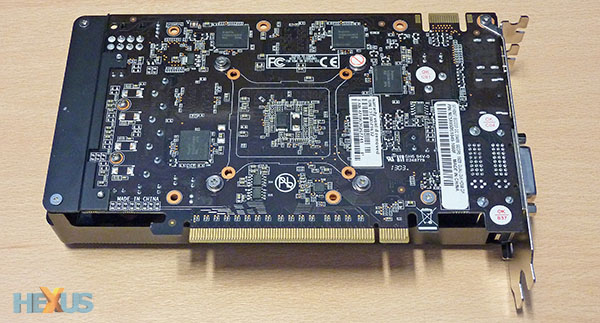 The use of a small PCB dictates component layout to some degree. The card's 192-bit memory bus uses eight Hynix memory chips - four on each side - but Palit still finds the necessary room for the SLI connector on the top-right.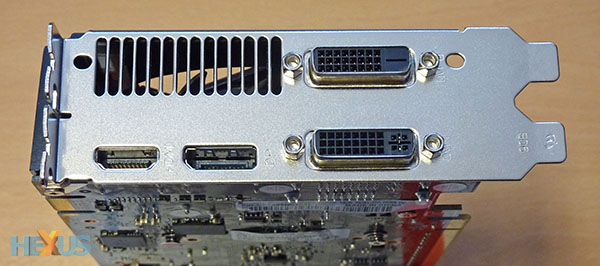 Not straying at all from NVIDIA's recommended video outputs, the GTX 650 Ti Boost OC is equipped with two dual-link DVI, full-size HDMI and DisplayPort. Each output can be fed to an independent display, meaning a single card can run four monitors without the need for expensive adapters.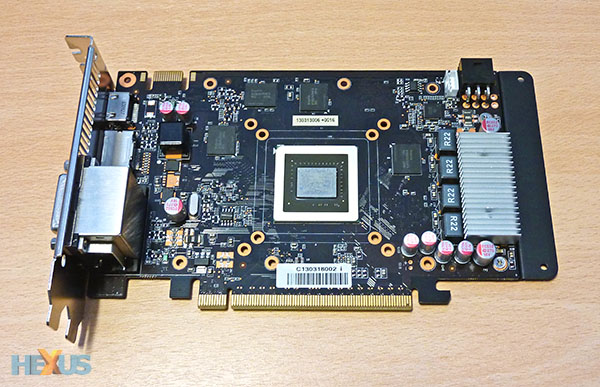 The centrally-mounted GK106 GPU features 2.54bn transistors and is common to three mainstream NVIDIA GPUs: GTX 660, GTX 650 Ti Boost and GTX 650 Ti. With respect to cooling implementation, Palit keeps costs down by not using thermal tape between the cooler and memory chips, but at least covers the hot-running components with a small heatsink. It's actually a shame that the card needs a six-pin PCIe power connector, top-right, because its total power requirement is very close to that provided by most modern motherboards' x16 graphics slots.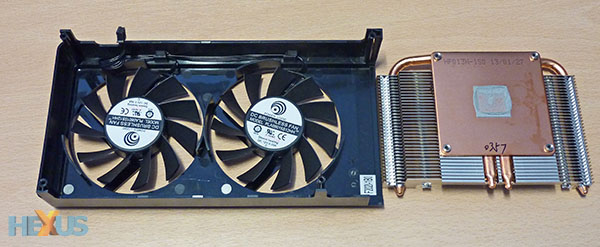 Most GPU coolers are one-piece affairs where the fan(s) and heatsink combine to form a single unit. Palit's design is different insofar as the two-heatpipe copper/aluminium 'sink is independent of the twin 80mm fans - the shroud attaches separately via four screws.
We like the fact that Palit hasn't gone overboard in the cooling for this 85W GPU. As regular readers will know, we believe that most add-in board partners simply attach a cooler without any real thought as to the card's purpose or form factor. Generally matching a mini-ITX board in length, this energy-efficient GTX 650 Ti Boost 2GB is primed for smaller chassis. As usual and since June 2010, Palit backs the card with a two-year warranty.