Introduction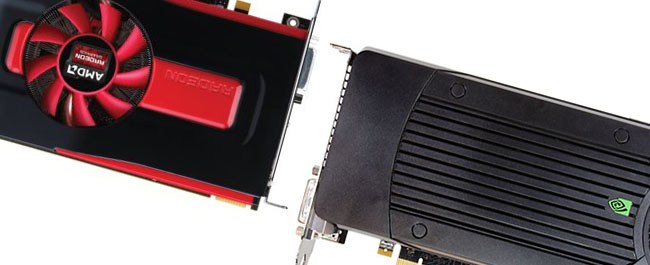 The very recent introduction of the AMD Radeon HD 7790 graphics processor brings mainstream PC gaming into sharper focus. £100-£150 cutting-edge GPUs provide reasonable 1080p performance in today's latest games, while in-game visual quality is, quite rightly, far superior than that achievable on the years-old PlayStation 3 and Xbox 360 consoles. It's not a reach to say that the lull between console generations provides the PC ecosystem with a tantalising window of opportunity, to convince console users to switch over to small, quiet gaming PCs.
NVIDIA duly understands that having a stellar mid-range graphics card in its 2013 product stack is a must, for the reasons discussed above, but it has seemingly done nothing about it for the last six months or so. You see, the £115 GeForce GTX 650 Ti is a nice enough card but lacks the muscle to offer smooth 1080p performance at decent image-quality settings. Step it up to the GeForce GTX 660 and it fits the performance bill well, though current street pricing of £165-plus places it a little too close to high-end cards for our liking.
Creating a sub-£150 card
The green team needs a sub-£150 graphics processor that catches the eye - and, more importantly, wallets - of would-be gamers and established enthusiasts alike. Today, hot on the heels of AMD's launch, NVIDIA is hoping that card will be the GeForce GTX 650 Ti Boost.
NVIDIA uses the same underlying piece of silicon - 2.54bn-transistor GK106 core - for both the incumbent GTX 660 and GTX 650 Ti, while GTX 660 Ti uses the larger GK104 die - confusing naming and architectures, eh? Anyway, common sense dictates that GTX 650 Ti Boost also uses the GK106 silicon in a form that bridges the performance gap between presently available GTX 660 and GTX 650 Ti. In customary fashion, the simplest way to explain it is by rolling out the specification table.
GeForce

GTX 660
(2,048MB)

GTX 650 Ti Boost
(2,048MB)

GTX 650 Ti
(1,024MB)

Die Codename

Kepler GK106

Kepler GK106

Kepler GK106

DX API

11.1

11.1

11.1

Process

28nm

28nm

28nm

Transistors

2.54bn

2.54bn

2.54bn

Die Size

221mm²

221mm²

221mm²

SMX Units

5

4

4

Processors

960

768

768

Texture Units

80

64

64

ROP Units

24

24

16

GPU Clock (MHz)

980 (1,033)

980 (1,033)

925

Shader Clock (MHz)

980 (1,033)

980 (1,033)

925

GFLOPS

1,882

1,505

1,421

Memory Clock (MHz)

6,008

6,008

5,400

Memory Bus (bits)

192

192

128

Max Bandwidth (GB/s)

144.2

144.2

86.4

Power Connectors

6-pin

6-pin

6-pin

TDP (watts)

140

134

105

GFLOPS per watt

13.44

10.75

13.53

SLI

Yes, 2-way

Yes, 2-way

No

Current MSRP

£165

£144

£115
I'm a GTX 660 SE, fool
Underscoring the silicon similarities the first five rows are identical for the trio of mid-range GPUs. GTX 650 Ti Boost uses one fewer SMX unit - down from five to four - than GTX 660 but, as you can see, the same as the GTX 650 Ti (non-Boost). But this is where the clear similarities with the GTX 650 Ti end, because in all other aspects the GTX 650 Ti Boost is far more like the GTX 660 in design.
For example, the new GPU features the same core clock, boost frequency (hence the name), memory speed, framebuffer size, memory-bus width, SLI ability and TDP as the GTX 660. In fact think of it as a deliberately stunted GTX 660, where one of the five SMX units has been switched off in order to artificially create a card for a particular price point. Really, for the sake of consistent naming convention, something both NVIDIA and AMD have long since abandoned, this GPU should be called the GTX 660 SE.
NVIDIA says the GTX 660 SE GTX 650 Ti Boost will be available from a wide range of add-in card (AIC) partners from £144 in a week's time, though pre-overclocked models are likely to fill the pricing space all the way up to bone-stock GTX 660 levels of £165. Said AICs will appreciate that there will be minimal work in qualifying new cards and coolers, as any heatsink-and-fan unit presently used on GTX 660 can be repurposed for GTX 650 Ti Boost.
Another glance at the specifications reveals that, with bags more memory bandwidth on tap, and the 192-bit-wide bus is crucial in this regard, GTX 650 Ti Boost is sure to be significantly faster than regular GTX 650 Ti in many games that rely on a GPU's back-end muscle for post-processing. The latter card's £115 pricing may move downwards as a result, and we wouldn't be surprised to see etailers pump out £100 Tis before the month of March is out.
NVIDIA also informs us that it is working with partners to release a cheaper 1GB variant of the Ti Boost card, priced from £124 and made with nascent Radeon HD 7790 1GB very much in the crosshairs.
Summary
The NVIDIA GeForce GTX 650 Ti Boost 2GB card has been brought to market to fill the rather large gap that has previously existed in the company's mid-range product stack. Though carrying the 650 Ti name in the branding make no mistake this GPU is a reduced-core version of the faster, wider, better-performing GTX 660. Let's now take a look at the reference card and then evaluate how it performs in this hotly-contested part of the market.