3DMark
3DMark is the latest version of this hugely-popular synthetic benchmark. Making use of DX11 features such as tessellation, compute shaders and multi-threading, it provides modern-day results and is available as a free download.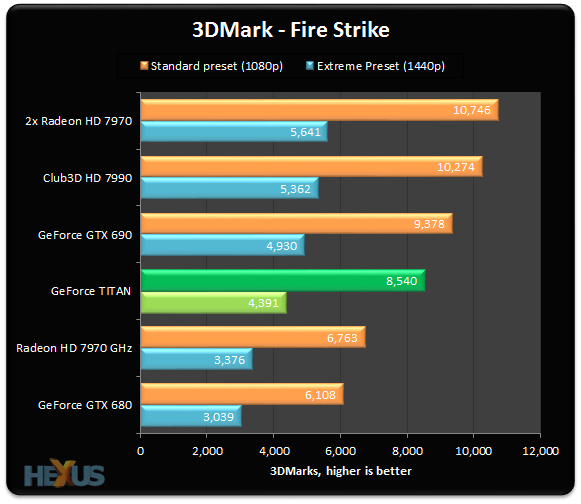 We've used the most-demanding Fire Strike test for the high-end GPU evaluation. All cards/configurations score over 6,000 marks at the default test. You can put their performance into wider context by taking a look at the 40-plus results obtained by HEXUS Community readers when running the same benchmark with eclectic hardware.
TITAN is some 40 per cent faster than a GTX 680 and 25 per cent nippier than a Radeon HD 7970 GHz card. But, as predicted, top-notch dual-GPU configurations beat it out reasonably easily; the Club3D HD 7990 is over 20 per cent faster at the Extreme test. What's more, a £600, game-laden HD 7970 XF setup is almost 30 per cent quicker. Even at this early juncture it's patently obvious that TITAN's performance-to-value metric isn't as attractive as some other configurations.