For The Win
The hiatus between new desktop GPU launches provides ample time - some say too much time - for manufacturers to tweak existing cards and offer a little extra to the customer. EVGA has turned its attention to the mid-range and high-end GeForce GTX 600-series line-up, and released a trio of FTW (For The Win) Signature 2 cards.
Based on the popular GTX 660, GTX 660 Ti, and GTX 670 GPUs, the FTW Signature 2 aims to provide high performance with specific emphasis on low-noise operation; a handy trick if you can pull it off. We have the GTX 660 FTW Signature 2 in for review today.
GeForce GTX 660 cards start at around £150 and top out at £200, where the faster GTX 660 Ti takes over with respect to both price and performance. EVGA's Signature 2 retails at £190, pushing the boundaries of financial acceptability, but there are a couple of reasons for its premium pricing.
You'll probably know that stock-clocked GTX 660 cards operate with 960 cores humming along at 980MHz, rising to an average speed of 1,033MHz under NVIDIA's GPU Boost feature that's baked into every high-end GPU. EVGA's card, meanwhile, increases the core speed to 1,072MHz (1,137MHz Boost), providing a solid uplift that matches the best the GTX 660 competition has to offer.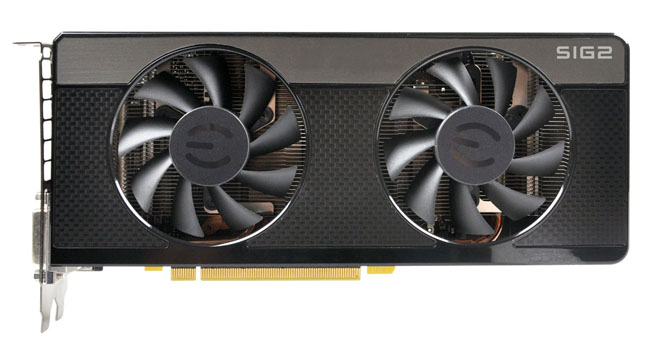 Most GTX 660s ship with a regular 2GB framebuffer that's fed through to the GPU via a 192-bit memory bus. Manufacturers use mixed-interface memory chips to achieve the 2GB, but EVGA maintains architecture tradition by supplying the FTW S2 with 3GB of GDDR5 running at a standard 6,008MHz, though it's questionable just how much impact a larger framebuffer will have on a mid-range card. Fast core speeds and a larger-than-normal framebuffer, then, help explain the price of this GTX 660.
The dual-fan cooler and understated styling make a positive first impression. The card measures 9.5in and takes up two expansion slots. Look and feel are reminiscent of the GeForce GTX 670, with its six-pin PCIe power connector also located midway along the card. GTX 660, however, requires less cooling, and EVGA's use of three thick copper heatpipes and a card-wide cooler intimates that keeping noise levels in check is a high priority.
EVGA understands there's no need to trifle with NVIDIA's default video outputs - DVI-D, DVI-I, HDMI, and DisplayPort - and the IO section is only slightly nonstandard insofar as it's a custom EVGA backplate, designed for airflow to be efficiently ported out of the back of the card. A single SLI connector paves the way for two-card usage.
There's a generous amount of unused space on the right-hand side that enables the GTX 660 card to be made fundamentally smaller, though we understand why EVGA doesn't choose to do this on its best model. A total of 12 (2Gbit) Hynix GDDR5 memory chips - each interfacing with the GPU via 16-bit pathways - make up the framebuffer that, in keeping with the performance angle, should really have been overclocked past the default 6,008MHz.
Backed by a three-year warranty that covers the product and not merely the first user, which is how it should be, and nicely presented in usual EVGA fashion, including Assassin's Creed 3 and bundling with in-house overclocking and information utilities, it's the AMD's recently-introduced Radeon HD 7870 'SE' that provides obvious competition in the sub-£200 space. Let's get to the showdown.