Testing Methodology
XFX Radeon HD 7850 Double D Black Limited Edition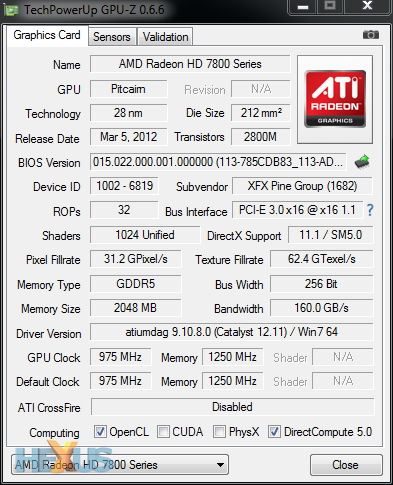 GPU Comparisons

Graphics Card
GPU Clock
(MHz)
Stream
Processors
Shader Clock
(MHz)
Memory Clock
(MHz)
Memory Bus
(bits)
Graphics Driver
Approx price
XFX Radeon HD 7850 DD (2,048MB)
975
1024
975
5,000
256
Catalyst 12.11 beta 11 + CAP2
£165
Gigabyte GeForce GTX 660 OC (2,048MB)
1,033 (1,098)
960
1,033 (1,098)
6,008
192
GeForce 310.70 beta
£165
HEXUS High-End Test Bench

Processor
Intel Core i7-3770K (3.50GHz, 8MB cache, quad-core)
CPU Cooler
Intel reference E97378-001
Motherboard
Gigabyte GA-Z77X-UD5H
Memory
8GB Patriot Viper 3 (2x4GB) DDR3 @ 1,600MHz
Power Supply
Corsair AX750W
Storage Device
Samsung 830 Series 256GB SSD
Optical Drive
Generic 24x DVD-RW
Chassis
Corsair Graphite Series 600T
Monitor
Dell 3007FPW
Operating system
Windows 7 Ultimate (64-bit, SP1)
HEXUS Christmas Benchmark Suite

3D Benchmarks
Mode and Resolutions
Quality Settings
3DMark 11
DX11 at 1,280x720 and 1,920x1,080
Performance and Extreme Presets
DiRT Showdown
DX11 at 1,920x1,080 and 2,560x1,600
4xMSAA, High Preset
Just Cause 2
DX10 at 1,920x1,080 and 2,560x1,600
8xMSAA, High Preset
Far Cry 3
DX11 at 1,920x1,080 and 2,560x1,600
2xMSAA, High Preset
Call of Duty: Black Ops II
DX9 at 1,920x1,080 and 2,560x1,600
4xMSAA, High/Extra Preset
LuxMark 2.0
OpenCL GPUs-only
Sala (488,000+ triangles) and Room (2,000,000+ triangles)
General Benchmarks
Description
Power Consumption
To emulate real-world usage scenarios, we record mains power draw both when idle and while playing Far Cry 3
Temperature
To emulate real-world usage scenarios, we record GPU core temperature both when idle and while playing Far Cry 3
Noise
A PCE-318 meter is used to record noise levels when idle and while playing Far Cry 3
Notes
We usually have tens of cards in a comparison line-up. However, we tend to overhaul the graphics-card benchmarking suite in the new year, enabling us to experiment a little during the run-up to Christmas. This is why we're comparing the XFX card's performance against the obvious candidate from the green team, an also-overclocked GeForce GTX 660 from Gigabyte.
We're including numbers for high-quality settings at 1,920x1,080 and card-bustin' 2,560x1,600 resolutions. A two-card comparison enables us to use the very latest drivers from both sides - Catalyst 12.11 beta 11 and GeForce 310.70 - and we've added in Call of Duty: Black Ops II and Far Cry 3 for the first time. Each game is FRAPS'd during an intensive gameplay section.
Focussing on two cards also provides the opportunity of giving you more meaningful data. Alongside the usual average FPS graphs we're including per-second framerates for both resolutions. This should give you a better idea of just how each card performs.