Bow to the Beastie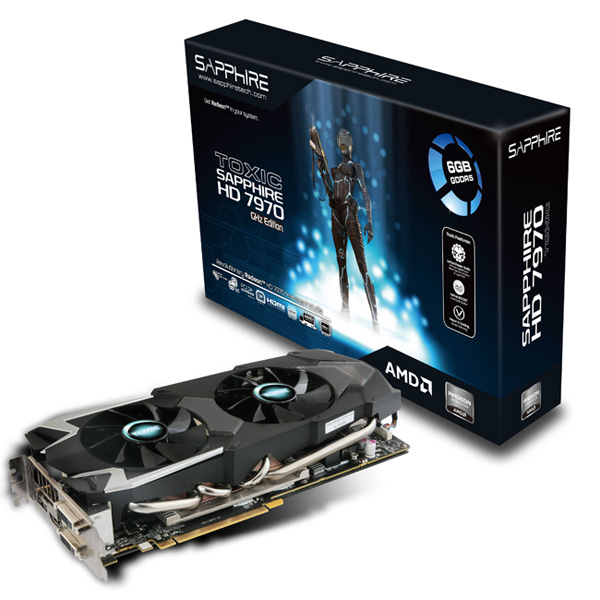 AMD is hitting back at NVIDIA in the high-end graphics-card stakes. The green team, NVIDIA, stole a march with the release of the GeForce GTX 680 in March and then followed it up, surprisingly so, with the dual-GPU GTX 690 in May. AMD has since cleaved Radeon HD 7970 pricing down to £320 and also introduced the GHz Edition of the 'Tahiti-based' GPU.
Sapphire is on a mission to wring out every last drop of performance from the Tahiti graphics architecture through the release of its best-ever GPU, the Radeon HD 7970 GHz TOXIC 6GB. Yup, the name's quite a mouthful and the card is pregnant with benchmark-bustin' promise.
You'll know the standard HD 7970 GHz Edition GPU ships with a core speed of 1,000MHz and memory at an effective 6,000MHz. AMD's PowerTune with Boost feature adds an extra 50MHz to the core clock under most conditions. Sapphire reckons the improved yields on HD 7970 GPUs can be fully realised when subject to monstrous cooling, so let's present the TOXIC.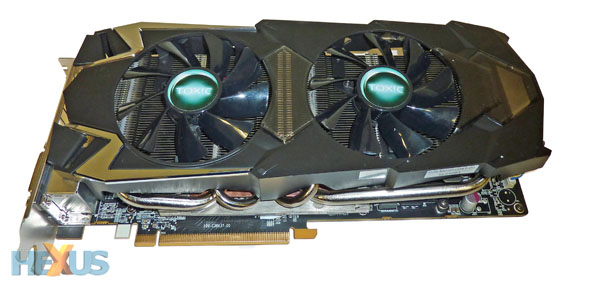 The Hong Kong outfit generally has four sub-divisions for high-end cards, comprising of standard, OC, Vapor-X, and TOXIC. This Big Beastie TOXIC is overt and ostentatious. The PCB is 270mm (10.5in) long, or the same size as a regular Radeon HD 7970, but the cooler makes it look more like a monster card.

A slightly different view shows the cooler to take up three expansion slots without apology. This means you'll have to have the requisite room on the motherboard to install the card into a system, more so, obviously, if two, or more, are required. Getting into the particulars, Sapphire uses a new vapour-chamber (Vapor-X) cooler that has two 6mm and two 8mm heatpipes plumbed away from it. On top, two 90mm fans, PWM-controlled, cool the array of aluminium fins the heatpipes connect to.

Using one marketing term too many, Sapphire refers to the special cooling and design on this model as the 'Lethal Power Suite.' In rather more intelligible terms, the TOXIC uses a 12-layer PCB; eight-phase power for the GPU; two additional phases for the memory; and a double-sided choke that's reckoned to provide significantly better power regulation and lower overall board temperature than on the reference GHz board. Two eight-pin PCIe connectors are standard fare for outlandish cards, by the way. Keeping some aesthetic flair, the Sapphire logo is lit by white LEDs when switched on.