Introduction
AMD has launched so many Radeon HD 7000 series cards in such a short period of time, that you may find it difficult to decipher what's hot and what's not.
The top-of-the-line Radeon HD 7970 and HD 7950 are the cards that have garnered the most media attention - and these are the two that have been heavily promoted by AMD partners - but it's in the next tier down that good value for money can be found.
The Radeon HD 7850, in particular, is one that's easily overlooked. Said card doesn't make it into AMD's top three GPU solutions, but it's a middle-of-the-pack choice that hits many of the right notes; it's the fastest 7000-series card for under £200, it won't chew through copious amounts of electricity, requires only a single six-pin PCIe power connector, and it's known to deliver solid performance at full-HD resolutions.
Better still, all that's available from a reference card, so what can you expect from a custom-cooled and factory-overclocked alternative from one of AMD's biggest partners? To find out, we're taking a look at PowerColor's HD 7850 PCS+.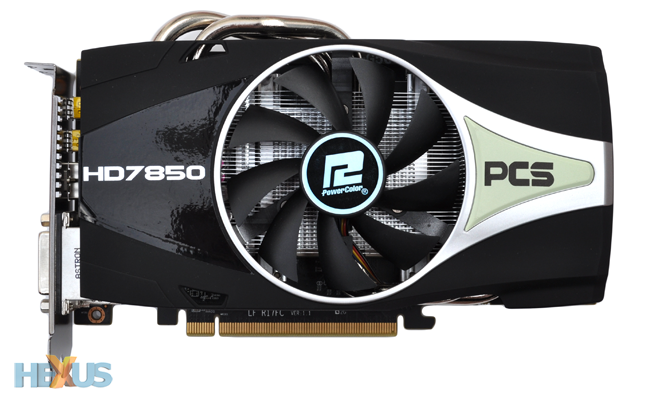 The PCS+ formula should be familiar to HEXUS readers - PowerColor gave the HD 7950 and HD 7870 similar makeovers with varying levels of success - but for those who are new to the acronym, it denotes a Professional Cooling System and above-reference frequencies.
Dissecting the two, the cooler consists of a large 92mm fan positioned centrally above an array of aluminium fins interspersed by two s-shape, direct-touch heat pipes. Underneath the meaty heatsink-and-fan lies a 28nm Pitcairn Pro GPU overclocked from 860MHz to a cool 1,000MHz, and 2GB of GDDR5 memory that's bumped up slightly from AMD's default 4,800MHz to an improved 4,900MHz.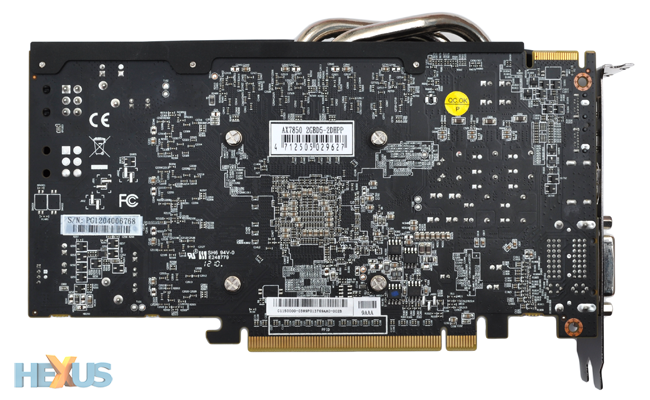 PowerColor reckons the Professional Cooling System will be both cooler and quieter than AMD's reference design - to the tune of 15 per cent - and in terms of core frequency it's over 16 per cent faster.
On paper, it's a good card made better, but this enrichment does cost a little extra. Reference Radeon HD 7850 cards are currently available at a cost of £190, and PowerColor tells us the PCS+ edition will be reaching retail shelves in the next week or so carrying a premium of "£10 over the reference."
Optimistic? Perhaps, as this will be one of the fastest Radeon HD 7850s available, and we wouldn't be surprised to see it fetch closer to £220 at launch. Pricing will of course be key, but if PowerColor can get close to the £200 mark, this could be one of the most attractive Radeon HD 7850s on the market.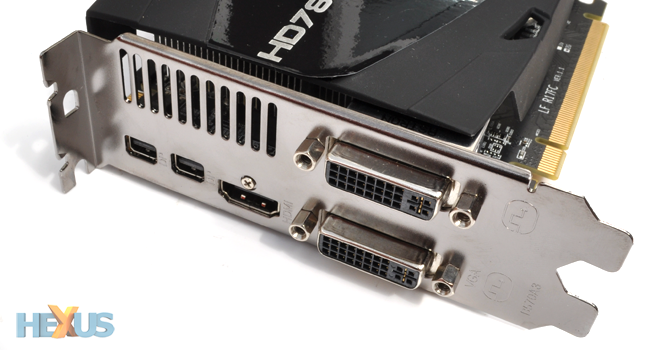 The card feels well built and the smooth black shroud looks attractive, but it's a shame the Radeon HD 7800 series isn't included in AMD's Three For Free promotion - a couple of free games would really help the card stand out.
As it is, PowerColor's HD 7850 PCS+ comes bundled only with a driver CD, a CrossFire cable and two display adaptors; DVI-to-VGA and miniDisplayPort-to-DisplayPort.
The bundle doesn't scream 'buy me,' so it's up to the card to impress. Let's see if it does.